With AAPL reporting this afternoon after last week's market sell-off, interest in AAPL's stock is sky high right NOW.

I won't speculate on the earnings here, but rather look at the trend.  There was an interesting article on Seeking Alpha on Jan 21, "Steve Jobs Is Building AppleWorld - And Google's Running Scared," that drew a large discussion, with 93 comments.

Frankly I don't have a strong opinion on which is fundamentally better, AAPL or GOOG.  But even if I did have a strong opinion, I think one of the best things to do, if for nothing more than a "reality check" of one's fundamental opinion, is to simply compare the strength of AAPL's stock to GOOG's. 

Since Jason's article gave a longer-term perspective, here's a 3-year weekly chart that does just that. The solid black line on this chart is simply the price of AAPL's stock divided by the price of GOOG's stock.  The colored lines are just exponential moving averages of the black line.

It will be critical to see how AAPL's stock responds to earnings, so I will repost all these charts, on a shorter daily basis, tomorrow.

LEFT CLICK ON CHARTS TO ENLARGE.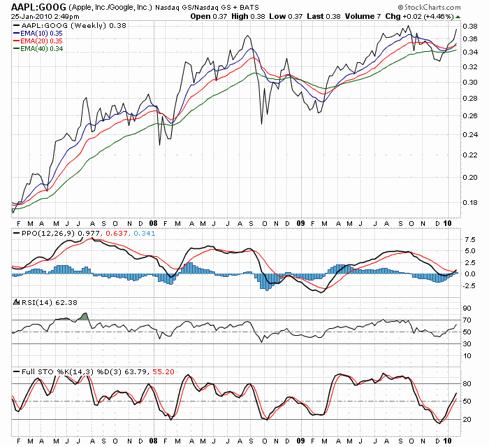 I think if you just step back and look at the "big picture," it's pretty clear which stock has been outperforming, which perhaps then places more of the burden on the GOOG camp to explain why that will change. 

Of course, you already knew AAPL has been a monster stock.  But you can still use this chart to quantify the outperformance of AAPL over GOOG, using the vertical scale on the right (and pairs trading if you're so inclinced). 

And you also can use the chart to look for trend breakouts and reversals, with crossover's of the EMA's, breaking of trendlines, and negative divergences of the technical indicators.  This is timely because right now AAPL is near the top of its 3-year range of outpeformance relative to GOOG.

And of course you don't have to stop at comparing AAPL vs GOOG. E.g., you can compare AAPL vs large cap tech stocks, using XLK etf.

LEFT CLICK ON CHARTS TO ENLARGE.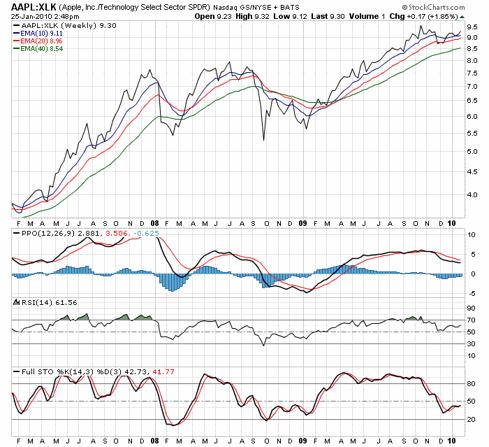 How about AAPL vs QQQQ, Nasdaq 100?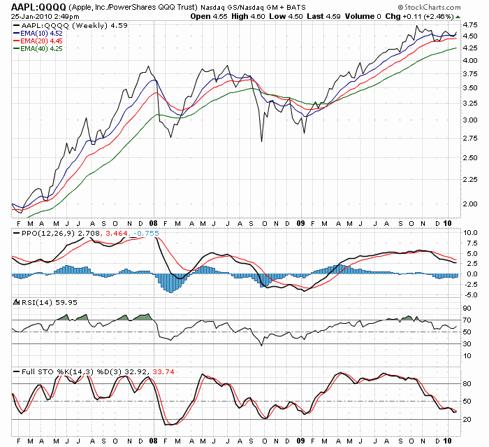 And AAPL vs SPY.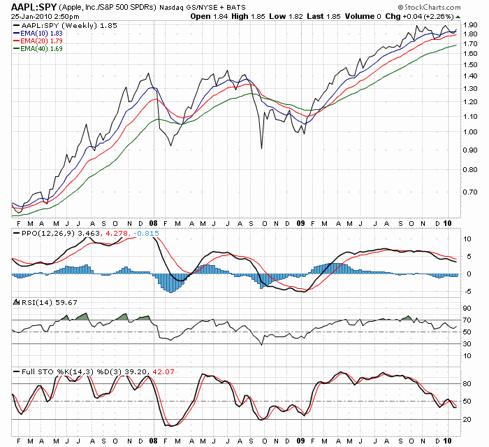 And finally, AAPL vs the entire world, ACWI, the MSCI All Country World Index etf.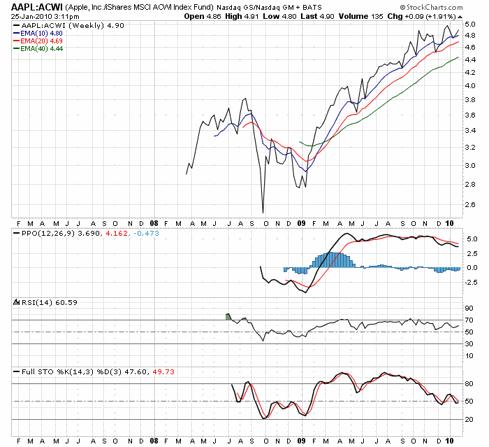 Disclosure: No positions in stocks, etfs mentioned.

Disclosure: No positions in stocks, etfs mentioned