You don't have to be a master technical analyst (I'm not) to see that the 14 level is extremely important for XLF, financial sector etf.  Because XLF is so very key to this market, especially right now due to the all the uncertainty and risk around financial reform, I try to watch it very closely, not only its critical support in the first chart but also its relative strength in the second and third charts below.

LEFT CLICK ON CHARTS TO ENLARGE

This is a 7-mth daily chart of XLF, its volume today was still high but lower than the huge volume on the previous two days sharp decline, not a positive sign.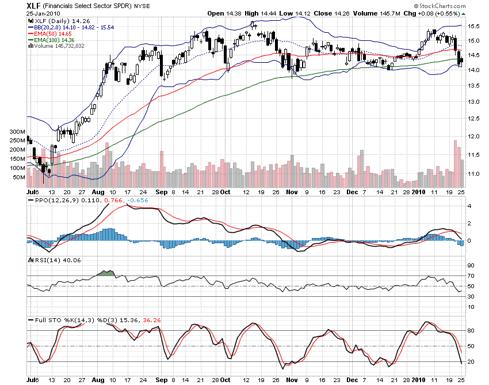 I LOVE relative strength charts.  Just below is XLF relative strength to SPY, on a 3-year weekly chart (simply the price of XLF divided by the price of SPY).

You can't see it clearly on this chart, even if you enlarge it, but if you look at the values in the upper left-hand corner, you can see that the 10-week and 20-week EMA's (exponential moving averages) of XLF's relative strength are now just slightly below its 40-week EMA. 

That is not positive for either XLF or the market.  It means that on a longer term basis, XLF is just starting to lose relative strength to the overall market. The market will pick this up extremely quickly if it should continue, and it will have a big negative impact on market psychology.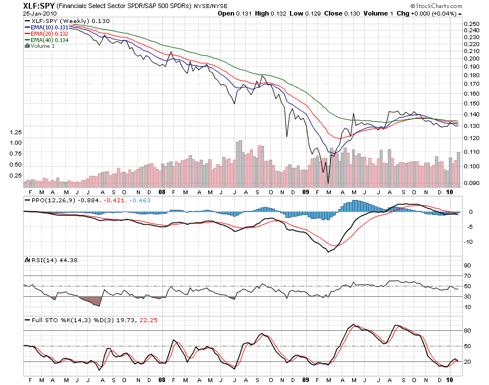 Here's that same weekly relative strength chart, only for one year, to get a better look as to whether the momentum of the relative strength is turning up, by looking at PPO (which is almost identical with MACD, I use it as my default because I feel it is better when there are large price changes involved, which is why I also use log vertical scales), RSI, and stochastics.  The last had a positive crossover in late Dec, but is now on the verge of crossing down.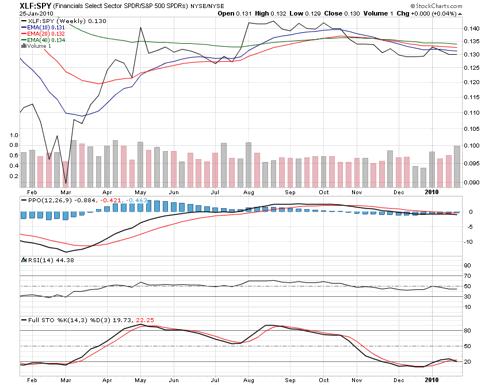 Disclosure: No positions in stocks, etfs mentioned.