Papa John's International, Inc. (NASDAQ: PZZA)
PZZA ("Papa John's") previously reported that it will sign more than 200 North American franchise agreements in 2012. These franchisees, nearly half of whom represent individuals who are opening their first Papa John's restaurant, expect to create more than 5,000 new jobs over the next three years.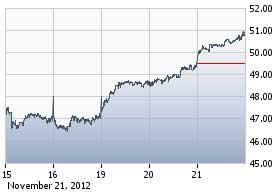 The announcement comes less than three months after the company communicated continuation of its industry-leading PZZA ("Papa John's") Franchise Development Incentive Program. The program offers zero franchise fee, 0% royalty for 18 months and $50,000 in restaurant equipment for new restaurants opened through 2013. In 2012, restaurant openings under this program created approximately 3,000 jobs in North America.
Headquartered in Louisville, Kentucky, Papa John's International, Inc. (NASDAQ: PZZA) is the world's third largest pizza company. For 11 of the past 13 years, consumers have rated Papa John's No. 1 in customer satisfaction among all national pizza chains in the American Customer Satisfaction Index (BATS:ACSI). Papa John's also earned the 2012 Harris Poll EquiTrend(NYSE:R) Pizza Brand of the Year. Papa John's is the Official Pizza Sponsor of the National Football League and Super Bowl XLVII. For more information about the company or to order pizza online, visit Papa John's at www.papajohns.com.
In my opinion this is a stock to watch!
(Read Full Disclaimer at http://crweresearch.com/disclaimer)
crweresearch.com/219/stock-alerts/papa-j.../
Disclosure: I have no positions in any stocks mentioned, and no plans to initiate any positions within the next 72 hours.