Praxair, Inc. (NYSE: PX)
Praxair Surface Technologies, Inc. a wholly-owned subsidiary of PX (Praxair) previously has entered into a 10-year agreement with Messier-Bugatti-Dowty (Safran Group) for thermal spray coating services to replace chrome plating on major airframe component programs.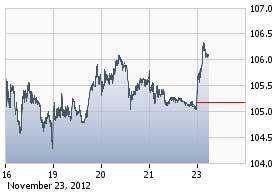 PX (Praxair) will commission an airframe production line in its Changzhou, China facility for thermal spray coating and finishing services as well as a coating production cell in Changwon, South Korea for applying automated thermal spray coatings and metallic slurries. Production is expected to commence in 2013.
Praxair Surface Technologies offers a comprehensive slate of high-performance coatings and technologies to aviation, industrial gas turbine, oil & gas, and other markets. By continuously advancing coatings technologies, Praxair Surface Technologies helps customers improve environmental performance, decrease energy consumption, extend component life, improve productivity, minimize downtime, reduce operating costs, and produce higher quality products.
Praxair, Inc. (NYSE: PX) is the largest industrial gases company in North and South America, and one of the largest worldwide, with 2011 sales of $11 billion. The company produces, sells and distributes atmospheric, process and specialty gases, and high-performance surface coatings. Praxair products, services and technologies are making our planet more productive by bringing efficiency and environmental benefits to a wide variety of industries, including aerospace, chemicals, food and beverage, electronics, energy, healthcare, manufacturing, metals and others. More information on Praxair is available on the Internet at www.praxair.com.
In my opinion this is a stock to watch!
(Read Full Disclaimer at http://crweresearch.com/disclaimer) crweresearch.com/221/stock-alerts/praxai.../
Disclosure: I have no positions in any stocks mentioned, and no plans to initiate any positions within the next 72 hours.