The number of traders expecting (and praying for) a correction seems to be increasing by the hour. I admit it…finding a chart that looks good on the short side is becoming easier than pressing long sided bets. However, we are in a market where almost everything is very closely correlated. In other words, if the broad market does not crack it will be very tough to make money leaning short.  The reason so many traders are playing cheapie stocks is that they usually pop off their own news or simple chart patterns and ignore the S&P futures.
As I offer up a couple trade ideas, realize that if the markets stay strong (or simply trend in a horizontal manner), pressing shorts will likely lead to poor results…and more gray hair. As you review potential trades, make note of whether the S&P emini futures are trading above 1020.50 (the SPY equivalent to 1020.50 on the futures is 102.50). As long as the bulls defend the 1020.50 the path of least resistance is either sideways or up. The level the bulls need to break through to trigger a fresh wave of buying is 1032 (1032 on the emini = 103.65 on SPY).
Let's take a look at both the daily and 5 min chart of TDW.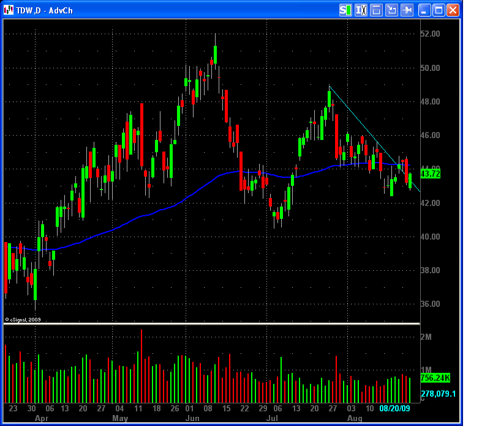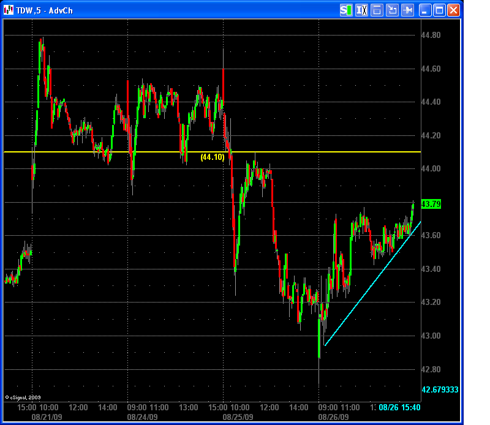 If the broad markets begin to crack (emini sub 1020.50) I would be interested in either fading the strength in TDW (shorting into the current bounce) or waiting for it to crack the trendline I drew on the 5 min chart and selling it  short. Either way, I would exit the position above 44.10. A falling market should send this back towards 42.50 in a hurry.
In the event that the markets do not break down, but rather surge higher once more…keep your eye on CRM. I would be interested in the stock above 53.05 if we see trade activity surge as it trades through the 53 dollar area. I have no interest in holding this stock below 52.70, so that would be my initial stop.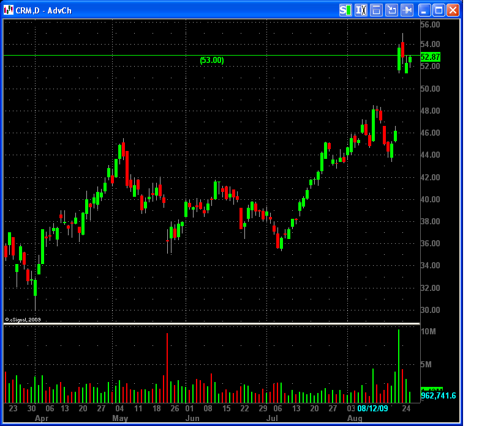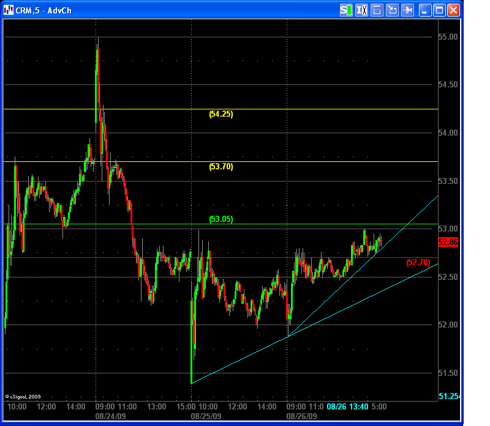 Disclosure: No positions were held at the time of publication, though that may change at any time.