We are closing out our double calendar spread on the SPY today for a 21% gain over a 3 week period. From the time the initial Put Calendar Spread was initiated on August 14th (see original article) the SPY fell hard for a day, rallied hard for 4 days, rolled sideways and finally sold off hard again.  Price action was volatile for the duration of the play, time value gave us profits daily and rising implied volatility boosted our gains quickly – making this a low stress way to engage the SPY (see diagram).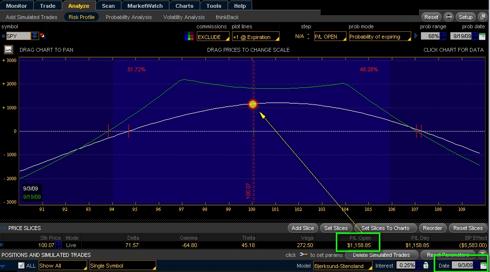 Implied volatility on the SPX was boosted about 12% with the sell off on Tuesday, September 01, which led to analysis for a Put Ratio play on GS (Goldman Sachs). The Put Ratio  is slightly short volatility, slightly long Delta and positive Theta (time value). The spread gives us profits anywhere above $137 on GS ( currently around $160.80). I will post details of the spread shortly. For disclosure purposes, I have other spreads on GS also. The Put Ratio spread is complimentary to the other positions – meaning they are all inter-related. Also for disclosure purposes, my position sizing on these trades is much larger – what I want to highlight is  percentage returns.
Wishing you continued success with your trading! 
Disclosure: No position in SPY at time of writing, Put Ratio GS