SUMMARY
The medical marijuana market in Canada is estimated to be worth $1.3 billion dollars by 2024 with 450,000 patients. While the legal marijuana market is worth between $7-10 billion annually.
In depth look at Aphria (APH, APHQF), Canopy Growth Corporation (CGC, TWMJF), Mettrum (MT,MQTRF), and Organigram (OGI,OGRMF) revenue/ending inventory ratio.
MMPR
The MMAR (Marijuana Medical Access Regulation) was replaced by the MMPR (Marijuana for Medical Purposes) on April 1,2014. It was the Conservative Government's reaction to some MMAR producers, who abused the program for their own benefit and most importantly, the lack of quality control.
Under the MMPR, production is operated by 31 Licensed Producers (LP), who must comply with the strictest rules of production or risk losing their license. Also, since replacing the MMAR, Health Canada (HC) no longer became responsible for issuing licenses to individual patients for home production, rather giving the responsibility solely to physicians, essentially giving them control over the demand for medical cannabis. In effect, causing sub par linear growth in patient enrolment.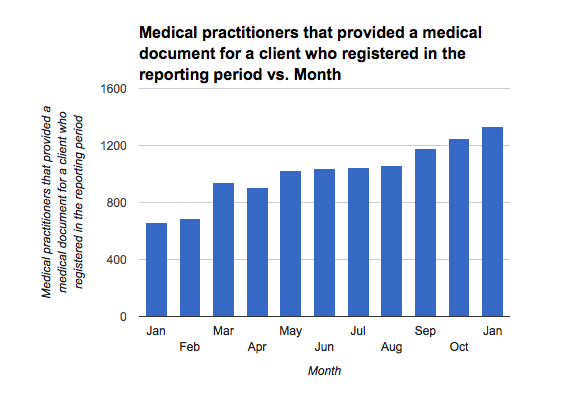 Source: LIFT
Under the original estimates, there should be over 90,000 patients enrolled to the MMPR by year 2 (April 2016 year end). Presently there are 65,000 patients and the MoM growth rate of registration for 2016 is around 10%, if the trend continues, the patient count by December 16' would be around 110,000 patients. If the average patient consumes 1.1 grams of cannabis per day with an average price of $7-$12, the disparity in estimate and active patients would equate to approximately $94.5 million of unexploited revenues between LP's.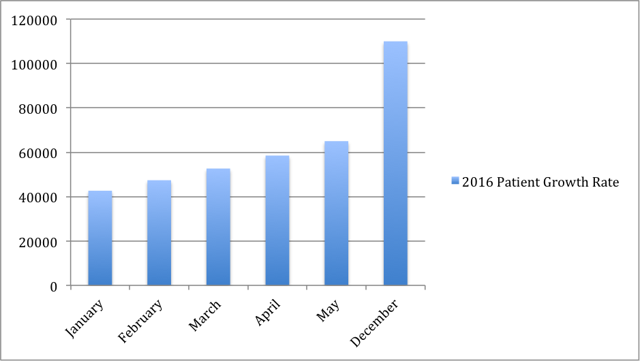 INVENTORY TURNOVER BY LICENSED PRODUCERS
 

Revenue ($)

Inventory+

Biological Assets ($)

Inventory Turnover

Days to Sell Inventory

APH

5,657,613

2,265,433

2.50

147

CGC

7,657,000

25,695,000

0.30

1229

MT

4,977,016

3,985,975

1.25

292

OGI

2,454,842

3,822,670

0.64

570
Source: SEDAR, financial statements
…. THE UPSIDE
Typically these figures would cause some stakeholders to reconsider their positions in the medical cannabis industry. Factoring in the increasing number of LP's, linear patient growth, imminent personal production and patient's preference towards dispensaries for accessibility. Therefore under these conditions, it is only logical to look into the current financial health of LP's under the MMPR and question their longevity and most crucially -- growth of the sector.
However, it was recently announced that the Liberal Government would be introducing legislation in 2017 that will allow the sale and consumption of cannabis for recreational use. Considering that their policy will be based on health and public safety, it is safe to assume that LP's will become the beneficiaries of production of recreational cannabis. With a market that is expected to be worth between $7-10 billion annually, some LP's are well positioned to take advantage of the explosion in demand from consumers.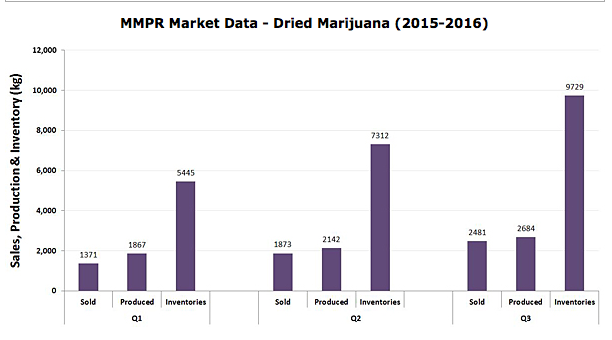 Source: Health Canada
According to some valuations, the demand for recreational cannabis will exceed 1 million kg annually. With a 30% QoQ growth rate, the amount of inventory stored would top 12,500kg by the end of Q4. If recreational were to be implemented today, the current stockpile would only supply 1.25% of the potential demand.
CONCLUSION
Looking onward it is obvious there is a demand that needs to be filled. LP's are now in a difficult position of balancing both the medical and pending recreational market, while maintaining positive financial health and rewarding investors.
Stakeholders should expect a further increase in production from the major LP's who are looking to capture a significant percentage of the untapped recreational market. In return, a further decrease or sustained inventory turnover would be highly probable, for it's a risk worth taking for the exponential demand that will occur.
Disclosure: I/we have no positions in any stocks mentioned, and no plans to initiate any positions within the next 72 hours.