This is my first post of my ETF portfolio the Technical indicators are based on Bill Williams trading chaos theory, while the fundamentals are based on sector screenings using Benjamin Graham`s value investment philosofi.

Tracking since Dec 1 st. 2010: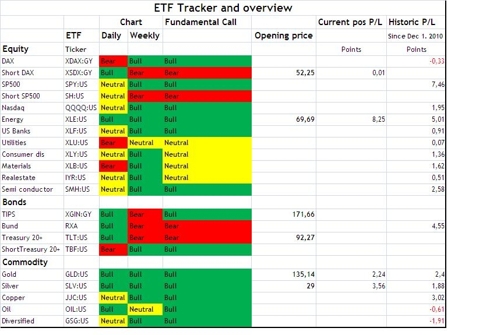 This week was yet another big swing week for the weekly charts. The overall theme was risk off! - Many of the Equity indexes turned neutral to bearish and this indicate that a larger correction could be in the works. I suggest you reduce your equity exposure and hedge the single stock positions you want to hold longer term. Particularly US banks, Materials and Utillities seem vonurable to increased inflation presure and oil prices.

Bond indicators turned bullish and this confirms that investors are taking money off the table again, just to be safe. I suggest you spread your bond investing 60/40 over TIPS and long duration bonds. The TIPS should protect you a little against a possible inflationary presure from rising oil.

Oil, well it all depends on MENA. I dare not venture a guess, but would rather be exposed towards higher prices than a drop. Old school gamblers would say there is a 15 USD down side, but a 100 USD upside. Using call spreads might be a way to venture into this market if you dont want an outright exposure in a future or ETF.

Energy (NYSEARCA:XLE) has given a very good return over the last few months. If you are not in it, dont! - else, I would suggest some tight stops.

As this is my first post, I would much appriciate your feed back and ideas to improve the format.