(Note: if you want to skip me rambling about Greenblatt, pop punk, and other random things, scroll down a few paragraphs.)
I'll admit it: I have nerdy pastimes. I spend hours poring over 10-Ks and industry reports because, besides the fact that I like money (a lot), I also find investing and the business world in general totally fascinating. Sadly, I don't get as much time to read as I'd like, but I'm always on the lookout for new reading material. And music. Which isn't directly relevant, but is tangentially related because I never read without also listening to music.
Anyway, over the last two weeks, there have been two highlights in the reading/music sector of my life. First, listening to the album stream of Man Overboard's upcoming Heart Attack, which is absolutely amazing and something you absolutely need to go pre-order right this second if you're at all a fan of pop punk. Second, reading through Joel Greenblatt's You Can Be A Stock Market Genius, which is a fantastic book that comes highly recommended by SA's own stock market geniuses, Chris DeMuth and Whopper Investments. It was so good that it inspired me to make an investment surprisingly similar to one that Greenblatt himself made in the '90s.
When Leverage Is Less Risky (than no leverage): Maximizing Risk-Reward In Binary Situations
Leverage is risky; this concept is familiar to anyone who's so much as sniffed around the stock market. Moreover, after the financial crisis, it's pretty familiar to just about anyone with a television. So when is this universal truth, well, just not true?
I'm going to borrow a page or ten - literally - from Joel Greenblatt here. On pages 220-228 of my version (perhaps different in yours) of Stock Market Genius, he presents a case study about Wells Fargo LEAPs in the early '90s. It goes something like this: as a result of extraordinarily high loan loss provisions (sound familiar?), Wells Fargo was earning nearly $18 (after taxes) per share on a normalized basis, but was trading at merely $77. It doesn't take a mathematical genius to figure out that no business with long-term viability will keep trading that cheaply for very long; Greenblatt reasoned that within a few years, either (very small probability) the bears were right and Wells would collapse like a house of cards, or (much higher probability) the bank's financial strength and earnings power would allow it to emerge from the storm at a much higher valuation, to the tune of more than double the current stock price. Greenblatt further reasoned that in this binary outcome, he could either: a) invest $77 per share with the potential for a double or nothing, or b) grab the $80 strike LEAPs for $14 per share with the potential for a quintuple (!) or nothing. Given that the probability of "up" is the same in either scenario, and the up:down ratio is drastically different, why not buy the LEAPs?
That's what he did, and he sang all the way to the bank a couple years later when Wells Fargo was trading at $160.
Now, the situation we have today is obviously different, and Wells Fargo isn't currently set up for a purely binary "crash and burn or wildly succeed" scenario, but I found it interesting that I came across a very similar sort of investment in the same company - the potential for long-term leverage at a time when many are doubtful. Keep this in mind as you read forward; refrains of Greenblatt echo throughout.
When Leverage Is Less Risky Than Usual: The Case For Wells Fargo Warrants
I'm going to beat this to death by the end, but let me reiterate: this is not the same situation as Greenblatt described. It's similar, but different. The risk is lower (Wells Fargo isn't at risk of collapsing tomorrow, much to the permabears' dismay), but at the same time, the warrants aren't a completely obvious choice over the common. Nonetheless, the risk-reward is still asymmetric, with $20-$30 potential upside versus very little (maybe a few bucks) realistic downside on a $14 initial investment. Aka really juicy.
To start with, these are the TARP warrants, ticker symbol WFCWS. Hedge fund manager Assaf Nathan recently wrote a nice piece for SumZero analyzing some of the key points of the warrants. I'm diving deeper into certain issues and presenting a model below, but I'd definitely recommend reading his article as well.
Let's start with...
Section 1: The (Very Brief) Wells Fargo Bull Thesis
Please note that this article is more about the attractive risk-reward of the warrants if you're bullish on Wells Fargo to begin with, so I only go over some of the key points here very briefly. Much more analysis out there to be read; not a lot of point in me reinventing the wheel.
(a) Operational excellence
Wells Fargo is known for being pretty solid and resilient. Seeking Alpha contributor Tim Travis wrote an excellent article outlining many of Wells Fargo's strengths, including their solid operational performance in what is a somewhat challenging time for banks, given the slow real estate recovery and razor-thin net interest margin courtesy of ZIRP. In fact, EPS has kept on chugging along despite the macro issues.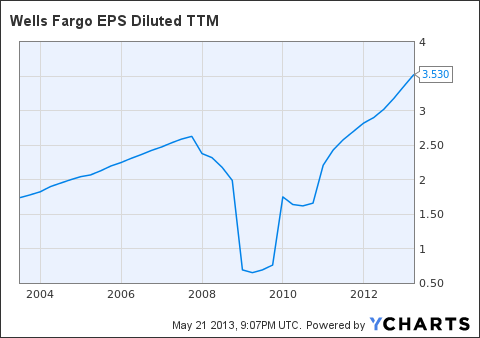 WFC EPS Diluted TTM data by YCharts
(b) Improving macro environment
The strong EPS trends should continue, and perhaps even accelerate, as the business environment becomes more favorable. Decreasing unemployment coupled with increasing consumer and small business confidence should lead to increased lending activity. Furthermore, Wells is poised to benefit from the slow but existent real estate recovery; while the market is not really making anyone jump for joy right now, there are certainly positive signs. As Millennials start earning more and more Americans enter the stock market, Wells' asset management business should see solid growth as well.
To be quite frank, all of the trends briefly mentioned above are worthy of their own article (or ten). Going into each of these issues in depth would be beyond the scope of this article, which is mostly focused on the attractive risk-reward of the warrants for those who are already interested in or outright bullish on Wells Fargo. These are just a few of the notable reasons I'm confident in the long-term strength of the Wells franchise.
In summary, Wells has performed excellently in a challenging economic environment, and will do the same or better as the economy continues to improve. While the current economic malaise may persist for a while, and there might be slowdowns along the way, the nice thing about the warrants is they're dated out to 2018, so it's okay if things take a while to clear up.
(c) Valuation
No matter how you slice it, Wells Fargo is trading at a discount compared to historical norms. Given the company's brand name and accompanying history of efficiency and strength, Wells has generally traded at a significant premium to book value. Today, it trades well below historical averages both on P/B and P/E.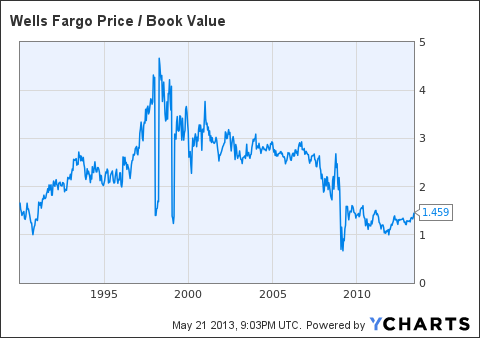 WFC Price / Book Value data by YCharts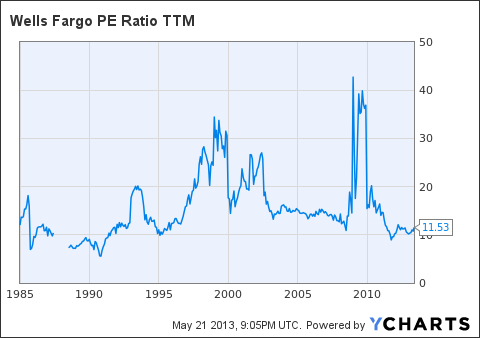 WFC PE Ratio TTM data by YCharts
SA contributor Josh Arnold pegs fair value at around $42 using fairly conservative assumptions; I'd argue it's perhaps a little bit higher than that, but probably in the general vicinity. Regardless, Wells is trading at an attractive valuation in context of historical standards and growth opportunities.
(d) Non-business factors
In addition to being masked by the many issues mentioned previously, Wells Fargo's long-term earnings potential is currently understated due to non-cash charges related to the Wachovia acquisition. As explained by Warren Buffett himself in Berkshire Hathaway's 2012 Annual Report:
A "non-real" amortization charge at Wells Fargo, however, is not highlighted by the company and never, to my knowledge, has been noted in analyst reports. The earnings that Wells Fargo reports are heavily burdened by an "amortization of core deposits" charge, the implication being that these deposits are disappearing at a fairly rapid clip. Yet core deposits regularly increase. The charge last year was about $1.5 billion. In no sense, except GAAP accounting, is this whopping charge an expense.
(Pause for a moment to let the similarity to Greenblatt's Wells Fargo analysis sink in.)
There are also other less-quantifiable factors that seem to bode positively for WFC shares (as opposed to Wells Fargo as a company - remember that a company and a stock are two separate things entirely). First off, the bank is targeting a 50-65% payout ratio; despite their recent dividend hike, they still have plenty of room between the current payout ratio of ~34% and their target. At a 40% ratio, the annual dividend of $1.40 would offer a 3.5% yield at the current price, and at 50%, you're at a very respectable 4.38%. Note that this is very roughly based on TTM net income and doesn't consider future growth; at the consensus $3.88 EPS for 2014, a 40-50% payout ratio represents a hefty 3.8-4.8% dividend yield on the $40 that shares trade at today. The exact numbers aren't particularly relevant here; the point is that Wells Fargo's dividend is going up - fast. In the current yield-starved environment where high dividend payers like consumer staples have gotten more than their fair share of love from investors, a yield above 4% from a quality franchise like Wells is bound to attract investor attention.
Even in the absence of the yield factor, increasing confidence in the economy and market in general (cross-reference section b) should lead to more money flow out of defensive sectors like utilities/consumer staples and into tech and financials, which have both been trading at pretty depressed valuations but are now starting to play catch up. Can I say exactly when or how much this will impact share price? No, but I think it is pretty clear that there's a confluence of numerous factors over the next few years that bode well for Wells Fargo shares even in the absence of a massive economic revitalization and exceptional performance of the business.
Section 2: Warrants Structure
So here's where it gets really interesting.
I'm going to start by analyzing the structure of the warrants; information is sourced from the prospectus here.
To start out with, each warrant can be exchanged for one share, and...
The initial exercise price applicable to each warrant is $34.01 per share of common stock for which the warrant may be exercised. All or any portion of the warrants may be exercised in whole or in part at any time or from time to time on or before 5:00 p.m., New York City time, on October 28, 2018 by surrender to the warrant agent...
Great. So to guarantee breakeven, WFC must be trading at $34.01 + your purchase price for the warrant on or prior to October 28, 2018. However, this doesn't factor in the possibility of adjustments. Terms as follows:
the exercise price applicable to the warrants is subject to adjustment described below under the heading "-Adjustments to the Warrants." ...

In the case of cash dividends or other distributions. If we fix a record date for making a distribution to all holders of our common stock of securities, evidences of indebtedness, assets, cash, rights or warrants (excluding ordinary cash dividends (as defined below), dividends of our common stock and other dividends or distributions referred to in the preceding bullet point), the exercise price in effect prior to such record date will be reduced immediately thereafter to the price determined by multiplying the exercise price in effect immediately prior to the reduction by the quotient of (x) the market price (as defined below) of our common stock on the last trading day preceding the first date on which our common stock trades regular way on the principal national securities exchange on which our common stock is listed or admitted to trading without the right to receive such distribution, minus the amount of cash and/or the fair market value of the securities, evidences of indebtedness, assets, rights or warrants to be so distributed in respect of one share of our common stock (such subtracted amount and/or fair market value, the "per share fair market value") divided by (y) such market price on the date specified in clause (x). Any such adjustment will be made successively whenever such a record date is fixed. ... In the case of adjustment for a cash dividend that is, or is coincident with, a regular quarterly cash dividend, the per share fair market value would be reduced only by the per share amount of the portion of the cash dividend that would constitute an ordinary cash dividend. If, after the declaration of any such record date, the related distribution is not made, the exercise price and the number of warrant shares then in effect will be readjusted, effective as of the date when our board of directors determines not to make such distribution, to the exercise price and the number of warrant shares that would then be in effect if such record date had not been fixed.
That's a bit of a mouthful. Pertinent bits rewritten in non-legalese, as best I can make out: "When we pay a dividend, the exercise price will be reduced to the price determined by multiplying the previous exercise price by the following: the market price on the close before the ex-dividend date minus the value of the distribution, divided by the market price." In mathematical terms, where D = dividend, P = price, E0 = initial exercise price, and E1 = subsequent exercise price: E1 = E0 * [(P-D)/(NYSE:P)]
But there's one catch here: not all dividends fully count for purposes of adjustment; they have to exceed $0.34:
Additionally, the exercise price of and the number of shares underlying the warrants will not be adjusted for any regular quarterly cash dividends that are in the aggregate less than or equal to $0.34 per share of common stock, which is the amount of the last dividend per share declared prior to the date on which the warrants were originally issued to Treasury on October 28, 2008.

[later]

Ordinary cash dividends will not include any cash dividends paid subsequent to October 28, 2008 to the extent the aggregate per share dividends paid on our outstanding common stock in any quarter exceed $0.34, as adjusted for any stock split, stock dividend, reverse stock split, reclassification or similar transaction.
Okay, fair enough. There's a second bit: not only is the actual exercise price reduced for distributions, but the number of shares is also increased.
Each warrant initially represents the right to purchase one share of our common stock. The number of shares deliverable upon the exercise of each warrant is subject to the adjustments described below under the heading "-Adjustments to the Warrants."

[...]

The number of warrant shares will be increased to the number obtained by multiplying the number of warrant shares deliverable upon exercise of a warrant immediately prior to such adjustment by the quotient of (a) the exercise price in effect immediately prior to the distribution giving rise to this adjustment divided by (b) the new exercise price as determined in accordance with the immediately preceding sentence.
This one is less complicated: S1 (shares deliverable after dividend) = S0 * (E0/E1), where E1 is calculated as I described above.
Now we can start modeling. To be conservative (I prefer surprises to be to the upside rather than to the downside), I've assumed that Wells will not conduct any buybacks between now and 2018, despite the fact that the company is actually buying back shares.
Section 3: Modeling The Risk-Reward
This is where it gets really interesting. I'll start with the base case, move on to the bull case, then present the breakeven analysis, which is what really seals the deal for me.
I modeled this in a little bit more detail before deciding to buy, but I present a stripped-down version below. For what it's worth, I was lucky enough to pick up my position between $12 and $12.50, but I think the risk-reward is still really attractive here.
The first step is to make basic assumptions. I started with 2014 consensus analyst expectations for EPS, then modeled 5% EPS growth year-on-year through 2018. I think this is fairly reasonable given some of the growth opportunities; Wells Fargo shouldn't have much trouble meeting this. The dividend payout ratio gradually increases to 45% by the end, and the P/E creeps up a bit to a still-very-reasonable 12.86, so I'm not projecting huge multiple expansion here (even though I think WFC could reasonably trade at 14-15).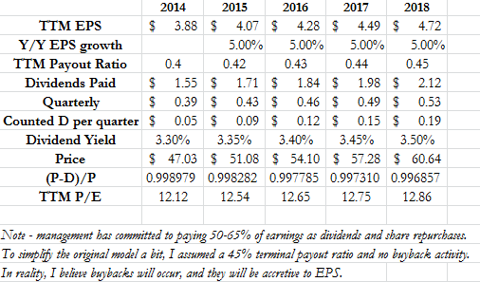 Now I can use that information, plus the formulas from earlier, to compute the strike price before and after every dividend distribution. I assume the Q1 '14 dividend is the first to cross the $0.34 threshold. Note that I only go up to Q3 '18 since the warrants expire in October; also note that the exact adjustments are obviously dependent on the actual dividend and actual share price. Take these numbers with a grain of salt; they're meant to be representative rather than precise, but should be fine within a couple hundred basis points.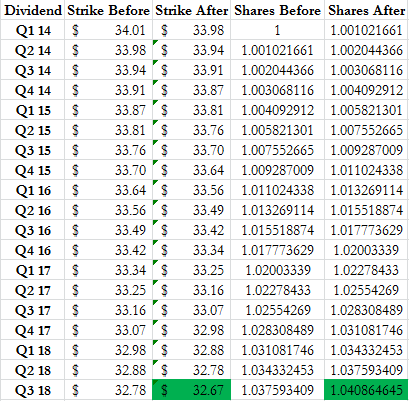 The adjustments are certainly nice; counting them, the warrants (currently trading at $14) are over $7.75 in the money, leaving time premium of only $6.25 - or 15% - for five and a half years until expiry. That's barely 3% per year, which is cheap. As I'll go over later, there's pretty nice downside protection here. (Random note: Assaf Nathan modeled the adjustments as conservatively ~10%. My model seems to come up with similar enough results, so within a couple hundred basis points, I think this is a pretty realistic outcome.)
Anyway, once you factor in the simple EPS model and the somewhat less simple adjustments, you get this: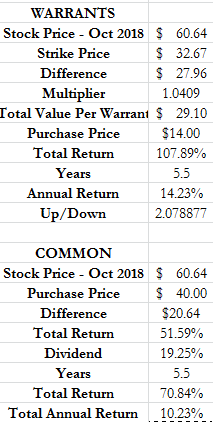 Without making any aggressive assumptions, it looks like the warrants will give you a double over 5.5 years, which isn't too bad at all. Note that the common appreciates 50% in this scenario, plus 19.25% in dividends (which you don't get on the warrants), for a total of 70.84%. Your "alpha" with the warrants, relative to the common, is 30% over the timeframe, or 4% in annualized terms.
Moving on to the bull case: starting from the same $3.88 in EPS for 2014, I model 9% annual EPS growth, which I think is reasonable if you're optimistic on Wells Fargo's future (like I am). Below are the same three parts of the table, updated with the new data.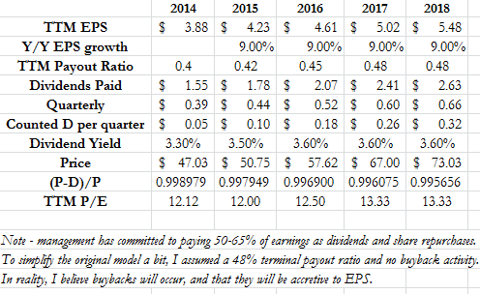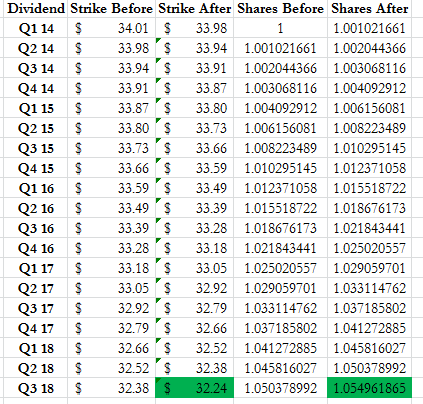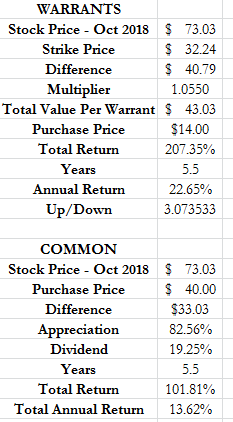 Here we see nearly 100% alpha for the warrants vs the common; your investment triples over the next five and a half years. Annualized, that's 22.65% compounding each year. Not bad at all.
Of course, with leverage and its accompanying potential for higher returns, there's got to be a lot of risk here, right? Well, yes, and no. While this isn't exactly one of those binary situations Greenblatt discussed (where leverage is actually less risky than lack thereof), the breakeven analysis I'm about to present suggests that the leverage here is much less risky than usual.
Breakeven Analysis
Two tables are below. They're deceptively simple, but they're important. Here's what I did: for part 1, I simply wanted to figure out where Wells Fargo needs to be trading for me to just not lose any money over the next 5.5 years. Without accounting for adjustments, that's simple enough - $48. $34 strike price + $14 warrant price. After accounting for adjustments, however, it drops to $46.13.
Here's the real kicker. While those might sound like big numbers for a stock that's been bouncing around the mid to high $30s (and very recently crossed $40), if you remember we're talking about 5.5 years from now and annualize the returns back, you're now looking at merely a 3.37% annual appreciation in WFC share price - without adjustments - required for you to break even. Accounting for adjustments, it could be as low as 2.63% per year.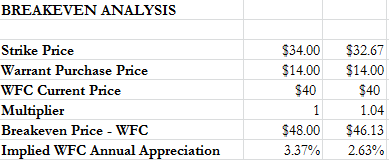 It occurred to me, though, that absolute breakeven might not be the most useful or relevant type. Since I conducted this analysis from the point of view of a Wells Fargo bull who would own the common if not for owning the warrants, I'm actually more interested in figuring out at what point my returns on the warrants exceeds my return on the common.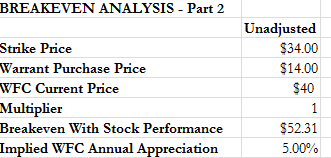 So if WFC returns a dime more than 5% a year for the next 5.5 years, I'm better off buying the warrants. To be fair, I didn't include the dividend, but I also didn't include adjustments. Even if you plus-minus the numbers by a bit in either direction, the fact that breakeven (warrants vs options) is so low is very intriguing. After all, if you're looking to initiate or add to a position in a stock, you're probably expecting higher than 6-7% returns over time. For me, it has to be in the teens before I start to get particularly interested. As I analyzed earlier in the bull/bear cases, if you're expecting a (reasonable) 10-13% return, including dividend, out of WFC, you would be much better off purchasing the warrants, which will deliver nearly double the annual returns (in the low 20%s). If WFC surprises to the upside, the leverage will deliver substantial alpha, and if WFC muddles along at 4-5% per year, you basically break even with the common.
See the heatmaps below for a graphical representation of your returns at various adjusted strike prices and WFC returns. Not particularly precise, but again, should give a general idea.



Here's Where It Gets Even Better
Absent a situation where Wells just entirely collapses, time premium isn't going to totally disappear on the warrants until the months leading up to expiry in 2018. In fact, the time premium may even increase a bit if Wells reports consistently excellent results for a few quarters, and the market rapidly reevaluates the value proposition of both the common and the warrants. In all of the analysis presented up until here, I've assumed that the warrants were held until expiry. In reality, if Wells does really well over the next few years, and price to book edges up closer to 2, Wells could be trading in the $60s well before October 2018. At that point, the value proposition of the warrants would change; you'd have much less potential upside and much more potential downside. They might still be attractive, or they might not be, but the point is the risk/reward would no longer be asymmetric like it is today. However, if this were to happen and you were to unload the warrants after two or three years (instead of five and a half), your annualized returns would likely be in excess of 30%. Many scenarios could lead to this - for example, EPS of $4.80 roughly midway through 2016, with a P/E multiple somewhere around 13.5, and an adjusted strike price/shares of $33/1.025 shares. That would result in a 32% annualized return (just based on intrinsic value and no time premium) over the next three years. I'm not predicting this will happen; rather, I'm saying that even the bull case is by no means the maximum reasonable return scenario if all is well with Wells.
Caveats
I'd be remiss not to point out that investing, especially in leveraged instruments like warrants, is not without risk. The obvious downside to holding the warrants rather than the common is if Wells is trading flat - or worse, down - in 5.5 years, then your losses will be much higher on the warrants than the common, plus you won't have the dividend as a cushion. Nonetheless, my intuition here is that Wells will not be at $40 in five and a half years. In my estimation, there's a small chance that things don't go well and the stock is significantly lower, and a much much larger chance that things do go well and shares are trading 40-80% higher than they are today. Regardless, the future is never fully predictable, and it's important to determine your risk tolerance and appropriate position sizing before considering any investment, especially warrants.
Final Thoughts
If I had to put a number on it, I'd say I'm expecting high-teens annual returns out of the warrants. I'm definitely planning to be in them for the long-term - that is to say, two to three years at least - but I will definitely reevaluate the risk-reward if/when Wells is trading in the mid-to-high $50s, and determine if reducing the position size is appropriate based on the new up:down ratio and overall portfolio allocation.
If you're bullish on the future for Wells Fargo, which I am, the warrants are a very attractive risk-reward proposition today. Sadly, they're not necessarily less risky than investing in the common, like Joel Greenblatt's Wells Fargo LEAPs were, but I think that they're less risky than most leverage options around, and investors will be well-compensated for taking it on - in other words, it's a smart risk, for the right investor, appropriately sized as part of a diversified portfolio.
For what it's worth, I established my position between $12-$12.50, and I'm quite happy with the sizing, so I'm not planning to add to my position in the immediate future. That being said, I wouldn't be averse to adding some more if a broad market panic dropped WFC back into the mid-$30s. The value proposition is still strong at $14, I think, but it's obviously better at $12, and better yet at $11, and so on and so forth.
Please do leave thoughts/questions/comments below, and I'll do my best to respond as I get time. Constructive criticism always appreciated.
Disclosure: I am long WFCWS.
Additional Disclosure: These are my personal views and should not be taken to represent the views of Seeking Alpha.