The perils of being a value investor: you think slash know a stock's cheap, but you're hesitant to buy more shares because it's trading 40% above your cost basis from a few months ago. And then you watch it go up double digits again. And once that's happened, then you model out fair value, and shares are still trading at a 15% discount to even a conservative estimate, which would normally be enough for you to buy, except you're up substantially on your cost basis and hate buying stocks that are up.
Sigh. If only I liked riding momo trains.
The true story above describes my love-hate relationship with HP (NYSE:HPQ). I looked into it last summer as part of my broader thesis that the "death of the PC" was being overhyped, leaving a lot of "old tech" companies (INTC, STX, WDC, DELL, CSCO, MSFT) trading at bargain-bin valuations while "social" darlings like FB, ZNGA, and GRPN were trading at stratospheric multiples. Fast-forward twelve months, and the former group is well on its way to recovering from the extreme pessimism, and the latter group has (mostly) had a reality check.
Of all the companies I looked into, HP was not high on my must-buy list. The valuation was cheap, but they were on a massive spending spree, acquiring companies left and right. Everyone knows how that went for them. As a value investor, I tend to not like it when companies massively overpay for companies, then discover that not only was the purchase price too high, but that the purchase might have been inadvisable at any price.
Anyway, to make a long story short, I ended up initiating a small position because it was cheap, and when it got really cheap after the $8.8 billion Autonomy writedown, I substantially increased my position.
Still, I had serious reservations about the company. I liked Whitman, and the stock was an obvious buy at $13 (or $12, or wherever) but it was one of those moments where "risk is always and everywhere a function of price" came into play. Didn't like the company, but the price was literally too good to turn down - to turn a common analogy on its head, it was like picking up 24-carat diamonds in front of a toy bulldozers.
Eventually the market realized how inefficient it had been, and HP minted as much cash flow in a half as they'd guided for in a year, and now we're here, 100% upside later. Along the way, I've grown to like Whitman, and think she's doing a great job of turning the company around. While I think PCs will stabilize and servers/services/software will return to growth at some semi-undeterminable point in the future, I'm not so confident in printers/printing. I could talk a lot more about my thoughts here, but this is intended to be a quick blog post rather than an in-depth thesis, so feel free to comment with questions/thoughts.
That leaves me wondering what to do with my position - buy more? Hold? Sell? Quick multiple checks implied the stock was cheap, but it's certainly not a screaming buy like it was in the teens. So I decided to run a DCF model.
Keep in mind this is rough; there are still parts of it that need to be fleshed out (there are a few interesting items in working capital, for example) but it substantiates that even under pretty sad assumptions, the stock's still trading at a decent discount to fair value.
DCF Conclusions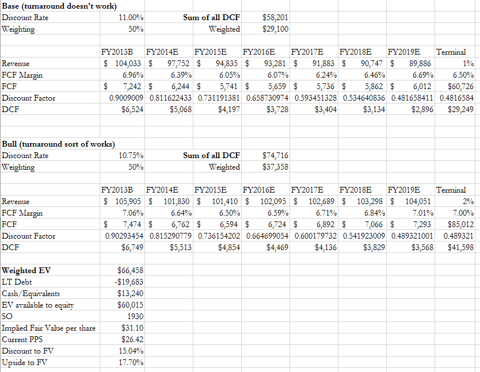 You may be wondering why I didn't include a bear case. Here's why: the assumptions in my bull case are hardly heroic (you may notice revenue doesn't go anywhere) and the assumptions in my base case are downright pessimistic.
Base Case Assumptions
I have some spare capital to deploy, and I already hold quite enough of INTC and WFCWS (see here and here for the respective write-ups). Based on the results above, as well as my intuition that things won't turn out as badly as my overconservative projections suggest... well, HP could still have pretty good long-term upside from here.
Lest I sound too sad about a stock trading at $26 and change when I started buying it in the high teens and kept buying it on the way down... well, I'm mad I didn't buy more. But hindsight's 20/20, and some say the three most dangerous words in investing are "I missed it."
Rant of the day over. I promise my next post will be more opportunity-centric and less me-centric.
Disclosure: I am long CSCO, DELL, HPQ, INTC, MSFT.
Additional disclosure: I am also long WFCWS. I may add to my HPQ position in the next 72 hours.