If you are kicking yourself for not picking any stock in the March meltdown of 2009, and are a little bit adventurous, you might just want to take a look at Hardy Oil.
The Pluses
1.       Strong Partnership
In India, Hardy is partnered with Reliance Industries Limited, one of India's largest business firms with interests ranging from upstream energy to grocery stores. Reliance has gained significant experience in the upstream energy space with Niko Resouces by bringing the D6 gas find on stream.
2.       Strong Geography
The D6 gas find lies very close to acreage of the D9 and D3 blocks that Hardy and Reliance have the right for.  Hardy has a 10% interest in both and Reliance holds the rest.
 
Please see image below.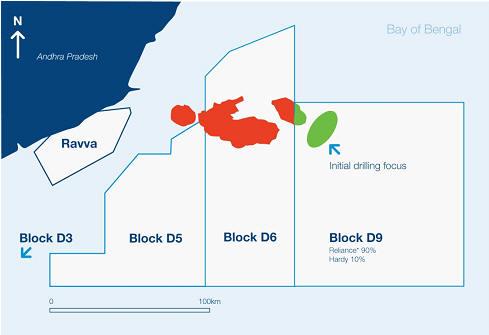 Source: http://www.hardyoil.com/Assests/nelpiii/nelpiii_main.htm
3.       The Timing
The first well drilled in the D9 acreage ahs turned out to be a dud - http://in.reuters.com/article/businessNews/idINIndia-43388320091023. This has caused the share price to fall.
Decision
Another three wells are to be drilled in D9 - http://www.gulfoilandgas.com/webpro1/MAIN/Mainnews.asp?id=9500
Minuses
This is purely a speculative play and the risks are high. So are the potential rewards.
Hardy Oil trades in the UK - http://uk.finance.yahoo.com/q?s=HDY.L or www.lse.co.uk/shareprice.asp?shareprice=...