by Ed Wijaranakula, NMS Investment Research
The SET ran up 1.98% on Friday to close at 1,320.19, lead by beaten down energy stocks including Banpu Pcl (SET:BANPU), PTT Pcl (SET:PTT), and PTT Exploration and Production Pcl (SET:PTTEP), up 13.91%, 3.2% and 8.27%, respectively. The spot WTI crude price bounced off the 12-year low at $26.05 a barrel last Thursday and is now back above $30 a barrel. For the week, the spot crude price skyrocketed 19.89% to close at $32.73 a barrel on Friday in Bangkok.
Comments and remarks from top U.S. Federal Reserve officials usually move financial markets and crude prices one way or the other. The Fed is now in damage-control mode as Patrick Harker, Federal Reserve Bank of Philadelphia President, said in a speech on Tuesday at the University of Delaware that inflation could be negative in the first-quarter and Fed policy should be able to "truly normalize" in the second-half of the year, with steady growth, a low unemployment rate and price pressures starting "to assert themselves", according to MarketWatch.
One of the U.S. Federal Reserve's most prominent advocates of higher interest rates, James Bullard, the president of the Federal Reserve Bank of St. Louis, declared on Wednesday that it "unwise" to move any further in light of weak inflation and global volatility, suggesting the Fed is stepping further away from plans to continue to hike rates, said Reuters.
Earlier in the week on Monday, the National Economic and Social Development Board (NESDB) said that Thailand's fourth-quarter gross domestic product, GDP, expanded 2.8% year-on-year, down from 2.9% in the third-quarter. The headline GDP exceeds the 2.6% median estimate in a Bloomberg survey of 22 analysts. The NESDB cut its growth forecast for 2016 to between 2.8% and 3.8% from 3% and 4%, citing the fragile global economy, weak oil prices and exports.
There are more worrying signs in the Chinese economy, as the General Administration of Customs of China said on Monday that imports in January were down 14.4% year-on-year, missing the forecast of a 1.8% gain, while exports were also a big miss, falling 6.6% year-on-year, versus an expected increase of 3.6%.
Separately, the Cabinet Office of Japan said on Monday that Japan's GDP shrank an annualized 1.4% in the fourth-quarter ending December 31, following a revised 1.3% gain in the third-quarter as weakness in private consumption persists. The median estimate of 33 economists surveyed by Bloomberg was for a 0.8% decline.
The SET surged 3.42% for the week, to close at 1,320.19 on Friday. The USD/THB exchange rate was quoted at 35.736 baht per dollar on Friday, down 0.82% since the beginning of the year, while CNY/THB slid 1.58% for the year to close at 5.4793 baht per yuan. The Thailand 10-year bonds were yielding at 2.08% at the close on Friday, down 17.46% year-to-date.
Bloomberg said Japanese investors are flocking to Thai bonds as the Bank of Japan, BOJ, began applying a negative 0.1% interest on excess reserves, IOER, of financial institutions placed at the bank, effective February 16. It might be not such a good idea though, as the Japanese yen has already appreciated 5.65% against the Thai baht this year.
The yield spread between the Thailand 10-year bond and U.S. 10-year Treasury Note, yielding at 1.743% on Friday, narrowed to 0.337 percentage points. Basically, capital flows could accelerate as the yields of the Thailand sovereign bond and the U.S. Treasury Note convergences. Foreign investors' net sells have been decelerating to 428 million baht in February while Thai institutional investors were selling, according to the SET data.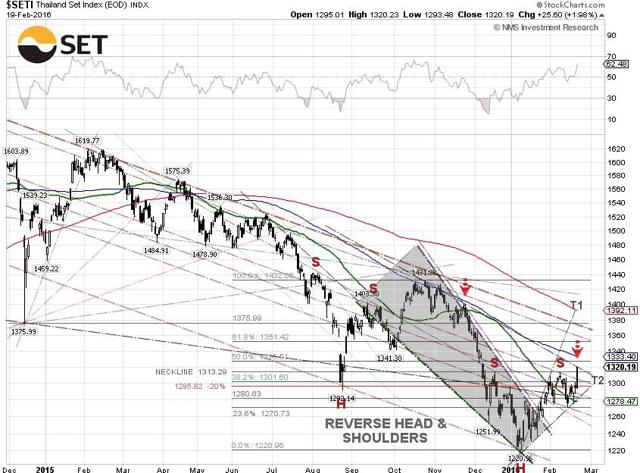 From our technical viewpoint, the SET broke out the neckline of a bullish reverse head and shoulders chart pattern at 1,313.29, after about three weeks of consolidation, and is now stuck at a trendline head resistance. Our near-term projected price level is 1,351.62, or the 61.8% Fibonacci retracement level. There are two key resistances at around 1,333.40, or the 100-day moving average (blue line), and at 1,326.51, or the 50% Fibonacci retracement level. As long as the index stays within the T1 and T2 trendlines, there should not be any red flags.
Disclosure: I/we have no positions in any stocks mentioned, and no plans to initiate any positions within the next 72 hours.