by Ed Wijaranakula, NMS Investment Research
Related Ticker: iShares MSCI Thailand Capped ETF (NYSEARCA:THD)
The SET gained another 1.73% for the short-trading week, to close at 1,343.07 on Friday. The USD/THB exchange rate was quoted at 35.758 baht per dollar on Friday, down 0.75% since the beginning of the year, while the CNY/THB has slid 1.8% year-to-date, to close at 5.4672 baht per yuan. The Thailand 10-year bonds were yielding at 2.13% at the close on Friday, down 15.48% year-to-date. The yield spread between the Thailand 10-year bond and U.S. 10-year Treasury Note, yielding at 1.764% on Friday, narrowed to 0.366 percentage points.
The WTI crude oil price jumped 10.50% for the week, as traders were trying to interpret what the Saudis mean by "production freeze". Nonetheless, the crude oil price closed on Friday on a bearish note, with a shooting star candlestick chart pattern. There will be refinery shutdowns for maintenance in the U.S. during the next few weeks so the crude oil data will be all over the place, meaning more volatile crude prices.
Some on Wall Street are thinking that the Fed will keep hiking interest rates until the U.S. and global economies fall into recession. Kansas City Fed President Esther George, in an interview on Bloomberg radio on Tuesday, said Federal Reserve policymakers should be prepared to consider raising interest rates in March, despite recent financial market volatility. She reiterated her hawkish stance, as she sees a rosy economy ahead and solid growth this year.
The U.S. bond market seems to have a different opinion, since the yield spread between the 10-year and 2-year U.S. Treasury Notes has narrowed on Friday to 0.96 percentage points, an 8-year low. The bond market is telling the Fed that the U.S. economy is heading towards trouble.
According to Bloomberg, Willem Buiter, Chief Economist at Citigroup, sent out a note on Wednesday to their clients to get ready for a global recession. "The most recent deterioration in the global outlook is due to a moderate worsening in the prospects for the advanced economies, a large increase in the uncertainty about the advanced economies' outlook (notably for the U.S.) and a tightening in financial conditions everywhere," said Buiter in his note.
The Commerce Ministry of Thailand said on Thursday that exports tumbled 8.91% in January from a year earlier, missing a Reuters' forecast of a 7.1% decline. Exports to China dropped 6.1% from a year earlier, while those to Europe declined 2.4%. Shipments to the United States dropped 8.5% last month, and exports to Japan tumbled 10.1%.
Imports also tanked 12.37% in January year-over-year, according to Reuters. The trade surplus shrank to $238 million in January, from $1.48 billion in December, said the Commerce Ministry. Despite a plunge in exports, the Commerce Ministry still maintains its export growth target of 5.0% this year.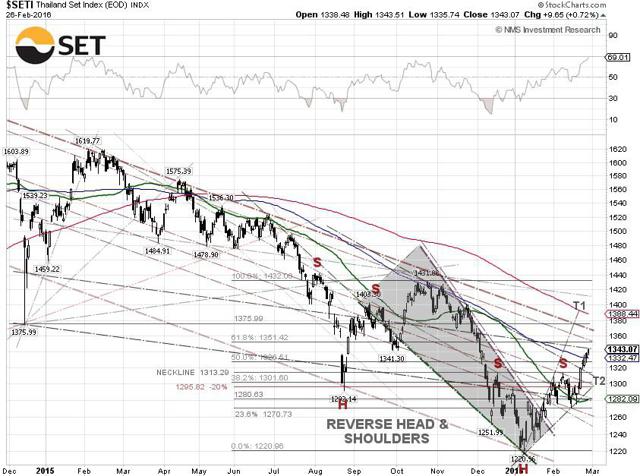 From our technical viewpoint, the SET may already be overbought. Our near-term projected price is 1,351.62, or the 61.8% Fibonacci retracement level, and it could be the point where sellers step in and start selling.
Disclosure: I/we have no positions in any stocks mentioned, and no plans to initiate any positions within the next 72 hours.