by Ed Wijaranakula, NMS Investment Research
Hedge funds and speculators got spooked on Thursday by bullish comments from Paris-based International Energy Agency, or IEA, and Saudi Energy Minister Khalid al-Falih, which triggered fund buying and some algorithmic trades. Crude oil has been on the rebound since early August, as traders were unable to push the WTI crude price down below the $40 technical support level.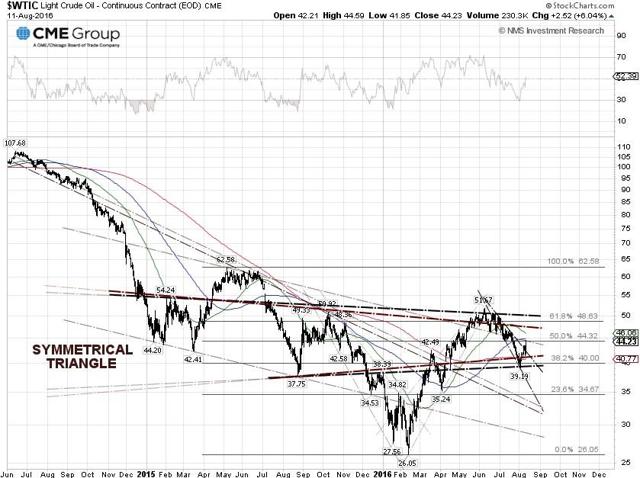 The IEA said on Thursday that their balances show essentially no oversupply during the second half of the year because producers outside the Organiztion of the Petroleum Exporting Countries (OPEC) cut back their production and global demand for crude oil remains healthy, according to the Wall Street Journal. From the IEA website however, the IEA said in their August 11, 2016 World Oil Demand report that global oil demand growth is expected to slow from 1.4 million barrels a day in 2016 to 1.2 million barrels a day in 2017, as underlying support from low oil prices wanes.
In the past several weeks, hedge funds and other big speculators have been dumping crude oil amid worries about oversupply and rising stockpiles of gasoline despite the peak summer driving season in the United States, according to the weekly Commitments of Traders, or COT, reports from the U.S. Commodity Futures Trading Commission, or CFTC.
Separately, Saudi Energy Minister Khalid al-Falih said on Thursday that OPEC members and non-members would discuss the market situation, including any action that may be required to stabilize prices, during an informal meeting on September 26-28 in Algeria. Everyone should be skeptical though, as Saudi Arabia and Iran are now pumping crude oil at near record levels, while U.S. producers have brought over 20% of idle oil rigs back online since the rig count hit the low at 316 on June 6, 2016.
Disclosure: I/we have no positions in any stocks mentioned, and no plans to initiate any positions within the next 72 hours.