by Ed Wijaranakula, NMS Investment Research
The U.S. Dollar index barely moved on Monday, despite hawkish remarks from Fed vice-chairman Stanley Fischer, who told the audience at a conference in Aspen, Colorado on Sunday that the U.S. central bank was near to hitting its targets for full employment and 2% inflation. The markets are thinking differently though, as it would be hard-pressed to make a "U.S. full-employment" call when the labor force participation rate is only 62.8%, near a 38-year low and some 94.3 million Americans might still be looking for a job.
In fact, core personal consumption expenditures (PCE), the Federal Reserve primary inflation gauge, has been running below the Fed's target of 2% since second-quarter 2012. The IMF said the U.S. core PCE is expected to rise only 1.8% in 2016, compared to a 1.4% gain last year.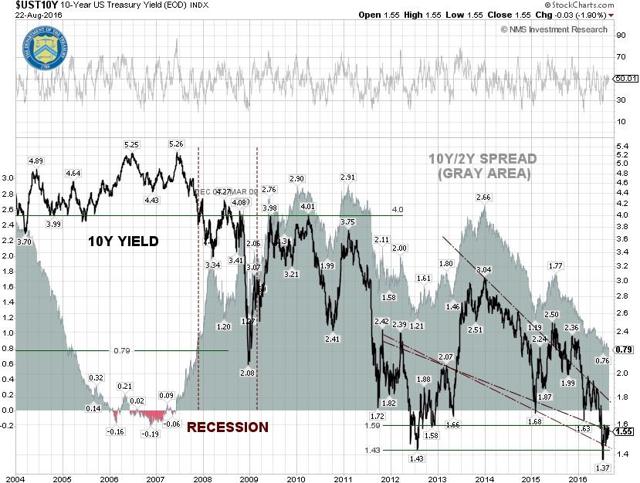 Money managers were moving assets into traditional safe-havens, which sent the yield of the 10-year U.S. Treasury Note tumbling 1.9% to close at 1.55% on Monday. More Fed hawkish talking could send the 10-year Treasury yield back to retest the record low of 1.37% on July 8. The 10-year U.S. Treasury Note chart pattern, which already looks very bearish, could trigger technical buying and send the yield even lower. The yield spread between the 10-year and 2-year U.S. Treasury Notes, a leading indicator, took a 3.66% nosedive to close at 0.79 percentage points on Monday, as recession fears persist.
From a historical perspective of the Fed leading up to the last U.S. recession, from December 2007 through March 2009, the Fed began hiking the short-term rate from 1.0% to 1.25% in June 2004 as the yield spread between the 10-year and 2-year U.S. Treasury Notes stood at 1.9 percentage points. By the time the Fed raised the key rate by a quarter-percentage point to 5.25% for the last time in June 2006, the yield spread was already in negative territory and the yield curve was inverted. Rising crude oil prices exacerbated the situation. About 12 months after the yield spread was negative, the U.S. went into a deep recession until early 2009.
Disclosure: I/we have no positions in any stocks mentioned, and no plans to initiate any positions within the next 72 hours.