By Ed Wijaranakula, Ph.D., NMS Investment Research
The EUR/USD exchange rate broke down the trendline support after Mario Draghi said at a news conference in Frankfurt on Thursday that quantitative easing is unlikely to come to an "abrupt" end, meaning the ECB €80 billion-a-month bond-purchase program could continue beyond March 2017. One problem is that Mario Draghi could run out of bonds to buy.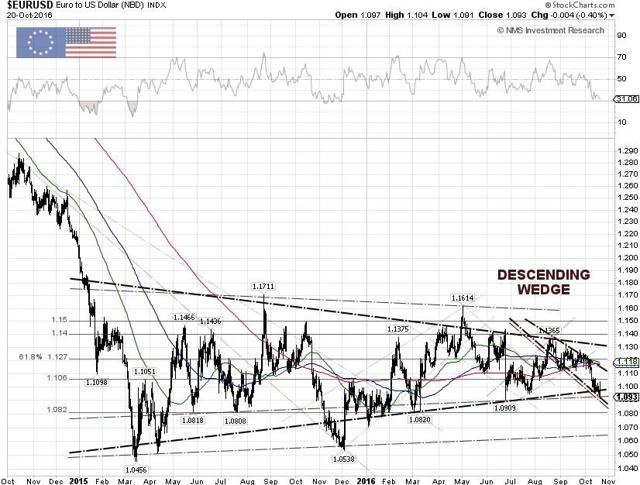 Meanwhile, both the offshore (USD/CNH) and onshore yuan (USD/CNY) dropped to six-year lows against the U.S. dollar on Friday, to 6.7756 and 6.7635, respectively, as traders are betting on a December Fed rate hike. According to Bloomberg, China sold an estimated $570 billion worth of U.S. Treasuries and other foreign-exchange assets from August 2015 to August 2016 in an effort to prop up its currency from plunging.
The Fed may have created its own problem by talking up a December rate hike. A weak yuan will drive down U.S. inflation and send the U.S. manufacturing sector deep into recession, which makes a December rate hike become unrealistic.
Disclosure: I/we have no positions in any stocks mentioned, and no plans to initiate any positions within the next 72 hours.