By Ed Wijaranakula, Ph.D., NMS Investment Research
The WTI crude price jumped 12.2% this week, to close at $51.68 per barrel on Friday, while the Brent crude spot price gained 15.33% to close at $54.48 per barrel, after OPEC agreed on Wednesday in Vienna to reduce its production from 33.7 million barrels per day (bpd) to 32.5 million bpd, effective in January. According to Reuters, OPEC will meet with non-OPEC countries on December 10 in Moscow to finalize the deal of their output in the next six months, but Russia has already promised to reduce 300,000 bpd from its production.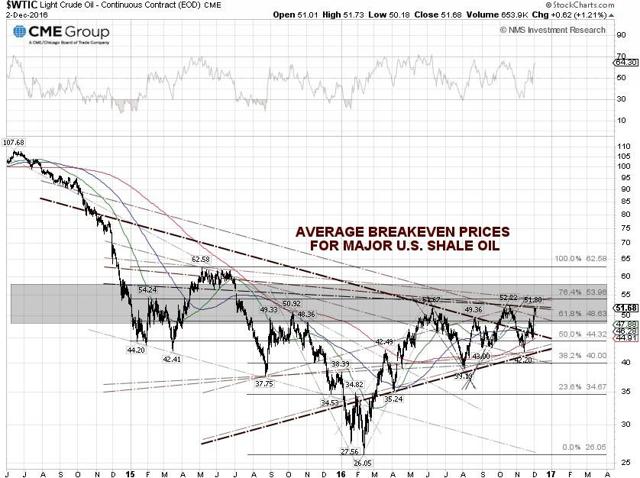 WTIC could be heading higher to test the $53.96 per barrel technical level on expectations that OPEC may ask non-OPEC countries to cut more than 600,000 bpd when they meet next week. The crude oil rally could be short-lived though, as crude prices are now bumping into the average breakeven prices for U.S. shale producers, such as Eagle Ford, Bakken and Niobrara, which are about $48 and $58 per barrel, according to the Financial Times. The breakeven prices for Brazil deepwater and Canadian oil sands are also ranging in the same neighborhood of between $50 and $55 per barrel.
The EIA weekly U.S. oil inventory report on Wednesday showed that domestic crude supplies fell by 900,000 barrels to 488.1 million barrels, excluding the Strategic Petroleum Reserve, in the week ending November 25, compared to S&P Global Platts analysts' expectations for a decline of 250,000 barrels. The American Petroleum Institute, or API, inventory data on Tuesday showed a U.S. crude inventory decrease of 717,000 barrels.
Separately, the EIA said the weekly U.S. crude oil production rose 9,000 bpd for the week ending November 25, to 8.699 million bpd. Weekly U.S. crude oil output has fallen about 9.48% from the peak level of 9.61 million bpd during the week ending June 5, 2015. Houston-based oilfield services company Baker Hughes Inc. said on Friday that the U.S. oil rig count rose by another 3 to 477, compared to 316, when the rig count hit the low on June 6, 2016.
Disclosure: I/we have no positions in any stocks mentioned, and no plans to initiate any positions within the next 72 hours.