By Ed Wijaranakula, Ph.D., NMS Investment Research
Trump's surprise victory and a Republican clean sweep on November 9 sparked a rally in the U.S. dollar and Treasury yields on expectations that the new administration's economic stimulus plans, including a large tax cut and as much as $1 trillion in spending on infrastructure, would create faster economic growth. Dollar bulls hope that Trump's fiscal stimulus plans would drive inflation sharply higher, which may prompt the Federal Reserve to raise its benchmark interest rate in December and beyond.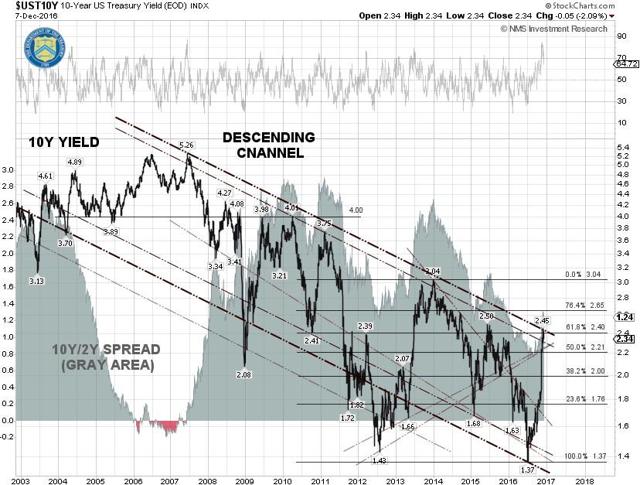 Trump has outlined plans for a trillion dollar investment in infrastructure over ten years, which offers $137 billion in federal tax credits to private investors who want to back transportation projects such as toll roads, toll bridges, or other projects that generate cash flow. Trump's plan could face a roadblock by his own party, as some Republicans are not going to vote for anything that increases the national debt, which will soon surpass the $20 trillion mark.
From our viewpoint, if the plan is approved by the U.S. Congress, an average of $100 billion annually will be spent, which will add about 0.6% to the U.S. GDP that is presently growing at a compounded annual growth rate, or CAGR, of 2.1% since 2009. Private investors may not be interested if the Trump administration puts restrictions on the projects, including the use of domestic steel or labor union workers. The yield of the U.S. 10-year Treasury Note has now stalled at the trendline resistance of the descending channel, the 2.4% level. A failure to break out could be a warning sign that the Trump stimulus plans might not deliver what they are supposed to.
Here are some takes from Wall Street. Savita Subramanian, head of U.S. equity and quantitative strategy at Bank of America Merrill Lynch, told CNBC on Wednesday that she remains bullish as long as, "We get stimulus. We get tax cuts. We get, you know, slowly rising interest rates", or else the U.S. could be heading into a recession if policymakers fail to deliver or the U.S. gets the negative side of the policy proposals.
JP Morgan is expecting the U.S. economy to grow at 1.9% in 2017 and 1.8% in 2018, as the U.S. Congress will only approve some of the tax incentives and spending plans. Things could get worse if President Trump starts ripping up trade deals with Asian-Pacific countries, renegotiating the North American Free Trade Agreement, and imposing tariffs of 45% on Chinese goods.
"To maximize the stimulus from a corporate tax rate cut we believe it must be: significant, speedy and simple. If the corp tax rate cut is to be applied to full 2017, as we expect, then passing the legislation ASAP provides the most bang for the forgone 2017 tax revenue buck," Deutsche Bank equity strategist David Bianco wrote in a note to clients Wednesday, according to CNBC.
Disclosure: I/we have no positions in any stocks mentioned, and no plans to initiate any positions within the next 72 hours.