By Ed Wijaranakula, Ph.D., NMS Investment Research
Short positions in WTI crude oil futures contracts held by producers or merchants totaled more than 630,187 contracts as of January 24, 2017, near a record level, according to data from the U.S. Commodity Futures Trading Commission, or CFTC. The open interest now stands at 2,151,809 contracts, equivalent to about 2.1 billion barrels of WTI crude oil. Crude oil producers could take short hedge positions to lock in a future selling price to protect against a falling crude oil price. Some banks also require producers to hedge against future price risks as a condition for lending.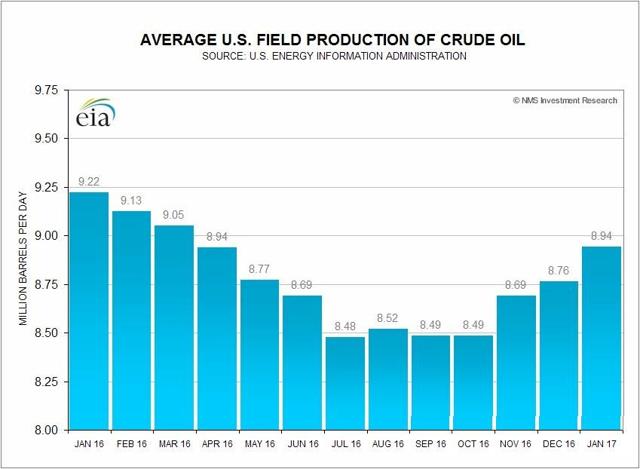 The EIA weekly U.S. oil inventory report on Wednesday showed that domestic crude supplies increased by another 6.5 million barrels to 494.8 million barrels, excluding the Strategic Petroleum Reserve, in the week ending January 27, compared to the S&P Global Platts forecast for a stockpile increase of 2.2 million barrels. The American Petroleum Institute, or API, inventory data on Tuesday showed a U.S. crude inventory build of 5.8 million barrels.
Separately, the EIA said the weekly U.S. crude oil production declined 46,000 barrels per day, or bpd, for the week ending January 27, to 8.915 million bpd. U.S. crude oil output increased 179,000 bpd to an average 8.942 million bpd in January, compared to a December average of 8.763 million bpd. Output has fallen about 6.85% from the peak level of 9.60 million bpd in June 2015. Houston-based oilfield services company Baker Hughes Inc. said last Friday that the U.S. oil rig count jumped another 15 to 566, compared to 316, when the rig count hit the low on June 6, 2016.
Disclosure: I/we have no positions in any stocks mentioned, and no plans to initiate any positions within the next 72 hours.