By Ed Wijaranakula, Ph.D., NMS Investment Research
The U.S. Commerce Department said on Tuesday that the second estimate U.S. real GDP came in at $16.8041 trillion, down $700 million from the advance estimate, reported in January. The U.S. real GDP 2016 annual growth now stands at 1.601% year-on-year, the worst since the great recession of 2008-2009, missing the Federal Reserve's own forecast of 1.9%. Most economists said that without the surge in soybean exports during the third quarter last year, due to the weak harvest in Argentina and Brazil, the U.S. real GDP 2016 would be even worse.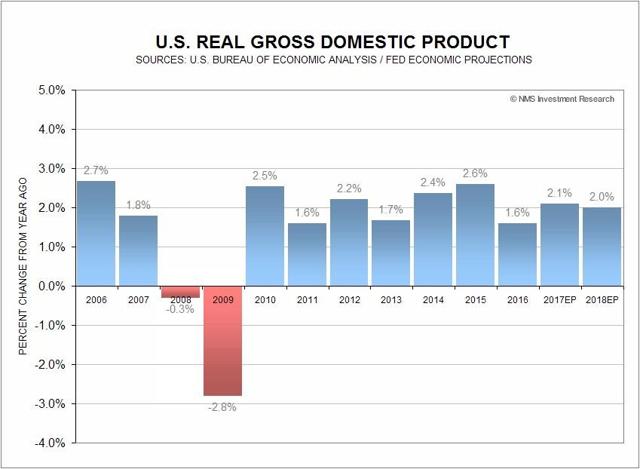 Here is the troubling part. The minutes from the December 13-14 Federal Open Market Committee, or FOMC, meeting, released on January 4, revealed that the Federal Reserve had become increasingly more optimistic about the U.S. economy, as they raised its median U.S. real GDP projections for 2016, 2017 and 2018, to 1.9, 2.1, and 2.0%, respectively, from 1.8, 2.0 and 2.0% previously forecasted in September.
In fact, the Fed should have kept with their September forecast for 2016, as they would have been off by just 0.2 percentage point. People may start wondering whether their forecasts for 2017 and 2018 could be off, too. The Fed will give its new economic projections at the March FOMC meeting. Let's see what they will say this time.
Disclosure: I/we have no positions in any stocks mentioned, and no plans to initiate any positions within the next 72 hours.