By Ed Wijaranakula, Ph.D., NMS Investment Research
The S&P 500 posted a 0.24% gain for the week, to close on Friday at 2,378.25, despite rising market volatility due to the Fed rate hike on Wednesday and quadruple witching on Friday, when the stock index futures, stock index options, stock options and single stock futures expire at the end of every quarter. The index continues trading near the top of the ascending channel, with a 12-month+ target of 2,498.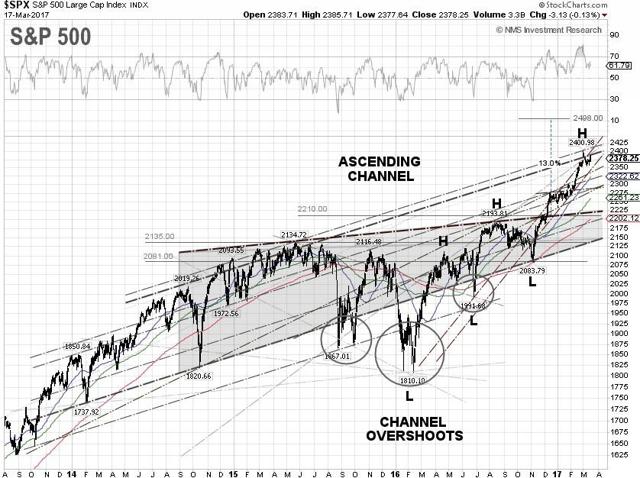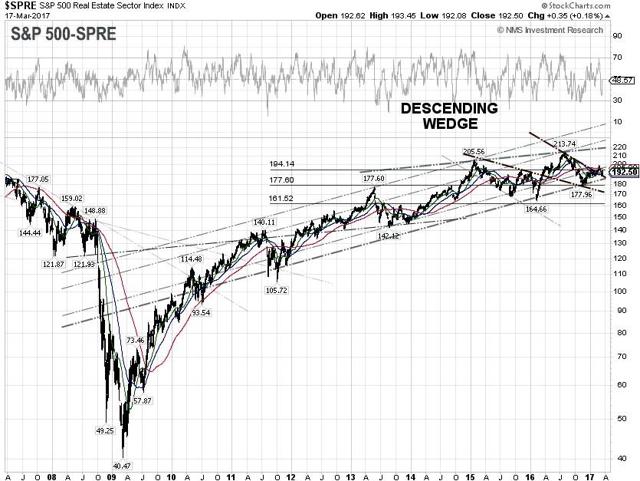 The best performing S&P 500 sectors for the week were Real Estate ($SPRE), Utilities ($SPU) and Telecommunication services ($SPTS), up 1.69%, 1.26% and 1.25%, respectively, as investors took a risk-off approach and rotated out of the Financials sector into high dividend paying stocks. The Real Estate sector has underperformed the broader S&P 500 index since October 2016, as $SPRE is unable to break out the 200-day SMA. The worst performing sectors for the week were Financials ($SPF) and Healthcare ($SPHC), down 0.94% and 0.73%, respectively. President Donald Trump's proposal to increase FDA user fees and NIH budget cuts of nearly $6 billion could hurt the U.S. Healthcare sector.
The Federal Reserve Bank of New York revised its U.S. first-quarter GDP 2017 forecast 0.4 percentage point downward this week to 2.8% from 3.2%, citing weak retail sales, housing and construction, and manufacturing data. U.S. consumers seem not to be in the mood for spending, as the U.S. Department of Commerce said on Wednesday that retail sales in the United States increased by 0.1% month-over-month in February, the smallest gain in six months. Some analysts blamed weak retail sales on delayed tax refunds. Taking the Federal Reserve Bank of Atlanta forecast for the first-quarter of 0.9% into account, the average first-quarter GDP now stands at 1.85%. The Department of Commerce will release its advance estimate first-quarter GDP on April 28.
The U.S. Dollar index, or DXY, essentially the USD/EUR exchange rate, closed at 100.11 on Friday, down about 1% for the week, following the Federal Reserve's decision to raise its target federal funds rate on Wednesday by 25 basis points to a range of 0.75% to 1.0%. The yield of 10-year U.S. Treasury Notes dropped 2.87% this week, to close on Friday at 2.501%, while the yield spread between the 10-year and 2-year U.S. Treasury Notes narrowed to 1.17 percentage points.
The spot gold price jumped 2.4% for the week, to close at $1,230.20 per ounce on Friday, while the Japanese yen appreciated 1.86% against the U.S. dollar. Concerns are that the massive Trump spending cuts announced on Thursday, and the Fed rate hike, will put more stresses on the U.S. economy that is already weak.
The WTI crude spot price gained 1.69% for the week, closing at $49.31 per barrel on Friday, while the Brent crude spot price was up 0.94% for the week to close at $51.76 per barrel, after a bullish EIA weekly report. Crude prices responded mutedly to the Reuters report Friday saying that non-OPEC producers delivered 64% of pledged oil output cuts in February. The report also said Russia will cut output by the full amount it had pledged, which is 300,000 barrels per day, or bpd, by the end of April. A weak U.S. dollar might contribute to a jump in crude prices, but the correlation between crude oil prices and the dollar is poor.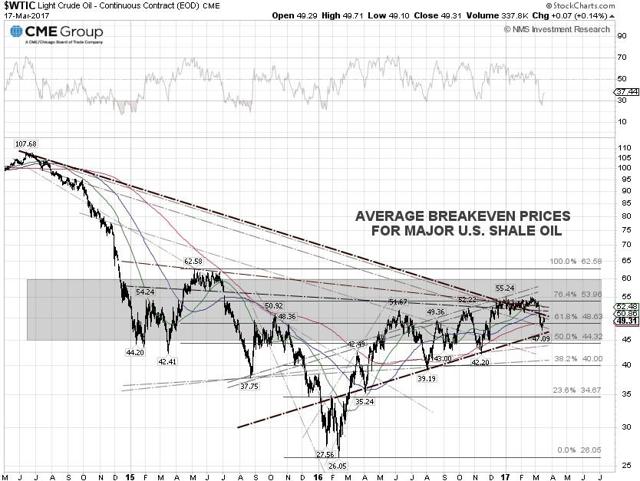 The contract for difference, or CFD, rollover, is on Sunday, when traders swap a matured contract price with a new one before the old contract expires, so the crude prices will be volatile next week. Traders were skeptical and already bearish on crude oil, as speculative short positions in WTI crude oil futures contracts held by money managers jumped to 128, 947 contracts as of March 14, 2017, an increase of 110% or 67,779 contracts from previous week, according to data from the U.S. Commodity Futures Trading Commission, or CFTC.
The EIA weekly U.S. oil inventory report on Wednesday showed that domestic crude supplies decreased by 0.237 million barrels to a near all-time high of 528.16 million barrels, excluding the Strategic Petroleum Reserve, in the week ending March 10, compared to the S&P Global Platts forecast for a stockpile increase of 3.5 million barrels. The American Petroleum Institute, or API, inventory data on Tuesday showed a U.S. crude inventory decrease of 0.531 million barrels.
Separately, the EIA said the weekly U.S. crude oil production increased 21,000 bpd for the week ending March 10, to 9.109 million bpd. U.S. crude oil output increased 61,000 bpd to an average of 9.058 million bpd in March, compared to a February average of 8.997 million bpd. Output has fallen about 5.65% from the peak level of 9.60 million bpd in June 2015. Houston-based oilfield services company Baker Hughes Inc. said on Friday that the U.S. oil rig count rose another 14 to 631, compared to 316, when the rig count hit the low on June 6, 2016.
S&P 500 Summary: +6.23% YTD as of 03/17/17
Barclay Hedge Fund Index: +2.47% YTD
Outperforming Sectors: Information technology +11.94 YTD, Healthcare +9.16% YTD, Consumer discretionary +7.41% YTD, Consumer staples +6.53% YTD, and Financials +5.26% YTD.
Underperforming Sectors: Materials +5.52% YTD, Utilities +5.43% YTD, Industrials +4.94% YTD, Real Estate +1.19% YTD, Telecommunication services -2.44% YTD, and Energy -7.70% YTD.
Disclosure: I/we have no positions in any stocks mentioned, and no plans to initiate any positions within the next 72 hours.