By Ed Wijaranakula, Ph.D., NMS Investment Research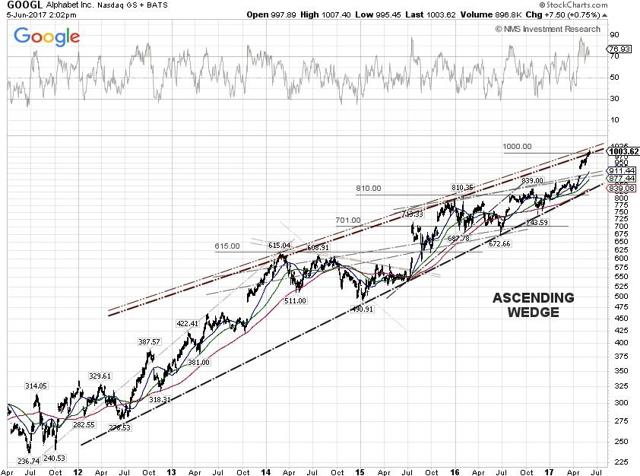 Pacific Crest Analyst Andy Hargreaves told clients over the weekend to buy shares of Alphabet Inc. (NASDAQ:GOOG), (NASDAQ:GOOGL), the parent company of Google, from the money raised by selling some Apple stock (NASDAQ:AAPL). The idea doesn't sound great as investors could face common buy-sell mistakes, namely the stock that one just sold goes up, while the stock that one just bought goes down. Technically, Alphabet stock is already overbought, while it is trying to break out the trendline resistance of the ascending wedge chart pattern. Based on past events, Alphabet shares turned into dead money for at least 12 months after a failed breakout.
Pacific Crest's recommendation also came on the heels of news that the EU may slap Alphabet's Google with a $9 billion fine for breaching EU antitrust rules, according to a Reuters report this weekend. Last year, Google said they had no plans to settle the allegations unless the commission changed its stance. Meanwhile, Google is continuing to fight against fake news, as the bulk of their revenues still rely on ads. Let's see how this goes.
Disclosure: I am/we are long AAPL.