By Ed Wijaranakula, Ph.D., NMS Investment Research
The S&P 500 inched down just 0.3% from its all-time closing high, and for the week, to close at 2,431.77 on Friday, despite the testimony by former FBI director James Comey before the Senate Intelligence Committee on Thursday. Based upon the financial market's reaction, it looked like Comey's testimony didn't hold water since the S&P 500 closed down just a fraction that day. Leading Democrats in the House, including Texas Rep. Al Green, are still moving on with their impeachment proceedings against President Trump, based on charges of obstruction of justice.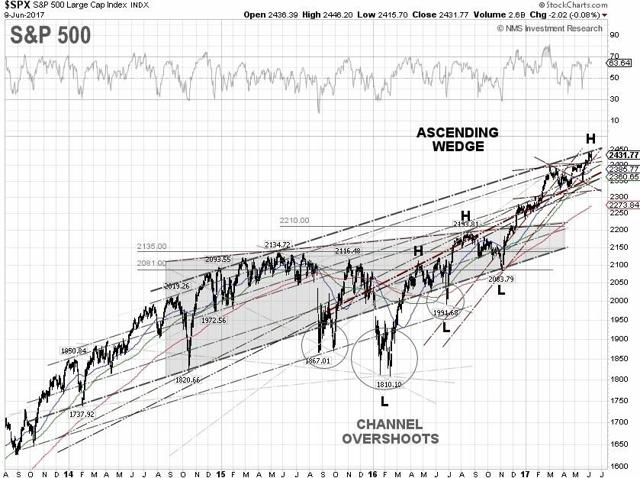 The best performing S&P 500 sectors for the week were Financials ($SPF), and Energy ($SPEN), up 3.58% and 2.06%, respectively, while the worst performing sectors for the week were Information technology ($SPT) and Consumer discretionary ($SPCC), down 2.24% and 2.03%, respectively.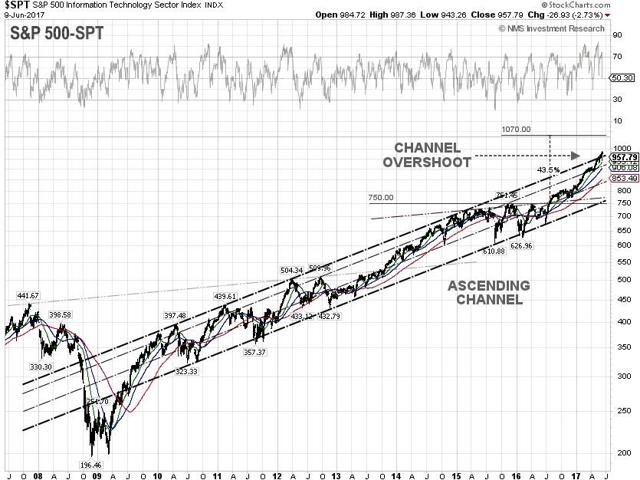 The Financials sector surged after the U.S. House of Representatives approved legislation on Thursday to erase a number of core financial regulations put in place by the 2010 Dodd-Frank Act. Tech stocks took a nosedive after Goldman Sachs sent out a note on Friday warning about valuations of mega-cap tech stocks and concerns that their volatility has become extraordinarily low.
The EUR/USD exchange rate pulled back 0.78% for the week to 1.1196, after ECB President Mario Draghi made a surprise announcement on Thursday that the central bank now anticipates an inflation level of 1.5% in 2017, down from the March forecast of 1.7%. Draghi also said that he is ready to extend QE, while the market expected the ECB to only start discussing QE tapering.
Meanwhile, the British pound tumbled against other major currencies on Friday because UK Prime Minister Theresa May lost her parliamentary majority after Thursday's snap election. The Germans are not very happy with the UK election results. As Günther Oettinger, a German member of the European Commission, put it, "We need a government that can act,"... "With a weak negotiating partner, there's a danger the negotiations will turn out badly."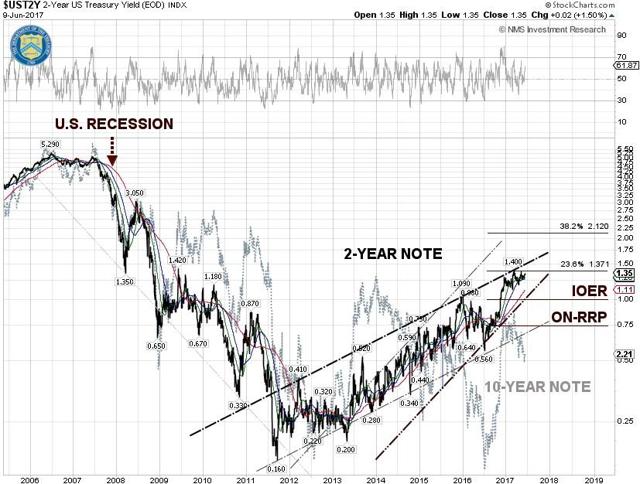 The yield of the 2-year U.S. Treasury Note surged 5.47% for the week, to close on Friday at 1.35%, and is bumping into the 1.371% resistance level, or 23.6% Fibonacci retracement. The yield of the 10-year U.S. Treasury Note was also up 2.79% for the week, closing at 2.21% on Friday. What the Fed might do next week, is to raise the interest on excess reserves, or IOER, by 25 basis points to 1.25% and the overnight reverse repurchase agreement, also known as overnight reverse repo rate, or ON-RRP, by 25 basis points to 1.0%. It is fine right now, as the yields of the 2-year note and 10-year note are diverging. It could spell trouble, however, if the yield of the 2-year note reverses course and both the yields of the 2-year note and 10-year note start heading lower.
S&P 500 Summary: +8.62% YTD as of 06/09/17
Barclay Hedge Fund Index: +4.17% YTD
Outperforming Sectors: Information technology +18.55 YTD, Healthcare +12.20% YTD, Consumer discretionary +10.85% YTD, Utilities +9.65% YTD, Materials +9.54% YTD, and Consumer staples +9.34% YTD.
Underperforming Sectors: Industrials +7.77% YTD, Real Estate +4.12% YTD, Financials +4.09% YTD, Telecommunication services -9.44% YTD, and Energy -12.27% YTD.
Disclosure: I/we have no positions in any stocks mentioned, and no plans to initiate any positions within the next 72 hours.