Shares of Regeneron Pharmaceuticals (NASDAQ:REGN) have been under selling pressure since June 2017, when the stock hit its 52-week high of $543.55 per share following an announcement of a royalty agreement with Novartis (NYSE:NVS) for canakinumab, or ACZ88, a human monoclonal antibody targeted at interleukin-1 beta. The stock broke down a key technical level at $350 in early February and is now retesting the $325 level.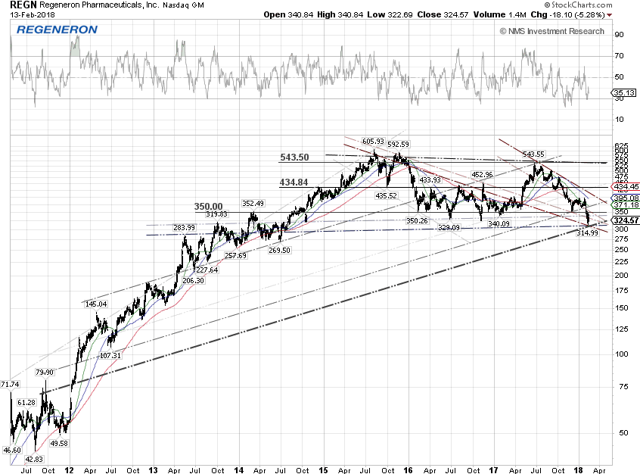 According to a SEC Form 4 filing on September 25, 2017, Sanofi S.A. (NYSE:SNY) purchased 166,413 common shares of Regeneron Pharmaceuticals Inc., through its subsidiary Sanofi-Aventis Amerique du Nord, in late September at prices ranging from $467.78 per share to $488.82 per share. Morningstar's report shows that Sanofi now owns about 23.88 million outstanding shares, or a 22.19% stake in Regeneron.
In early February, Regeneron reported its Q4 2017 financial results that exceeded Wall Street's consensus expectations. Revenue of the company's top-selling drug Eylea (aflibercept), for the treatment of neovascular, or wet, age-related macular degeneration, or AMD, including revenue from sales outside the U.S., came in at $1.21 billion during the quarter, up 17.9% year-on-year.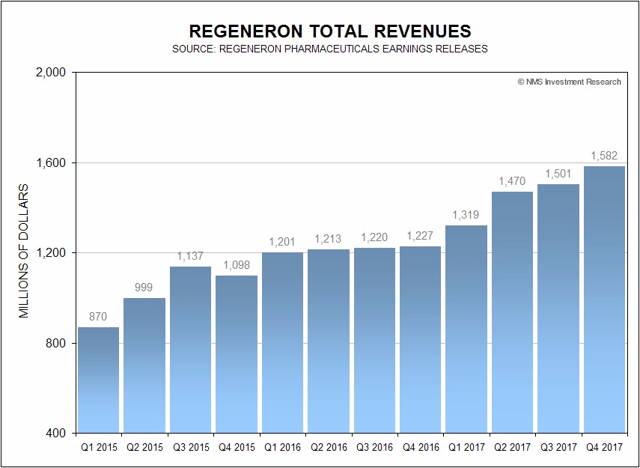 Net sales of newer drugs including Praluent (alirocumab) and Dupixent (dupilumab), as recorded by Sanofi, were $63 million and $139 million during the quarter, respectively. In Q4 2017, revenues for Regeneron from collaborations with Sanofi and Bayer (OTCPK:OTCPK:BAYRY) were $199.52 million and $297.13 million, respectively, up 52.12% and 63.72% compared to the same period the previous year.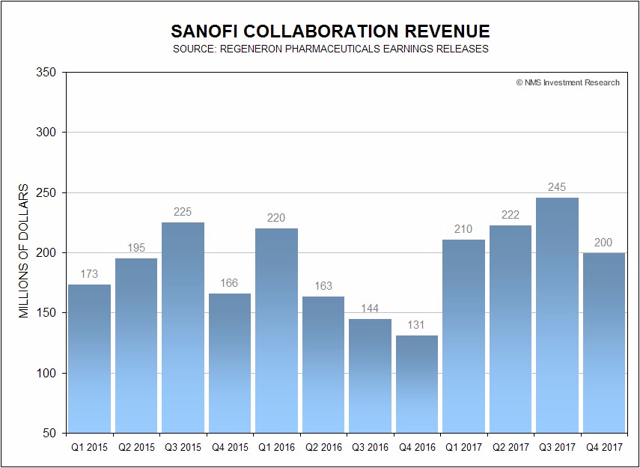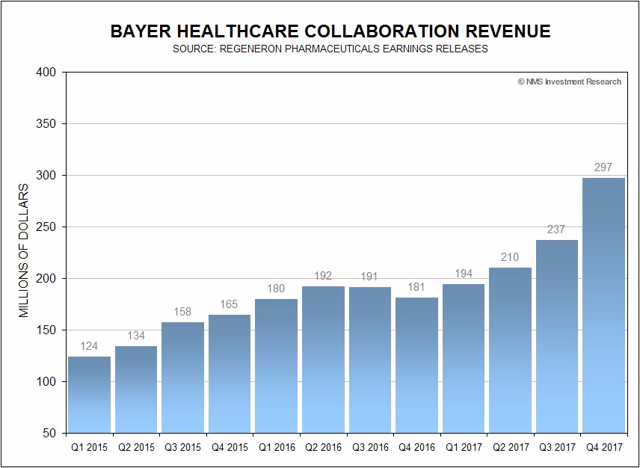 Sell-side analysts have been raising concerns about AbbVie (NYSE:ABBV)'s mid-stage trial eczema drug candidate, oral selective JAK-1 inhibitor ABT-494 (upadacitinib), and Novartis' investigational eye drug, RTH258 (brolucizumab), despite that Wall Street has little or no information for when either of the two drugs will be entering the market or how they will be priced. AbbVie's ABT-494 (upadacitinib) will be competing with Regeneron's injectable drug Dupixent (dupilumab), which is priced at $37,000 per year. In Q4 2017, AbbVie said the U.S. FDA granted Breakthrough Therapy Designation for upadacitinib, but their Phase 3 clinical program is not expected to begin until sometime in the first half of 2018.
According to Fierce Pharma, Leerink Partners analyst Geoffrey Porges said this about Novartis' brolucizumab and Roche (OTCPK:RHHBY)'s RG7716 eye drugs in a research note after Saturday's Bascom Palmer Angiogenesis Meeting in Miami, "The confusing and somewhat lackluster data presented over the weekend for Eylea's theoretical competitors should lift some of the overhang" on Regeneron's stock. He added that, "we walked away from the meeting with questions about the reliability, reproducibility, and readiness of the data for brolucizumab and RG7716, and believe the value erosion in Regeneron's stock due to competitive Eylea threats is vastly overstated."
In fact, Novartis' RTH258 will be the fourth drug in the market for the treatment of wet AMD, behind Avastin (bevacizumab), from Genentech, a subsidiary of Roche, Eylea and Genentech's Lucentis (ranibizumab). According to the American Academy of Ophthalmology, or AAO, the differences between the three therapies are considered clinically insignificant by many ophthalmologists. Lucentis and Eylea are vascular endothelial growth factor, or VEGF, inhibitors while Avastin directly binds VEGF to inhibit angiogenesis. Thus, in our view, RTH258 must be priced somewhere between $1,850 for Eylea, and $1,950 for Lucentis, in order for Novartis to be able to compete.
Disclosure: I am/we are long REGN, ABBV.