It is true that long term investors can basically sit back and ignore the macro issues.
If you are willing to buy an index fund and hold it forever you can just ride through all of the ups and downs of the market.
Even the collapse of 2008/2009 has become a mere blip on the radar in the grand scheme of things.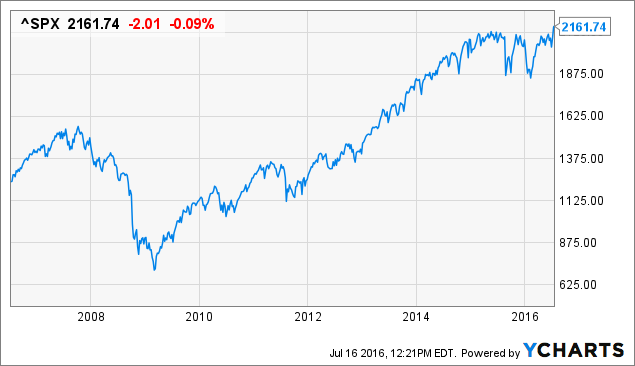 Call us crazy but we think we can do a little better than that. We think that we can take advantage of that manic fellow that Mr. Market is.
When stock prices are expensive we don't want to be buying. When stock prices are inexpensive we do want to be buying. It sounds simple, but of course it isn't.
It requires a lot of patience to do very little when the market seems to want to march forever higher. And it requires some serious guts to be a buyer when everyone is telling you that the end of the world is coming.
To help us in our efforts to exploit the market rather than suffer from it we closely follow the Superinvestors who have proven to be adept at spotting overpricing and opportunities.
Jeremy Grantham is on that list.
Grantham just released a letter to investors where he weighed in on what he thinks of current asset pricing. He is very bearish about valuations but doesn't see a market collapse in the near term.
Here are a few of his thoughts:
On the investment front the equation remains the same: pushing stock prices higher are the twin forces of the Fed's policy and corporate buybacks.

Trying to push prices down is an impressive array of everything else: disappointing productivity, growth, and profit margins together with all our domestic and international political uncertainties. And now Brexit!

It is a testimonial to the strength of those two bullish forces that they can steady the US market near its high, regardless, apparently, of what is thrown at it.

I therefore remain, on the basis of those two remarkable pillars of support, for at least one more quarter where I have been for the last two years; despite brutal and widespread asset overpricing, there are still no signs of an equity bubble about to break, indeed cash reserves and other signs of bearishness are weirdly high.

In my opinion, the economy still has some spare capacity to grow moderately for a while.

All the great market declines of modern times - 1972, 2000, and 2007 - that went down at least 50% were preceded by great optimism as well as high prices. We can have an ordinary bear market of 10% or 20% but a serious decline still seems unlikely in my opinion.
You can read Grantham's full letter here:
www.superinvestorbulletin.com/2016/07/16/jeremy-grantham-weighs-in-on-the-brexit/
We think that Grantham's words (brutal and widespread overpricing) are a reason to be very careful when making investments. Prices are high, eventually that will matter.
There are opportunities in various sectors though and the Superinvestors that we follow know exactly how to find them.
One of our favorite ideas right now is a European company that one of the best investors of the last 20 years has a staggering 33% of his portfolio invested in.
It seems that while the U.S. market continues to march higher, the Brexit has created a European bargain that this Superinvestor likes very much.
We'd love to have you join our subscriber base and gain access to our comprehensive report on this European (U.S. listed) bargain. We believe that the company is currently trading at roughly 1 time expected 2018 earnings. There are no sure things but the fact that one of our favorite investors has basically bet his career on this company is enough to get us very intrigued.
You can join the Superinvestor Bulletin through the link below:
seekingalpha.com/author/superinvestor-bulletin/research

Disclosure: I/we have no positions in any stocks mentioned, and no plans to initiate any positions within the next 72 hours.