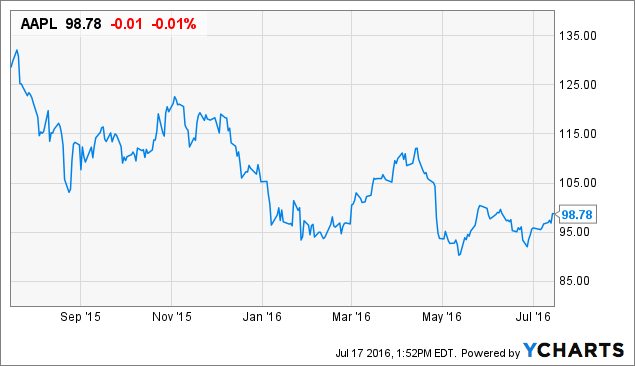 Is there any stock that is more visible than Apple (NASDAQ:AAPL)?
If the market is relatively efficient it would seem preposterous to believe that the most closely followed business could be mispriced.
Yet here we are today with Apple trading at a valuation that suggests that it is a far below average company. How can that be when it has a brand name with virtually unmatched value?
We thought Wedgewood Partners most recent shareholder letter (link below) had some interesting observations about Apple.
www.superinvestorbulletin.com/2016/07/17/wedgewood-partners-second-quarter-2016-letter/
Here was our favorite part:
The Apple stock advance-and-decline narrative has been pretty straightforward over the past half-dozen years.

Given the consented narrative that Apple is "The iPhone Company" and nothing but the iPhone-when forward analyst estimates of iPhone sales increase, the stock typically advances. When estimates are being cut, well, the stock typically declines, also.

Mr. Market really is that binary on Apple's stock price movements.

We would argue, too, that Mr. Market is quite obtuse when it comes to the totality of Apple. Everything else that a rational investor would consider in assessing Apple as an investment is literally put in a vacuum when it comes to the stock.

Valuation seems to matte not a wit.

By any traditional valuation measure, both absolute and relative to other technology hardware companies, Apple's stock, in our view, has long been cheap-but it gets cheaper still on estimate cuts.

In fact, we would argue that Apple's stock is currently valued (6.5X FCF ex-cash) as if to assume that the Company's business prospects are little better than a coal mine in 10-year run-off mode.
Wedgewood makes some interesting points.
At the Superinvestor Bulletin we constantly scour the portfolios of the world's greatest investors trying to identify their highest conviction investment ideas. You have to admit that it makes sense that the porfolios of the best investors would be the best place to look for great ideas.
We'd love to have you join our subscriber base. You can do so through the link below:
seekingalpha.com/author/superinvestor-bulletin/research
Disclosure: I/we have no positions in any stocks mentioned, and no plans to initiate any positions within the next 72 hours.