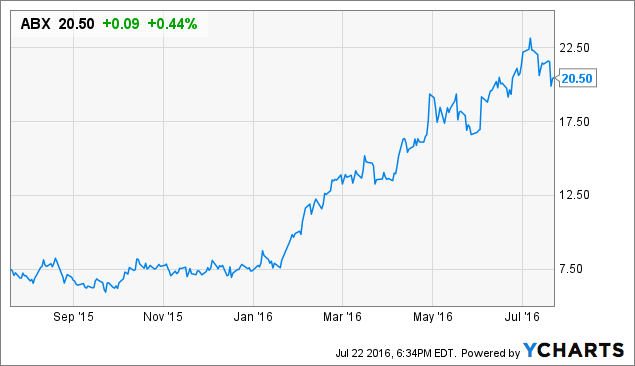 If you take a very short view like the one above the Barrick Gold (NYSE:ABX) stock chart is a thing of beauty.
Back that picture up a couple of years and you will see that the share price still has a long way to go to get back to where it has been.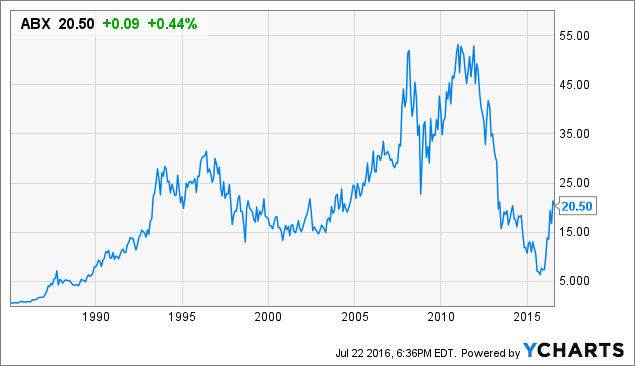 We don't know of any well known fund that has more exposure to Barrick that the guys at Goodhaven. They have taken this Barrick stock for an elevator ride in both directions.
In their recently released semi-annual report (link below) they had this to say about Barrick:
www.superinvestorbulletin.com/2016/07/22/goodhaven-fund-2016-semi-annual-investor-letter/
Barrick is continuing its process of transformation in response to the governance changes that we have chronicled in past letters. Under the guidance of Chairman John Thornton, the company has significantly reduced debt and lowered operating costs.

Perhaps more importantly, the company has been on a mission to assemble a talented and experienced management team that is capable of creating a growing world-class business to match Barrick's world-class asset base.

Although the company has approached our earlier estimate of intrinsic value, metals prices have risen and we believe John and his team are capable of growing that value over time by a meaningful amount.

After the end of the semi-annual period, we slightly reduced our investment near recent highs as a prudent portfolio management step. However, we believe there is significant optionality associated with a company that has an improving balance sheet, clever management team, a large and efficient asset base, and a core commodity price that has risen only moderately over recent multi-year lows.
The risk reward relationship here has clearly changed significantly as a result of the share price increase. The Goodhaven guys don't really make us want to rush out and buy shares either.
We do have another gold linked company that we are much more bullish on. This one is an 11% position in the portfolio of a Superinvestor we admire, has a debt free balance sheet and a great entrepreneurial management group. You can join our subscribers and get a look at our 20 page report on this company.
seekingalpha.com/author/superinvestor-bulletin/research

Disclosure: I/we have no positions in any stocks mentioned, and no plans to initiate any positions within the next 72 hours.