I'm not a technical trader. My primary concern has always been valuation. When I look at a the chart of a publicly traded it only tells me a couple of things.
One would be what the current price the security.
The other would be what the price of the security has been in the past.
While the chart of the S&P 500 doesn't tell me anything about its current valuation it still frightens me.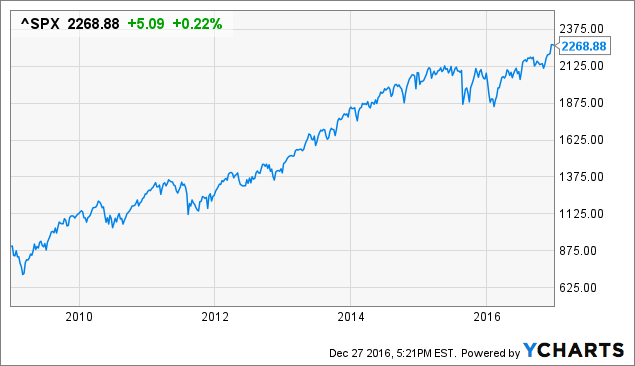 That chart goes from 666 in March 2009 to 2268 today. The entire market isn't fair off being a four-bagger in eight years.
Am I the only one thinking that the party has to be nearing an end?
I read an article today that attributed the last piece of the S&P 500's bull run to Trump "fairy dust" that has been sprinkled on investors.
I don't know about that, but I do know that the time for just buying the market and expecting great returns has long passed. We are at the point were we need to be picking stocks.
That is what we have been doing at the Superinvestor Bulletin since June 1, 2016. So far our average pick is beating the S&P 500 by 10.56 percent.
I actually expect that beating the market is going to be easier for us rather than harder in the next few years. The reason for that is that all of our picks are sourced from the portfolios of the worlds top investors. These are the investors who really tend to distinguish themselves when a bull market runs out of steam.
If the S&P 500 stumbles, I expect our Superinvestor Bulletin Portfolio to really outperform.
Right now we are offering a free trial of our service. You can take a look at all of our past picks and how they have performed. Just click this link to get started:
seekingalpha.com/author/superinvestor-bulletin/research
You can also look at a full past issue of the Superinvestor Bulletin here:
michaelburrys16portfolioweighting.gr8.com/
Our track record to date has exceeded our own lofty expectations. That strong performance isn't because we are great stock pickers. It is because we borrow the highest conviction ideas from the world's very best stock pickers.
I'd love to have you join us as a subscriber.
Disclosure: I/we have no positions in any stocks mentioned, and no plans to initiate any positions within the next 72 hours.