Dear Superinvestor Follower,
At the Superinvestor Bulletin we have been building a portfolio that is made up exclusively of high conviction ideas from the world's greatest investors.
I should note at this time that our annual subscription rates are going up from $169 today to $195 on February 1, 2017. Now would be a great time to take a free trial before rates rise:
seekingalpha.com/author/superinvestor-bulletin/research
The Superinvestors that we follow are the best investors in the world. I'm talking about men and women who have put up 15 to 20 percent annualized rates of return over their entire careers.
Most of these investors run concentrated portfolios. For example, this summer we added Fiat Chrysler (NYSE:FCAU) to our portfolio because we found that Monish Pabrai had an incredible 30 percent of his fund in the company.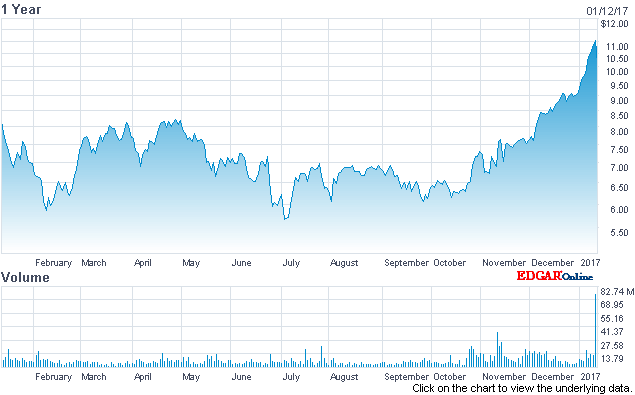 Source: Nasdaq.com
That has worked out very well for us so far as we are sitting on more than an 80% gain.
We love piggybacking on successful concentrated investors. For a position to get into the portfolios of these investors we know that it has been researched intensely and that the Superinvestor believes it represents a tremendous risk/reward opportunity.
But while we like piggybacking on concentrated investors we don't concentrate ourselves. We think a diversified portfolio made up of the best picks from a bunch of different Superinvestors is the perfect formula for success.
In his most recent memo Howard Marks reminded us why we love diversfication:
The opinions of experts concerning the future are accorded great weight . . . but they're still just opinions. Experts may be right more often than the rest of us, but they're unlikely to be right all the time, or anything close to it. This year's election season gave us plenty of opportunities to see expert opinion in action
I'd encourage you to read his full memo which can be found through the link below:
www.superinvestorbulletin.com/2017/01/12/howard-marks-latest-memo-expert-opinion/
About The Superinvestor Bulletin
The ideas that make up our portfolio are currently ahead of the S&P by 12.58% on average since inception. We just released our latest idea, which represents a staggering 15 percent of the portfolio of a world-class activist investor who has averaged 20% annualized returns.
With the activist investor providing the catalyst to realize value, we believe that this company would be a great one to own should the market find itself in a correction.
Disclosure: I/we have no positions in any stocks mentioned, and no plans to initiate any positions within the next 72 hours.