Dear Superinvestor Bulletin Follower,
The conclusion that I have reached through the recent actions and words of the Superinvestors I follow is that the S&P 500 is not an attractive place for new money today.
What we have been doing with our portfolio at the Superinvestor Bulletin is adding very defensive positions. Companies that we believe can outperform significantly in a down market.
I'm talking about companies that are the targets of activist investors who can act as a catalyst for share prices in any market as well as companies in more defensive sectors like healthcare.
One exception that we have made relates to certain financial companies that should do well with rising interest rates and with possible Trump deregulation.
You can get a free look at our current portfolio through the link below. Now is a great time to take us for a spin in case you decide to become a subscriber. Our annual rate will increase from $169 to $195 as of February 1, 2017.
seekingalpha.com/author/superinvestor-bulletin/research
I just read the fourth quarter commentary from Dodge and Cox, a pretty well respected value investing shop (link below for the full commentary).
www.superinvestorbulletin.com/2017/01/18/dodge-and-cox-q4-2016-commentary/
What I found was that they have focused their portfolio on the same sectors that we have at the Superinvestor Bulletin of late.
The firm is very overweight financials, somewhat overweight healthcare and very underweight consumer staples.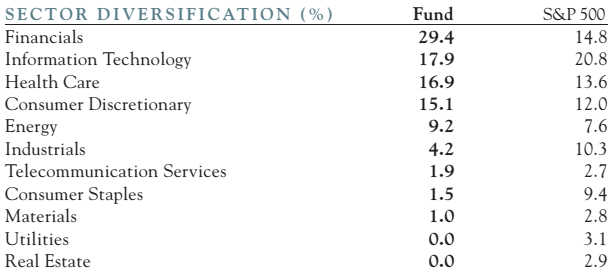 Dodge and Cox's top 10 holdings look like this as of December 31, 2016: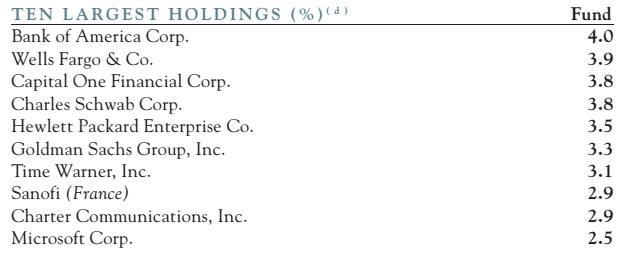 Here is what they had to say about their portfolio going into 2017:
Looking forward, we believe the Fund is well positioned for global growth and rising U.S. interest rates, which will likely continue to create differentiation within the equity market. While valuations have increased, we remain optimistic about the long-term outlook for the portfolio, which trades at a discount: 14.7 times forward earnings compared to 18.8 times for the S&P 500. The valuation disparities that characterize the current market offer significant opportunities for active management.
I will note that like most top investors Dodge and Cox do believe that the overall market is expensive. They also believe that there are still opportunities in the right areas.
I agree. The time for passive index fund investing is over. It has been a good run but now it is time to pick some stocks.
About The Superinvestor Bulletin
The ideas that make up our portfolio are currently ahead of the S&P by 12.58% on average since inception (as of January 6, 2017). We just released our latest idea which represents a staggering 15 percent of the portfolio of a world-class activist investor who has averaged 20% annualized returns.
With the activist investor providing the catalyst to realize value, we believe that this company would be a great one to own should the market find itself in a correction.

Disclosure: I/we have no positions in any stocks mentioned, and no plans to initiate any positions within the next 72 hours.