Dear Superinvestor Bulletin Follower,
You can close your eyes and pretend that the S&P 500 isn't very expensive, but that isn't going to help you avoid what is likely coming.
The reality is that this bull market has gone on for a very, very long time. As of today it is the second longest bull market ever.
It will end, and that ending likely isn't too far away.
As we all know, after the bull comes the bear.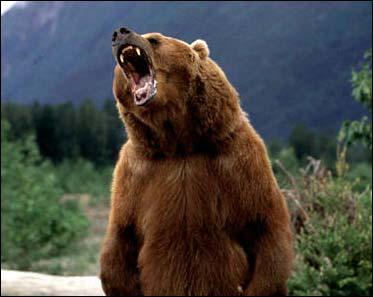 Image Source: Imgion
At the Superinvestor Bulletin our newest upcoming addition to our portfolio is like the last several that we have made. A stock that we believe is going to do especially well in a bear market. Our portfolio has a double digit lead on the S&P 500 since inception and I plan on extending that lead when the bear market arrives.
And like all of our picks, our upcoming pick is sourced from the portfolio of one of the world's greatest investors.
You can sign up for a free trial of our service now so that you can take a look at the bear beating companies we currently own:
seekingalpha.com/author/superinvestor-bulletin/research
You can also get a full past issue here:
michaelburrys16portfolioweighting.gr8.com/
Berkshire Hathaway - Always A Bear Beater
Another company that always outperforms during a bear market is Berkshire Hathaway. In his most recent quarterly letter, David Rolfe of Wedgewood Partners discussed has large holding in Berkshire:
Berkshire Hathaway continues to carry an outsized weighting in portfolios - in fact, the stock continues to be one of our largest holdings.

We believe the Company maintains a long-term competitive advantage, evidenced in its below-average cost of capital, which should become more valuable in an environment of both heightened equity market volatility and/or higher cost of borrowing.

2016 operating results were quite impressive given the headwinds in the bull market-laden, over crowded reinsurance business, plus the stagnant growth at Burlington Northern. The stock did enjoy a post -Trump election pop of nearly 15%.

Mr. Market's early enthusiasm for Trump's fiscal proposals of lower corporate tax rates, if enacted, would certainly benefit Berkshire's bottom line. The Company could potentially be a huge beneficiary of meaningfully lower corporate tax rates. If enacted, lower corporate tax rates would have an out-sized impact by reducing Berkshire's deferred tax liability by boosting the Company's book value. The Company currently has amassed a massive $65 billion deferred tax liability that Buffett himself has equated to an interest-free loan from the U.S. government.

If Trump, and the Republican controlled Congress are successful in lowering corporate tax rates to 15% from the current statutory rate of 35%, the Company's book value could rise double digits.

In addition, given the terrific year-end rally in bank and financial stocks, the nice pop in the Company's multibillion-dollar holdings, including American Express, Bank of America, Goldman Sachs, M&T Bank, U.S. Bank, and Wells Fargo. Bank of America and Wells Fargo enjoyed outsized gains during the quarter of 42% and 25%, respectively.

Berkshire's bank and financial stock holdings have now reached a cumulative market value of over $57 billion.
While Buffett did not vote for Trump his company is clearly one that is looks like it will be a huge beneficiary of how the election went.
Have a great day, I'll be back tomorrow with more Superinvestor material for you.
About The Superinvestor Bulletin
The ideas that make up our portfolio are currently ahead of the S&P by 10.77% on average since inception (as of January 24, 2017). We just released our latest idea which represents a staggering 15 percent of the portfolio of a world-class activist investor who has averaged 20% annualized returns.
With the activist investor providing the catalyst to realize value, we believe that this company would be a great one to own should the market find itself in a correction. You can take a free trial here, please be aware our annual subscription rate goes from $169 to $195 on February 1, 2017.
Disclosure: I/we have no positions in any stocks mentioned, and no plans to initiate any positions within the next 72 hours.