Dear Superinvestor Bulletin Follower,
I can't get the recent market valuation analysis that Goldman Sachs did out of my mind.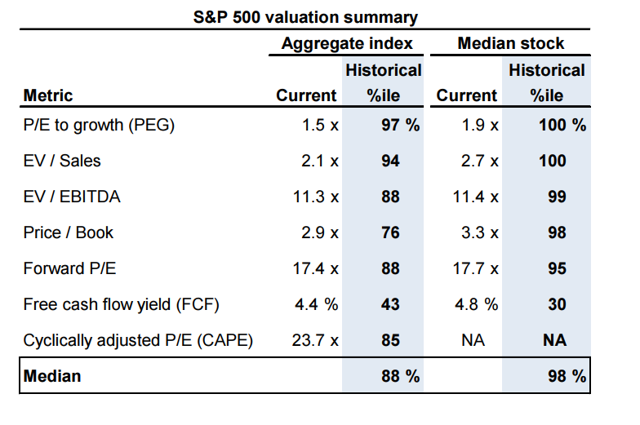 What the Goldman numbers say is that the market has rarely been this expensive. You might point to free cash flow metric which is the one that actually looks ok and suggest that it is free cash flow that matters...
You would have a point....but the only reason free cash flow valuations are still reasonable is that corporations have been paying next to nothing on borrowed money.
If you think that interest rates are never going to rise then I'll grant you that stock valuations might not be as bad as some of those valuation metrics look.
But it seems to me like the risk is pointed in only one direction.
I came across another pretty well respected firm warning about valuations yesterday. This time it was the folks at Weitz (the other Omaha value investor) suggesting that the market was not loaded with bargains.
Here are the exact words from Weitz:
We have no doubt, though, that just as stocks and bonds have been mispriced on the high side recently, they will be mispriced on the low side again someday.
The key phrase would be "mispriced on the high side"...as in stocks need to come down to be properly valued.
The entire Weitz letter is available through the link below. The firm goes through their largest positions and details a few companies that they still believe are attractive enough to purchase today.
www.superinvestorbulletin.com/2017/01/26/weitz-value-fund-q4-2016-commentary/
Here Is What We Are Doing At The Superinvestor Bulletin
The best strategy for the past eight years has been to throw as much money into an S&P 500 index fund as fast as you can. As they say, a rising tide lift all boats.
It is time to change course and prepare for what is coming at us, and it isn't another eight years of the market going straight up.
This is the second longest bull market ever, and every other bull run that has lasted this long was followed by a brutal bear market. I don't know when it is coming, but I feel pretty confident that it is.
At the Superinvestor Bulletin our average portfolio position has built a double digit lead over the S&P 500. You can take a free trial of our service to see how we have done it:
seekingalpha.com/author/superinvestor-bulletin/research
For the last several months we have been adding to our portfolio companies that we believe will do especially well when the bear market roars.
Our next pick comes out in the next couple of days. This company is going to have virtually no correlation to the S&P 500 and is run by one of the greatest stock pickers of our generation. I'm really excited to present it to our subscribers.
I'd love to have you take a free trial of our service so I can present it to you as well.
Have a great day,
Reese Morgan
Editor, The Superinvestor Bulletin
Disclosure: I/we have no positions in any stocks mentioned, and no plans to initiate any positions within the next 72 hours.