Dear Superinvestor Follower,
Bill Ackman has had a rough go over the past couple of years. The publicly traded vehicle that he runs just released its annual presentation which we can all review in full:
www.superinvestorbulletin.com/2017/01/31/pershing-square-holdings-bill-ackman-2016-year-end-presentation/
The presentation quantifies the struggles of 2015/2016:

Source: Pershing Square Holdings
These are two really bad years back to back against a rising S&P 500. The driver of almost all of this was his large position in Valeant.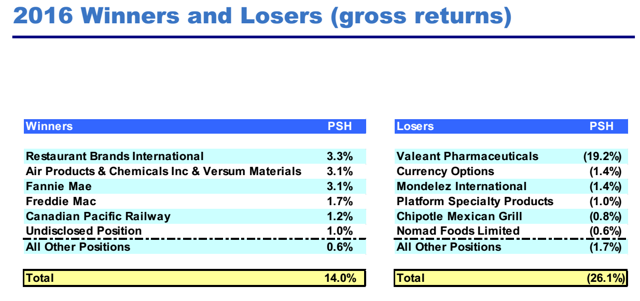 Ackman's long term track record despite the past two years still looks very good. Going into the last two years it was unquestionably exceptional.
Here is how he stacks up since the inception of his fund.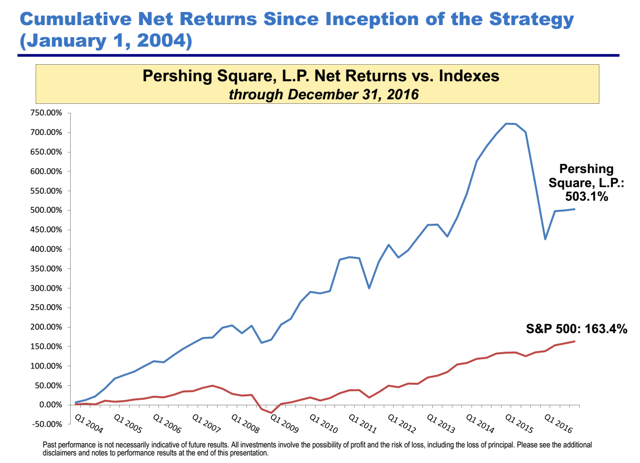 He is still miles ahead of the overall market. In my opinion it is this long term record that provides the better indication of the ability of an investor.
I encourage you to take a tour of the full presentation linked above which goes into considerable detail on Ackman's current portfolio.
I think there are some good ideas in here and you may just run into one company that has made its way into our market beating Superinvestor Bulletin Portfolio!
This Is Why We Diversify
I love concentrated investors like Ackman. Because they hold so few stocks they work harder to find the best risk adjusted ideas. Yes, they don't all work out, but for the true Superinvestors they usually do at a pretty high percentage.
However, just because I like the approach these investors take doesn't mean I want to be concentrated myself. I like the safety of diversification.
This creates a problem for me because I'm greedy. I also want the 15 to 20 percent annualized returns that these concentrated Superinvestors achieve over time.
On want the best of both worlds. Superinvestor like returns, with a diversified portfolio.
This is why I developed The Superinvestor Bulletin. At The Superinvestor Bulletin we take the very best picks (highest portfolio weightings) of the very best concentrated investors and build a portfolio out of them. It really is a "best of the best" portfolio.
This approach provides both diversification, and also only the stocks that are the largest positions in the portfolios of these great investors.
The Superinvestors we take ideas from have generated close to 20 percent annualized pre-fee investment returns over time. By building a portfolio exclusively out of these ideas I believe we can match the returns that those Superinvestors achieve.....but do it with a diversified portfolio.
Just between you and me, I think we might be able to beat their returns since we don't have to pay their egregious 2 and 20 fees!
To date, the formula is working and it is working very well. Our average position is 10.77 percent ahead of the S&P 500. You can verify this for yourself and take a look at how we've done it by taking a free trial of our service (no strings attached):
seekingalpha.com/author/superinvestor-bulletin/research
I'd love to have you join our rapidly growing subscriber community. We are in this for the long haul.
Reese Morgan
Editor, The Superinvestor Bulletin

Disclosure: I/we have no positions in any stocks mentioned, and no plans to initiate any positions within the next 72 hours.