Dear Superinvestor Bulletin Follower,
Your daily reading today comes from Whitney Tilson who has just released his fourth quarter investor letter. You can read the entire letter here.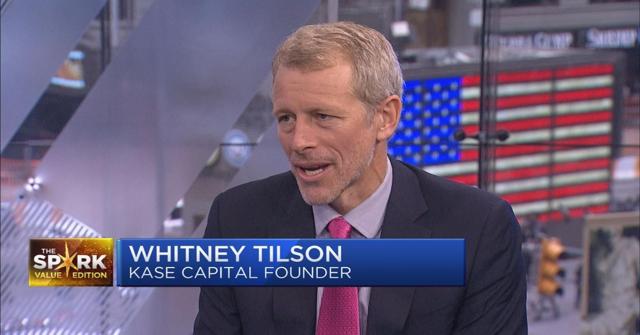 Tilson didn't have a great 2016 but his long term track record still has him comfortably ahead of the S&P 500. It has been my experience that the best time to borrow ideas from long term outperformers like Tilson is after a period of underperformance.
In the letter Tilson goes into significant detail on all of his 10 largest positions. I encourage you to give it a read, you may just find an idea you like. Below are his thoughts on his second largest position
CSX Corporation (NYSE:CSX) - 50 to 100 percent Upside
CSX offers us another bite at the Hunter Harrison apple. Harrison is a legend in the railroad industry for the remarkable turnarounds he led at Illinois Central, Canadian National and, over the past few years, Canadian Pacific, a very successful investment for us.

I invested in CP in December 2012 after attending the company's analyst/investor day, during which I met Harrison and saw the remarkable strides the company had already made in less than six months of his leadership. While the stock had already doubled over the previous 14 months to ~$100, I thought it still had plenty of room to run.

The story initially played out exactly as I'd anticipated: the company's revenues rose at a healthy clip and its operating ratio (a measure of costs) plunged, resulting in soaring earnings - and the stock price followed suit, peaking at over $200 in late 2014. I sold a fair amount of our position in the high $100s and low $200s, banking substantial profits, and, with the turnaround mostly complete, exited the position entirely last September.

A nearly identical story is now playing out at CSX. After failing in his attempt to have CP acquire CSX, Harrison recently resigned from CP and teamed up with former CP board member Paul Hilal, who's raised a $1+ billion fund focused exclusively on CSX. The goal is to install Harrison as CEO so that he can work his magic yet again on another chronically underperforming railroad.

I know Harrison well from the years we owned CP, and Paul Hilal has been a close friend for nearly three decades. I think it's highly likely that they will strike a deal with CSX in the very near future to make Harrison the CEO, and that he will once again far exceed expectations, driving the stock up 50-100% from its current level of $47.09 in the next 18-36 months.
Better Still, Take A Free Trial Of The Superinvestor Bulletin
Tilson has some good ideas, we think we can offer you an even better alternative. At the Superinvestor Bulletin we are building a portfolio made up exclusively of the highest conviction idea of the world's greatest investors.
Over their careers these great investors have generated annualized returns of 15 to 20 percent after fees. By cherry picking only the best ideas from these great investors I believe we have a formula that can match if not beat these returns.
We generally add two new positions each month and provide a comprehensive company report on each of those.
More importantly our approach has so far proven that it works and it works very well. On average our portfolio positions are ahead of the S&P 500 by a double digit percentage. I personally think that our most recent idea that was released just last week is our best one to date.
You can still get in on it at our entry price. Just click the link below to take a free trial (no strings attached) today.
seekingalpha.com/author/superinvestor-bulletin/research
Enjoy your Saturday,
Reese Morgan
Editor, The Superinvestor Bulletin