Dear Superinvestor Bulletin Follower,
Why has Warren Buffett been buying airline stocks?
What does he think of President Trump?
Why has he added so much Apple stock to his portfolio after all of these years?
Great questions and fortunately we have answers.
Buffett sat down with CNBC after the release of the Berkshire 2016 annual shareholder letter and took on all questions.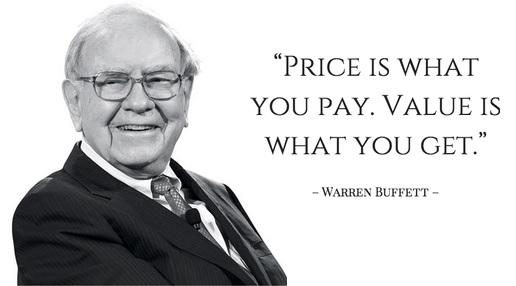 Source: BI
Interestingly Buffett does not think that the stock market is expensive today despite the fact that valuation multiples are pretty high relative to historical norms.
Buffett bases that opinion on the fact that stocks have to be valued relative to current interest rates. Here is what he had to say:
Buffett: Well ... I've been talking this way for quite a while, ever since the fall of 2008. I was a little early on that actually. But I don't think you could time it. And we are not in a bubble territory or anything of the sort.

Now, if interest rates were 7 or 8 percent then these prices would look exceptionally high. But you have to measure, you know, you measure everything against: interest rates, basically, and interest rates act like gravity on valuation. So when interest rates were 15 percent in 1982 they'd pull down the value of any asset.

So, what's the sense of buying a farm on a 4 percent yield basis if you can get 15 percent in government's?

But measured against interest rates, stocks actually are on the cheap side compared to historic valuations.

But the risk always is, is that - that interest rates go up a lot, and that brings stocks down. But I would say this, if the ten-year stays at 230, and they would stay there for ten years, you would regret very much not having bought stocks now.

There you have it. Stocks are attractive as long as interest rates stay where they are.
Now we just need a crystal ball on interest rates.....
Here is the link to the full Buffett transcript:
www.cnbc.com/2017/02/27/billionaire-investor-warren-buffett-speaks-with-cnbcs-becky-quick-on-squawk-box.html
The next Superinvestor Bulletin portfolio addition will be out this week. To date our portfolio has doubled the performance of the S&P 500.
You can take a free trial of the Superinvestor Bulletin here:
seekingalpha.com/author/superinvestor-bulletin/research
Enjoy your week!
Reese Morgan

Disclosure: I/we have no positions in any stocks mentioned, and no plans to initiate any positions within the next 72 hours.