Dear Superinvestor Bulletin Follower,
I hope this Saturday finds you in fine spirits.
I've spent the day going through some recent commentary from various investors that I follow.
I thought I'd pass along some valuation thoughts from the Forester Value Fund. Full commentary is linked below:
www.superinvestorbulletin.com/2017/03/18/forestar-value-fund-december-2016/
Here is the valuation context from Forester:
In order to assess the market impact of the Trump agenda, it is important to understand the valuation context of the current market.

Some are comparing Trump's call for a tax cut to the Reagan tax cut years, and assuming that the market will likewise take off like it did then.

After Reagan was elected, stocks rose by about 10%. However, the rally did not hold and stocks were down nearly 40% from the peak over the next couple of years. Like the Reagan years, the market rallied nearly 10% after Trump won the election. Will the drop happen next?

The context of these two rallies could not be more different. When Reagan was elected, S&P 500 P/E was below 10 and the 10 year UST rate was nearly 12%.

Currently, the S&P 500 P/E is nearly 24 (trailing 12 months) and the 10 year UST is 2.5%. When Reagan was elected, P/Es had nowhere to go but up and long interest rates had nowhere to go but down.

The bar was very low for significant stock returns with beginning low valuations and high historic interest rates.

The opposite is true now. An S&P P/E of 24 is very high, especially as it is based on historically high profit margins. So if profit margins return to their historic average and the market stayed the same, the P/E would be much higher still. Also, 10 year UST rates are historically at the lower end of their range. Higher long rates usually lead to lower stock values. They also increase mortgage costs which lead to lower home prices, all else equal.

So Trump's starting place of high valuations and low interest rates is a very high bar from which to see strong stock returns. (Note: chart below shows Cyclically Adjusted P/Es (NYSEARCA:CAPE)). CAPE P/Es are currently 28 and were only higher in 1929 and the 2000 bubbles.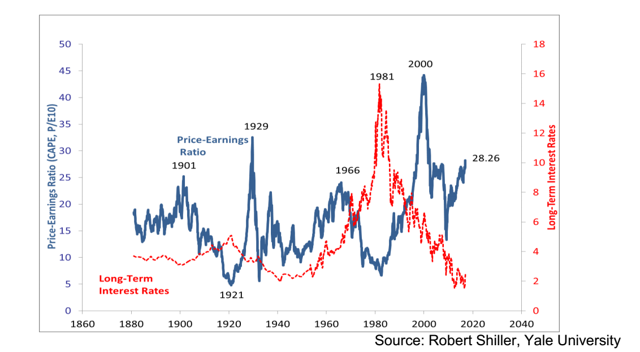 The points made by Forester are convincing because they make sense. High valuations, wide profit margins and already low interest rates.
Where is the positive catalyst in there?
Speaking of catalysts, that is what we have been focused on now for many months at the Superinvestor Bulletin. We have been adding stocks that we believe have upcoming catalysts that can drive share prices higher even if the overall market collapses (which we think is a real possibility).
To date our portfolio has doubled the performance of the S&P 500. In a major correction we believe that we can widen that margin of outperformance.
You can take a two-week free trial of our service through the link below:
seekingalpha.com/author/superinvestor-bulletin/research
Reese Morgan
Editor, The Superinvestor Bulletin

Disclosure: I/we have no positions in any stocks mentioned, and no plans to initiate any positions within the next 72 hours.