Dear Superinvestor Bulletin Follower,
I was re-reading the Wedgewood Partners Q4 2016 investor letter and thought I'd share some interesting data on the rising leverage used by S&P 500 companies.
I guess money has been free so why not?
Here is Wedgewood: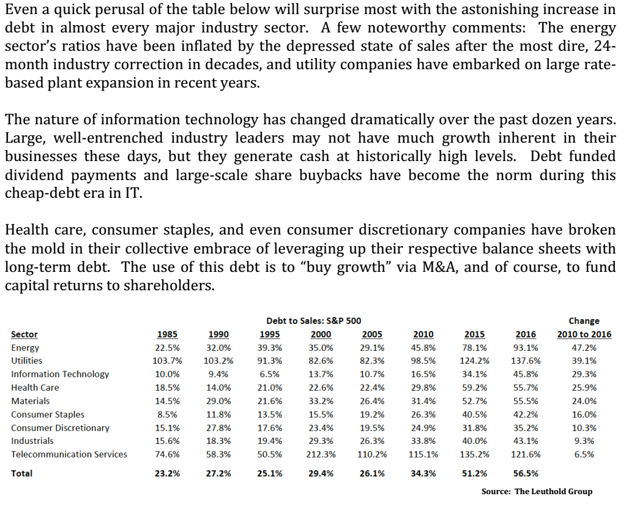 You can read the full letter through the link below:
www.superinvestorbulletin.com/2017/03/25/wedgewood-capital-partners-q4-2016-investor-letter/
Have a great weekend,
Reese Morgan
Editor, The Superinvestor Bulletin
About The Superinvestor Bulletin
Since launching the Superinvestor Bulletin on June 1, 2016 our average portfolio position has doubled the performance of the S&P 500. You can see exactly how we have achieved that by taking a 2 week free trial through this link.
Our latest idea is poised to be one that works out quickly. It is a small cap company that an activist investor is positioning to be sold at a significant within the next year. That is a catalyst that will drive the stock no matter what the overall market does.

Disclosure: I/we have no positions in any stocks mentioned, and no plans to initiate any positions within the next 72 hours.