Dear Superinvestor Bulletin Follower,
Marcato Capital has laid out a plan for change at Buffalo Wild Wings (BWLD):
www.superinvestorbulletin.com/2017/04/25/marcato-capital-activist-presentation-on-buffalo-wild-wings/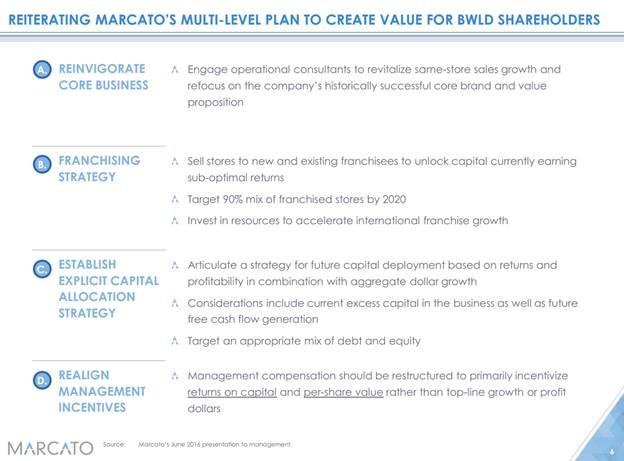 With the bull market now frighteningly old and valuations clearly rather expensive relative to any historical norms I think looking into stocks with catalysts (like activists) could be a key to outperformance in the coming period.
If the market corrects these companies with catalysts can buck that trend.
At the Superinvestor Bulletin we have added a few to our portfolio in recent months and will continue to add more.
You can take a look at some of our comprehensive company reports with a free trial:
seekingalpha.com/author/superinvestor-bulletin/research
A full past issue is also available here:
michaelburrys16portfolioweighting.gr8.com/
Have a great day!
Reese Morgan
Editor, The Superinvestor Bulletin

Disclosure: I/we have no positions in any stocks mentioned, and no plans to initiate any positions within the next 72 hours.