Dear Superinvestor Bulletin Follower,
If you were thinking that the dollar has had a rough go of it so far in 2017 you were correct.
Check out the chart below which shows the dollar performance year to date as being worse than every year since 1979 except 1985.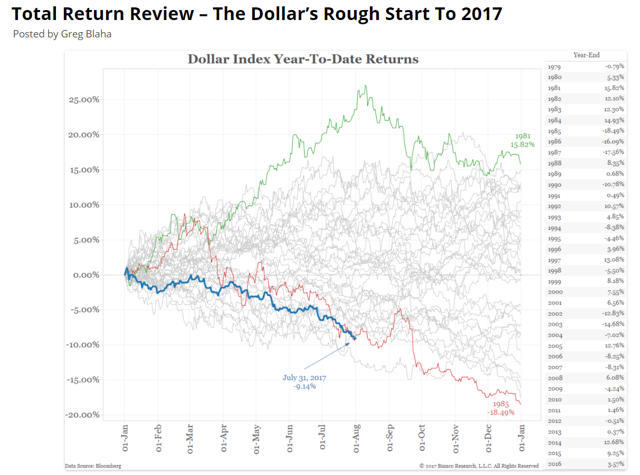 I didn't see that coming with rates rising!
About The Superinvestor Bulletin
We are just putting the finishing touches on our next addition to the Superinvestor Bulletin Portfolio.
This one is an underfollowed small-cap with huge growth potential.  
Like all ideas of ours this one was found in the portfolio of market thumping investor.
To date the average performance of our portfolio positions has beaten the S&P 500 by 9.78% from the time they were selected.  We are obviously very proud of that track record.
You can sign up for a free trial today which will get you a look at our existing comprehensive company reports on current positions and make sure that you receive our next selection the moment it is released to subscribers.
Just click the link below to do so:
Have a great day!
Reese Morgan
Editor, The Superinvestor Bulletin
Disclosure: I/we have no positions in any stocks mentioned, and no plans to initiate any positions within the next 72 hours.