Dear Superinvestor Bulletin Follower,
For years he was the only investor that Warren Buffett would trust to manage his money.
He is Lou Simpson....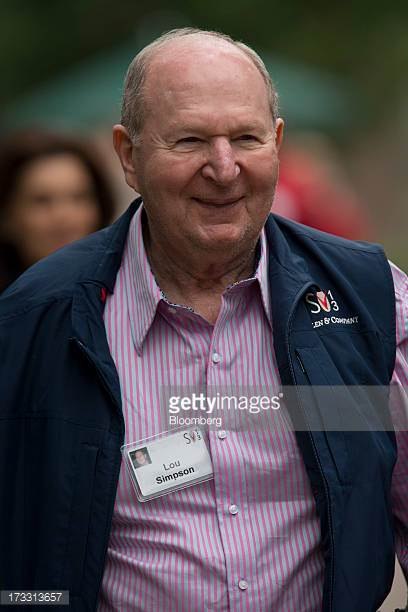 Kellogg School of Management At Northwestern just interviewed Mr. Simpson
Bob Korajczyk: What would you say is the essence of your investment philosophy?
Lou Simpson: The essence is simplicity. The base case for investing in any area of the market is a passive product, such as an index fund. That's something any investor can access.
If you're a professional investor, the question is: How can you add value? The more you trade, the harder it is to add value because you're absorbing a lot of transaction costs, not to mention taxes.
What we do is run a long-time-horizon portfolio comprised of ten to fifteen stocks. Most of them are U.S.-based, and they all have similar characteristics. Basically, they're good businesses. They have a high return on capital, consistently good returns, and they're run by leaders who want to create long-term value for shareholders while also treating their stakeholders right.
Korajczyk: So you concentrate your investments in your very best ideas.
Simpson: You can only know so many companies. If you're managing 50 or 100 positions, the chances that you can add value are much, much lower.
So far, this year we bought one new position, and we're looking pretty seriously at one more. I don't know what we'll decide to do. Our turnover is 15, 20 percent. Usually we add one or two things and get rid of one or two things.
Warren [Buffett] used to say you should think of investing as somebody giving you a fare card with 20 punches. Each time you make a change, punch a hole in the card. Once you have made your twentieth change, you have to stick with what you own. The point is just to be very careful with each decision you make. The more decisions you make, the higher the chances are that you will make a poor decision.
One thing a lot of investors do is they cut their flowers and water their weeds. They sell their winners and keep their losers, hoping the losers will come back even. Generally, it's more effective to cut your weeds and water your flowers. Sell the things that didn't work out, and let the things that are working out run.
Follow the link for the entire interview:
"One of the Investment Greats" Explains His Portfolio Strategy
About The Superinvestor Bulletin Portfolio

Every idea that goes into the portfolio of my subscription service is a high conviction idea from one of the best investors in the world.  As a group these investors have significantly outperformed the overall market for decades.
If I build a portfolio made up of ideas from a group of investors who generate 15 to 20 percent annualized returns shouldn't my performance match the group?
No...it should actually do better since I don't pay their performance and management fees which nick up to 5 percent from their returns.
I present the best idea I can find in their portfolios every month.  In the year and a half my service has been running we have vastly outperformed the market.  Not because I'm smart, but because the people whose ideas I steal are very, very smart.
Come take a free trial and see why my results are so good so far:
Your portfolio will thank you for it.
Reese Morgan
Editor, The Superinvestor Bulletin