The chronology of the ups and downs of Colombian peso is indicative of the volatility of the emerging markets. This month, Colombia's peso showed an uptick most as a result of the U.S. jobs data, which "[…] boosted the appeal of riskier assets by reducing the odds for monetary tightening this month," according to Bloomberg. But from March to the present, the uptick may not stick.
In March, Colombia's peso showed signs of much needed gains after three months of low numbers prior. Inflation predictions in February led to a reduction in interest rate which experts attribute to these rising numbers.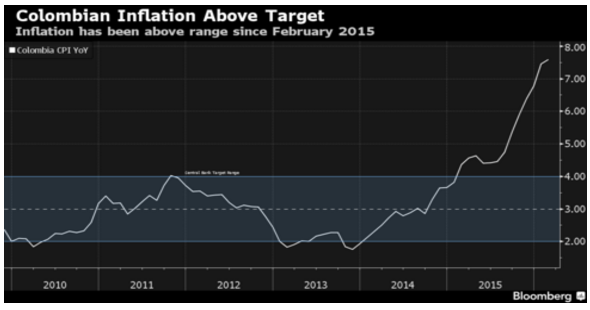 The local government bonds that will come to term in late 2018 made a marked difference to the numbers gained according to the same Bloomberg article:
Local government bonds due in November 2018 gained 0.61 centavo to 94.74 centavos per peso at the close of trading in Bogota and yields dropped 0.26 percentage point to 7.19 percent. The peso gained 1.4 percent to 3,114.33 per dollar, leading advances among 31 major currencies, as oil, the country's biggest export, rose to $40 a barrel for the first time since December.
The February inflation rate of nearly 8 percent caused speculation of an upcoming rise in interest rates. Analyst Esteban Tamayo from Citigroup Inc's Colombia Division is one of those asking wondering if that is in the cards, "The question on everyone's mind is how much further the central bank has to go in terms of rate hikes."
In May however, the peso dropped again, going from highest to lowest gains in emerging markets - a direct result of lower interest rates than investors and economists were predicting would come from the central bank.
Reports Bloomberg:
Traders pared bets on further rate increases after the national statistics agency said inflation slowed to 7.93 percent in April from a year earlier, less than all 31 analysts in a Bloomberg survey had predicted. Three-month rate swaps fell 0.065 percentage point to 6.94 percent at 9:29 a.m. in Bogota. The peso weakened 0.6 percent to a three-week low of 2,972.85 per dollar.
The central bank has raised its policy rate by 2.5 percentage points since September as a severe drought caused food prices to spike while a weaker peso made import more expensive. Inflation slowed in April after reaching the highest level since 2001, its first decrease since May 2015.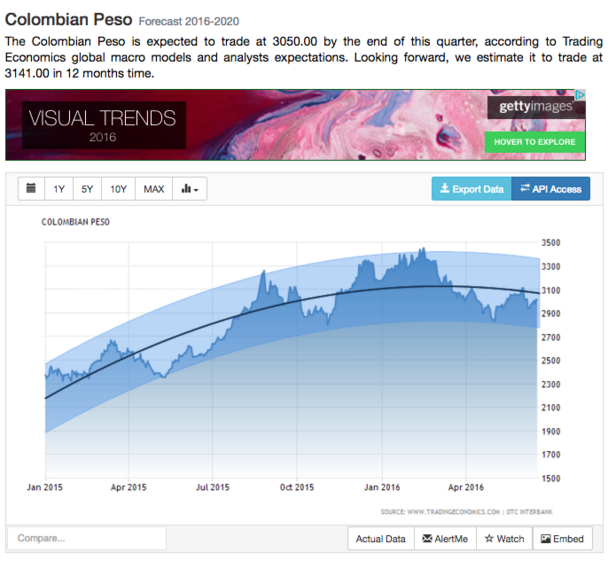 As of June 17th, 2016, analysts are anticipating optimistic numbers for this quarter according toTrading Economics. [graph shown above]
The figures projected by Trading Economics are determined by "autoregressive integrated moving average (ARIMA) by analytics of the peso's historical figures, adjusted for "the coefficients of the econometric model by taking into account our analysts assessments and future expectations."
So far, the behavior of the Colombian peso has been erratic, causing investor emotions ranging from optimism to pessimism from month-to-month. From what we've seen thus far, the performance of the peso has directly affected the central bank's decisions to raise or lower interest rates. Therefore, if June's gains continues into July, we will most likely see a rise in interest rates.