In the land of commodities, it's often thought that precious metals are the most volatile game in town. While trading the metals markets can be a rollercoaster ride, it's the grains that have taken the volatility cake the past few months. The Wheat ETF (WEAT) staged a 25% rally in 20 days between June and July, and has since been chopped down to a loss from June levels. If one thought they were riding a rollercoaster by trading gold (GLD) the majority of this year, the metal has been a carnival ride to the wheat market's Six Flags 'Superman' attraction. Fortunately for those looking at wheat from the long side, it looks like we may finally be nearing a bottom after a relentless six weeks of selling pressure. I currently have not had a buy signal trigger just yet, but I'll be watching wheat closely in the days to come.  

(Source: Author's Photo)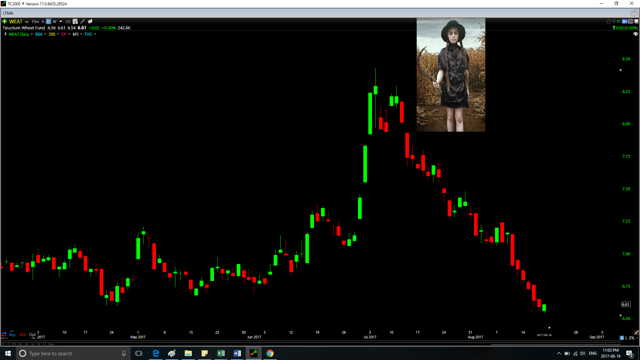 (Source: TC2000.com)

For those that have been following me for the past year and a half, I almost always position myself in the direction of the dominant trend, and bottom-fishing is not a hobby I partake in often. I've made exceptions with Greece (EWI), Italy (EWI), and most recently Solar (TAN) in my premium newsletter from under $20.00, but typically I prefer to trade stocks making new highs. While the Wheat ETF is currently not exhibiting the same bottoming signals that I got on the former 3 trades, it is beginning to look very interesting at these levels.
Let's take a closer look....
As we can see from the weekly chart of WEAT below, the index is showing positive divergence on both the momentum and RSI indicator, despite a new low in price. Positive divergences are not a holy grail by any means, but it is definitely encouraging to see this on the chart despite the avalanche of selling that's occurred.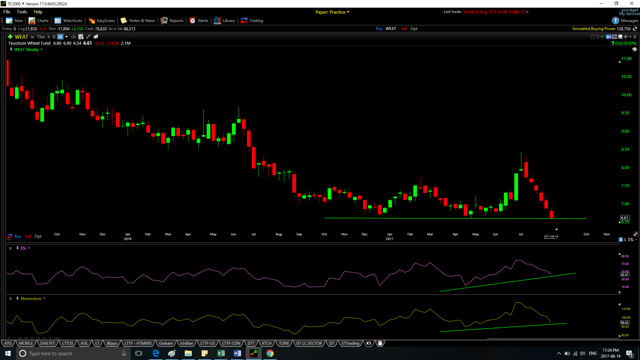 (Source: TC2000.com)
Taking another look at the above chart, we can see that we made new 1-year highs, but then immediately reversed to new lows. This has served to shake out any trend followers and the majority of those that bought on the dip hoping for a turn-around, and this is very evident in sentiment. This is also evident in COT data as small speculators are net short here and want nothing to do with wheat currently. Bullish sentiment on wheat currently sits at 12% bulls, also making a slightly higher high vs. the 7% bullish reading, despite a lower low in price. This is a massive sea-change from the 83% reading in bullish sentiment we saw at the high on July 5th. 
Zooming into the daily chart below, we can see that Friday's trading made a new low, but the index managed to close slightly up for the day. This is not overly bullish, but is certainly constructive action in the index after what's been an uncompromising barrage of selling by the bears. If the bulls can step up and fend off the bears this week, we may have a shot at a tradable bottom here.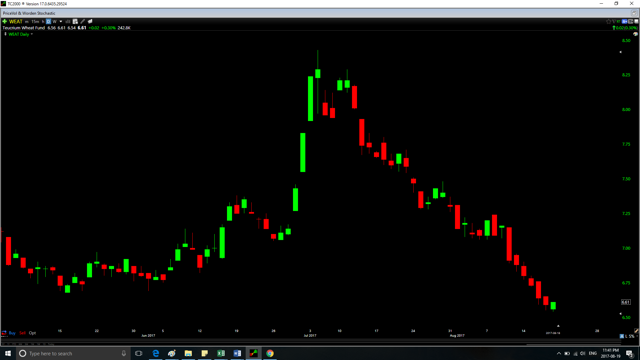 (Source: TC2000.com)
So what am I doing here and how am I trading this?
While the Greece, Italy and Solar trades were larger trades with wider stops, I see no monthly or quarterly signals to suggest a bottom is in yet here, so I'm simply looking at swing trades with tight stops at this time. I have no position in wheat currently, and no plans to initiate a position just yet, but strength this week would make me strongly consider the commodity from the long side.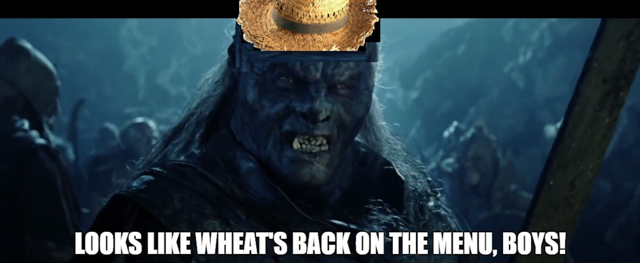 (Author's Photo)
If I do decide to go long wheat, I'll be sending out a note to my premium newsletter subscribers immediately as we are certainly nearing an inflection point at these levels. For those interested in my commodity analysis (oil, natural gas, gold and silver), S&P-500 (SPY) analysis, individual miners analysis (top takeover targets), and GDX/GDXJ analysis, my premium newsletter still has a few spots left, and you are welcome to message me at tfsnewsletter@gmail.com to further inquire.
For those not signed up to my premium newsletter but interested in bi-monthly updates now that I'm not writing on Seeking Alpha as often due to time constraints, but you are welcome to sign up at www.TaylorDart.Ca for free updates. 
To reiterate, I am not long wheat here, and am waiting on a new buy signal to get long the commodity. If I get that buy signal this week, I'll be jumping in for a trade. There is currently no sign that a bottom is in on the Wheat index (WEAT) but at inflection points like this, things can change very quickly.   
Disclosure: I am/we are long EWI, GREK, TAN.