Undervalued Stock amid legal case involving Macro's CEO Solid 3Q 2017 Results Argentinian Banking Sector: Low Credit Penetration Macro and Credit Recovery in Argentina MSCI Argentinian ETF will likely be moved from the Frontier Index to the EM index
Banco Macro shares fell on November 14, 2017 by 15% on the back of a newspaper article saying that Jorge Brito , chairman and controlling shareholder of Banco Macro, may be mentioned in the testimony of a witness in the criminal case involving the ex Vice President of Argentina Amado Boudou. The company announced yesterday that the board has accepted Jorge Brito ask for leave of absence until the issue is resolved. The market clearly over-reacted to these legal claims by dropping the stock by more than 15%. This can be seen by the fact that the stock is currently trading at $103.63 and many banks including UBS, JP Morgan and Morgan Stanley have the price target of Macro around $120.
Banco Macro delivered solid 3Q results in 2017. Net income is up 29% q/q and 59% y/y. At the operating level: operating profits are up 24% q/q and 72% y/y, ROE was 29%, versus 24% in 2017, ROA grew from 4.4% in 2Q17 and 4.9% in 3Q16 to 5.1% in 3Q17.
More positive financials of 3Q17: Loans grew 12% q/q and 53% y/y, loan market share was 8.2%, versus 8.3% in 2Q17 and 8% in 3Q16. NII expanded 15% q/q and 52% y/y. Net Interest Margin was 13.8% versus 13.6% in 2Q17.
Credit growth in Argentina offers attractive upside given low penetration. The penetration of bank loans in Argentina at 16% of GDP is very low compared to 35-40% at the LatAm peers. Credit penetration looks even lower when adjusting for consumer wealth. Argentine consumers are among the richest in the region, yet the amount of loans per capita is well below the region's average. As the macro situation improves, banks could see a multiyear period of strong credit growth.
The Macroeconomic Situation in Argentina is looking favorable for private businesses and banks. Morgan Stanley expects GDP growth of 2.8% in 2017 and 3.3% in 2018, which is a strong rebound from the 2.2% contraction suffered in 2016. As economic recovery plays out, credit growth at the banks will pick up rapidly. MS forecasts 17-18% loan growth in real terms in 2017 and 2018. This will provide ample room for banks to deliver EPS growth far above their peers.
There was a lot of disappointment that Argentina was not moved to the Emerging Market index this year. That being said, many banks believe this is a transitory setback and progress in the reform agenda of Mauricio Macri will help the country regain its EM status in 2019(potentially in 2018). If this happens, money will flow into the asset class will provide strong support for bank stocks. Banks should benefit sizably as they represent by far the largest portion of the MSCI Index; GGAL, BFR AND BMA make up for 40% of MSCI Argentina.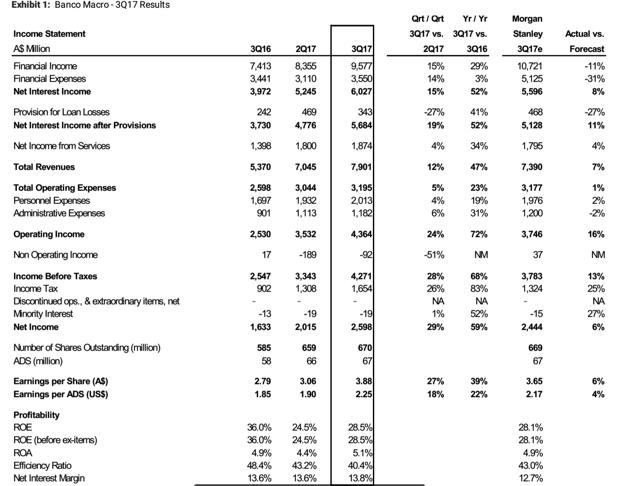 Sources: Morgan Stanley