Prior to the UK referendum on its EU membership ("Brexit Referendum"), most of the financial community expected that the "Stay" camp will prevail. We took a more conservative approach and added gold to our portfolio as a hedge against the unlikely "Leave" scenario (i.e., we use gold as a hedge for Black Swan events in the financial markets), which has worked well so far with gold at more than US$1,350 per ounce. As it turns out, 51.9% of UK voters voting to leave the EU, causing world equity markets to take a dive immediately post the Brexit Referendum. Three weeks into Britain's decision to leave the EU, equities market around the world have largely recovered to the pre-referendum levels. In reality, it will take two years for the UK and EU to negotiate the exit, that is after the UK invokes Article 50 of the Treaty of Lisbon. Even though the actual Brexit will take more than two years to complete, the Brexit Referendum has resulted in some fundamental changes in the financial markets.
In the UK, the most profound impact of Brexit is the depreciation of the British pound with respect to the US dollar - the pound is currently trading at a historical low of £1 to less than US$1.30. Meanwhile, in the equities market, export-driven UK companies have rallied significantly over the past few weeks either (NYSE:A) a majority of their income is from outside the UK or (NYSE:B) a weak British pound is expected to drive exports, while the stock prices of domestically focused companies continued to remain depressed due to expectation of an economic fallout from Brexit. Several UK real estate investment funds representing more than £10 billion in assets halted trading as panicked investors rushed to take their money back. Going forward, significant uncertainties await the economies of the UK and the EU as the impact of Brexit sets in.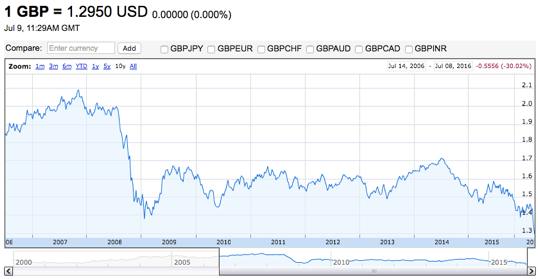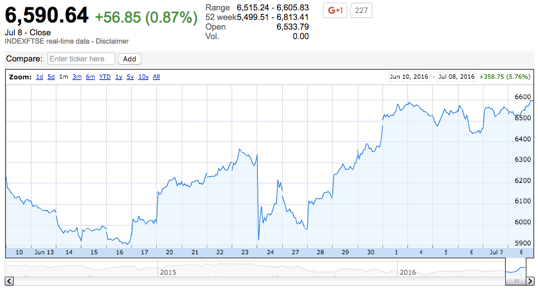 Before the Brexit Referendum, crude oil was well on its way to recovery as crude oil prices rallied from the mid-US$30 per barrel in January 2016 to US$50 per barrel. Since then, crude oil prices have fallen by ~10% due to economic uncertainty around the world economy, exacerbated by Brexit, persistently high supplies from oil producers as US refiners adjust to lower crude oil prices, and (NYSE:C) reduction in demand from Asia refiners, which previously rushed to increase orders in order to take advantage of low prices. It is highly likely that crude oil prices will remain between US$45 and US$50 per barrel for the next six to twelve months. In the longer term, crude oil prices will almost certainly experience significant rises due to the massive reduction in exploration spending in the oil and gas industry during 2015 and 2016.
According to a report on FT.com, investors added US$1 trillion into negative yielding government bonds in the month of June 2016, bringing the total negative yielding government bonds to US$12 trillion, or roughly a third of global government debt.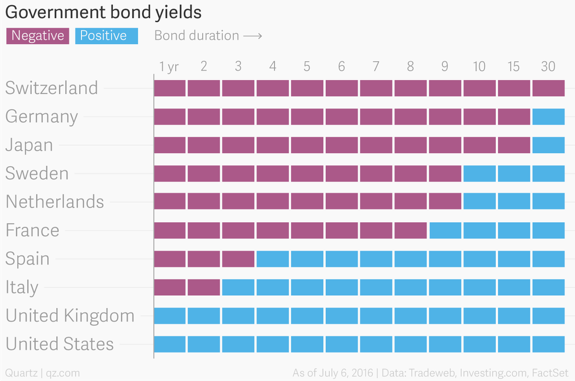 Negative yielding bonds, first and foremost, is a result of aggressive central bank policies (cutting benchmark interest rates and bond buying programs) since the Great Financial Crisis of 2007 to reduce borrowing costs and simulate lending. Secondly, negative yielding government bonds is a result of capital "flight to safety" as investors pay governments with strong credit ratings to hold their monies while maintaining liquidity (i.e., similar to paying fees to put your cash in a bank safe deposit).
Japan is the largest issuer of negative yield bonds; other countries with negative yielding government bonds are mainly sovereigns with high credit ratings, including France, Germany, Switzerland, the UK and even Italy. Why do institutions hold negative yielding government bonds? Institutions such as banks, insurance companies and mutual funds hold negative yielding government bonds because they are constrained by mandates to hold such bonds, regardless of the price (e.g., an ETF that invests in Japanese government bonds). Does it mean that investors are guaranteed to lose money holding negative yielding bonds? As long as bond prices keeps going higher (i.e., yields keep getting lower), investors can actually generate positive returns by trading government bonds and not holding it to maturity.
The impact of historically low reference interest rates on corporate bonds is the same as government bonds - historically high bond prices and historically low yields relative to their credit ratings. Over the longer term, we do not think that bonds offer attractive returns relative to inflation rates - after all, there is only so much lower central banks can cut interest rates.
The largest equities market in the world by market capitalization are the US (US$26.1 trillion market cap of both NYSE and Nasdaq), China (US$9.5 trillion, including Shenzhen, Shanghai and Hong Kong) London (US$6.2 trillion) and Japan (US$4.5 trillion). We believe the US equities market is the key barometer for developed markets equities as the UK equities market is distorted by Brexit, and the Japanese equities market became a mirror image of the country's currency movements over the past decade.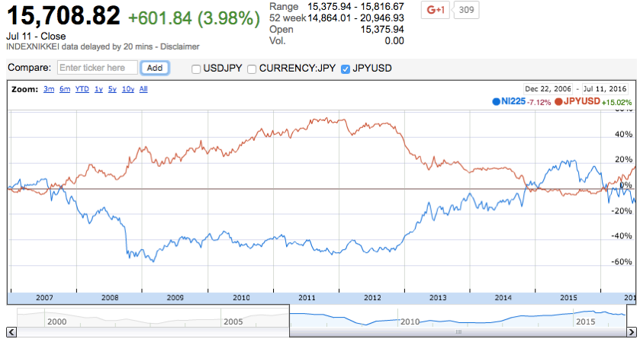 On the back of a prolong period of near-zero interest rates, US equities have continued the bull run that started in March 2009. As of July 8, the S&P500 currently stands at a historical high of 2,130, as equity investors pile into US equities in a post-Brexit world. The trailing P/E ratio for the S&P500 stands at 24-25x compared to a historical average of 15-16x. Earnings yield of S&P500 companies currently stands at 4.06% compared to a historical average of 7.42%. More importantly, according to Birinyi Associates, the forward P/E ratio of the S&P500 is ~18x; this implies that the market is "expecting" a more than 35% earnings growth in the S&P500, a near impossibility given tepid global economic conditions and limited room for companies to continue cutting costs (which they have been doing since 2009). The capital flight to safety can be seen as investors flood into defensive sectors such as utilities and telecoms. For example, the S&P500 Utilities Sector currently has a forward P/E of 19x compared to a 10-year average of 14x. These indicators tell us that more likely than not, the US market is overpriced, bargains are hard to find, and mid- to long-term returns of investing in US equities are unlikely to provide attractive real returns.
According to Boston asset management firm GMO, emerging market value stocks offer the best return prospects. The term emerging markets loosely means countries that have some characteristics of a developed market but do not meet all the requirements to be a developed market. The largest emerging markets are the BIRC countries - Brazil, India, Russia and China. Other major emerging markets include Argentina, Indonesia, Mexico, Poland, South Africa, South Korea, Turkey, Egypt, Iran, Nigeria, Pakistan, Saudi Arabia, Taiwan and Thailand.
In emerging markets, we are focused on investing into Greater China, and we view the Hong Kong market as an attractive investment destination - the market is undervalued with respect to its historical average and relative to equities in the developed world. As of July 8, the HSI is trading at 20,564, a far cry from the 30,000 peak prior to the GFC. More importantly, the HSI's trailing P/E ratio is ~10x, compared to 24-25x for the S&P500. The HSI is partially dragged down by state-owned Chinese banks in the index, which are trading at less than 5x P/E due to concerns about profitability and asset quality. That being said, we believe that there are many attractive value investment opportunities in the Hong Kong market, as we would rather try and pick value shares in an undervalued market than an overvalued one. For comparison, the average A-share P/E ratio of the Shanghai and Shenzhen indices are ~15x and ~42x, respectively.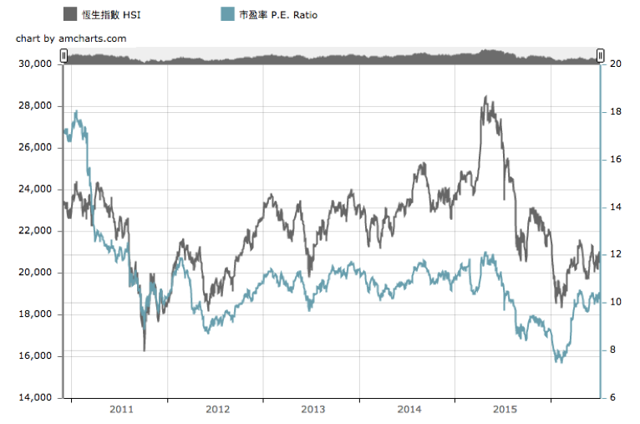 As we have said in our earlier article, we believe that the Chinese economy is challenged but a hard-landing seems low probability. In June 2016, China's manufacturing PMI (according to the National Bureau of Statistics) came in at 50.0 while the Caixin manufacturing PMI, which is a gauge for private manufacturing activities, fell to 48.6, representing the 16th consecutive month of readings below 50. A PMI reading below 50 signals contraction in manufacturing activity (from the previous month) and a reading above 50 signals expansion. The difference in the official PMI and Caixin PMI suggests that state-owned manufacturers, supported by the central and local governments, continue to chug along while private manufacturers continue to face a challenging environment. The services industry continues to be the bright spot as China continues to restructure its economy from a manufacturing-focused one to a service-led economy. The official non-manufacturing PMI came in at 53.7 in June, compared to 53.1 in May; the Caixin services PMI reached 52.7 in June, a 11-month high, and compared to 51.2 in May.