Overview
Founded in 1998, Human Health Holdings Limited (SEHK:1419) is Hong Kong's leading integrated healthcare services provider with a network of 66 medical centers, most of which are located at or near MTR stations, public transportation hubs, shopping centers and residential areas. Human Health, UMP (SEHK:722) and Quality Health are the three major private healthcare networks in the city.
Human Health handled 1.26 million patient visits for the twelve months ended September 30, 2015 ("LTM"). The company completed its IPO on the Hong Kong Stock Exchange in March 2016, raising HK$68.6 million in net proceeds, which will be used for network expansion, funding expansion into the PRC market (joint venture with Ping An Health - Ping An Yingjian) and other corporate purposes.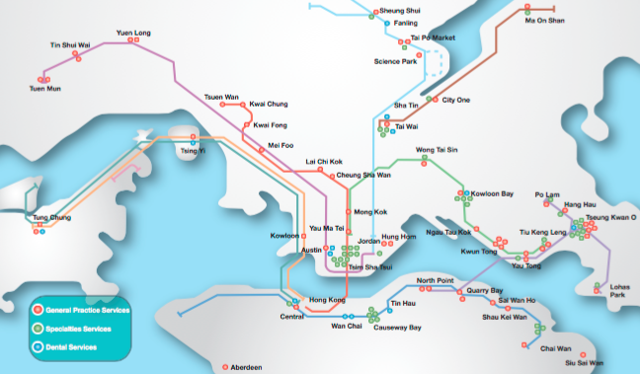 The following outlines the company's portfolio of medical and dental centers: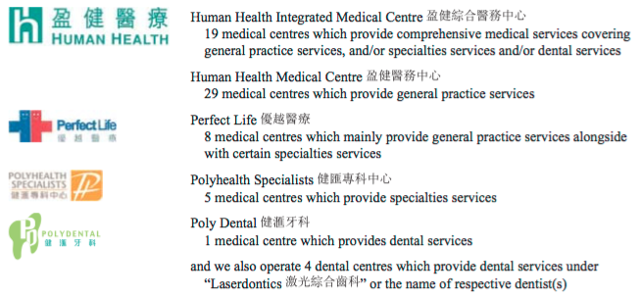 Human Health generates a majority (~80%) of its revenue from individual customers and the remaining from corporate customers. Healthcare services providers in Hong Kong often enter into contracts with corporate customers (e.g., insurance companies, medical management companies and corporations), and often offer discounts to corporate customers. In many cases, these contractual arrangements do not prohibit patients from seeking medical attention with other providers - the only difference is whether the medical fees are paid directly from the corporate to the network (in the case where there is a contractual arrangement) or paid by the patient and reimbursed by the corporations subsequently. In addition, individual patients without associated corporate contracts often avoid service providers with these contracts due to overcrowding at peak hours e.g., Monday mornings.
Our due diligence on the ground suggests that Human Health has been seen to provide superior services compared to other non-network clinics operating in the same area, and is hence able to charge a premium for its services without impacting its market share.
Financial Strength & Balance
As of the latest record date (September 30, 2015), the company had HK$92.1 million of cash and no interest-bearing debt on its balance sheet. Rental expense for the LTM period was HK$53 million.
The following table shows the company's latest available financial performance: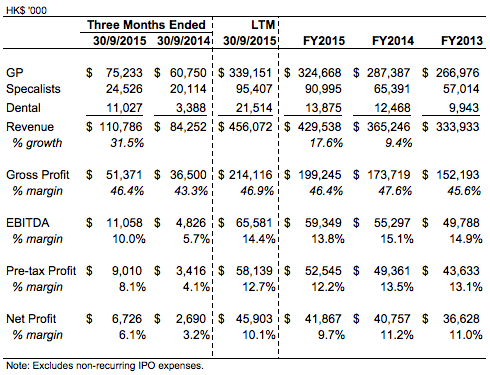 The following table shows the number of patient visits and average revenue per visit for the company.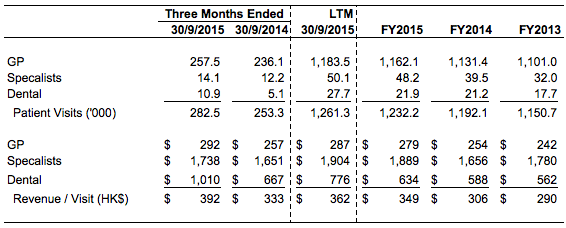 Valuation
Human Health is trading at 8.9x rent-adjusted TEV/LTM EBITDAR, based on our estimates, 9.7x TEV/LTM EBITDA, and 17.6x pro forma LTM P/E.
UMP Healthcare (SEHK:722) is a Hong Kong listed healthcare services provider and the closet comparable to the company. UMP focuses on the corporate segment while Human Health focuses on the retail segment. UMP handles ~1.3 million patient visits and generates an average of HK$311 in revenue per visit. LTM revenue (December 31, 2015) and EBITDA was HK$421 million and HK$44.3 million, respectively. UMP is currently trading at 8.6x rent-adjusted TEV/LTM EBITDAR and 17.1x LTM P/E. UMP achieved 10.1% y-on-y revenue growth for the six months ended December 31, 2015. In comparison, the company has a higher revenue per visit and hence higher profit margins, and has a faster growth profile (17.6% y-on-y growth for FY2015).
Raffles Medical (NYSE:BSL) is a much larger company and is focused on the Singapore market - it's revenue and EBITDA are HK$2.36 billion (+9.6% growth) and HK$538 million, respectively. In comparison, Raffles Medical is trading at 26.1x rent-adjusted TEV/LTM EBITDA and 38.7x LTM P/E.
Other comparable companies include IHH Healthcare (~26x EV/LTM EBITDA), Phoenix Healthcare (~28x), Bangkok Hospital Chain (~18x), Healthway Medical (~13x), Q&M Dental (~28x).
Trade
We are long Human Health at HK$2.24 per share with a stop-loss of HK$1.90 per share. As a rule of thumb, we typically do not invest into newly listed company. However, draw comfort from the fact that Human Health has a relatively simple business model, and has been operating for almost 20 years in a relatively stable market (Hong Kong). We note that being a newly listed company, the company's stock price may experience significant volatility.
Catalysts
Improvements in financial performance due to (NYSE:A) post-IPO expansion, (NYSE:B) rental decreases in the city, and (NYSE:C) relatively downturn-proof demand
Shanghai joint-venture with Ping An Health (subsidiary of Ping An Insurance) enables the company to tab the massive mainland market
The company is a potential market consolidator in a highly fragment private healthcare market