Summary
Apple's quarterly guidance can be used as a framework for gaining insight and developing alternate financial projections.
Apple may have under guided, more than usual, their financial performance for the current quarter
Just as Apple provides a range for their guidance, so to should analysts. Point estimates are, almost without exception, sure to be wrong.
In 2012, Apple (NASDAQ:AAPL) started providing much more accurate financial guidance. Since Apple knows more about their finances than anyone, this provides an opportunity to make some assumptions and gain some insights. First lets take a look at what Apple guided for Q1FY15 and what it means for their income statement, then we will look at what can be implied about iPhone revenue, gross margin (NYSE:GM), units, and average sales price (NYSE:ASP). Note: The December quarter is Apple's first quarter of their fiscal year, thus Q1FY15 covers the October - December time period.
Below is Apple's Q1FY15 guidance followed by an income statement based on the high end of that guidance.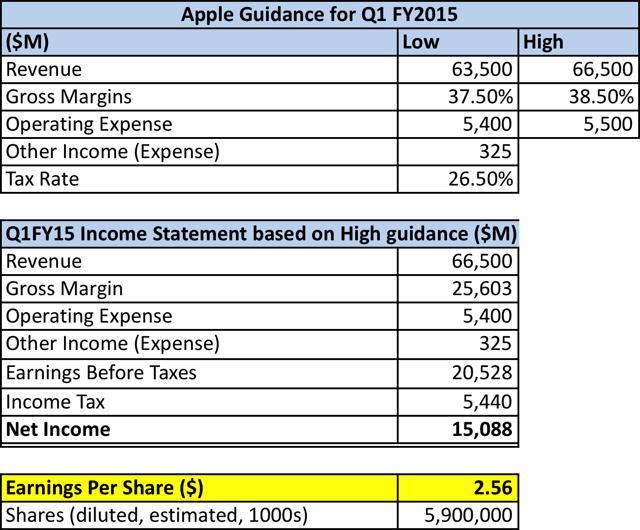 Share Repurchases: Diluted shares outstanding, which Apple does not provided, is the only number I estimated in the above. As of September 2014, Apple had executed $68B of their $100B share repurchase program, with $17B and $18B executed and 70M and 105M shares retired in last two quarters respectively. There is $32B and 5 quarters to go, so on average, they can spend $6.4B/quarter on repurchases, but their recent action indicates they are accelerating the program. At the end of September Apple had 5.972B diluted shares outstanding, so lets assume apple retires 72M shares, which is in-line with the prior two quarters, to end this quarter at an even 5.9B shares outstanding. The resulting, or implied, EPS is $2.56.
Deconstruction of the Income Statement: Below, we make some assumptions about how the Apple guided income statement could be constructed from iPhone and non-iPhone revenues. We then go one step further and develop reasoned assumptions for what Apple may have been using for iPhone units, ASP and gross margins.
iPhone Revenue: The iPhone dominates Apple's revenue and profits, and a simplistic way to look at Apple revenue is to break it down into iPhone revenue and non-iPhone revenue.

The above table shows the last 4-years of Q1 revenues. Based on a trend of slowing YoY non-iPhone revenue increases, the current quarter of non-iPhone revenue can be estimated at $26B. Non-iPhone sales of $26B represents a YoY increase of only 4%, which is less than the 7% and 5% YoY increases seen the prior two years. This assumes that rising iTunes and Mac sales will continue to more than offset sliding iPad and iPod sales. Using the high end of Apple's guidance this leaves $40.5B for iPhone sales.
iPhone Gross Margin: We will next determine the GM contribution of iPhone and non-iPhone revenue streams which equate to the Apple guided net GM of $25,603M, or 38.5%.
In 2009 and prior years, when Apple was using subscription accounting they reported deferred revenues and deferred cost of goods sold (CGS) which were dominated by iPhone sales. From this data, iPhone CGS and GM could be calculated. At the time (2009), iPhone GM was in the high 50% range and based on this everything else, in aggregate, was around 30%, but since then, the mix of non-iPhone products has changed. Although subscription accounting was generally disliked due to the affect on GAAP earnings, if you took the time to crunch the numbers it provided a level of insight, which no longer exists. Today, GM analysis is not so straight forward, but Horace Dediu did some analysis on Apple's GM by product, which can be seen here (http://www.asymco.com/2013/04/25/margin-call-2/). His graph of "Estimated Gross Margins by Product" shows that between 2005 and 2012 non-iPhone GMs have been hugging the 30% line, which is consistent with my finding from 2009.
Overall, 30% GM for non-iPhone revenues is a good place to start and when combined with Apple's total GM guidance of 38.5% yields iPhone GM of 44%. For comparability, a 30% GM was applied to all prior years non-iPhone sales.

If Q1FY14 and Q1FY15 do indeed have similar non-iPhone GMs, then Apple's guidance is telling us to expect no increase in iPhone GM for the current quarter. Of course, this is better than the trend of decreasing margins.
Every year, iPhone component prices go up, which squeeze margins. Chuck Jones has a good article on iPhone teardown costs here (http://www.forbes.com/sites/chuckjones/2014/09/24/apples-iphone-6-teardown-and-other-costs-analysis/) which illustrates the increasing cost of each new model. But, due to massive buying power, Apple makes good margins on memory (http://blogs.barrons.com/techtraderdaily/2012/10/03/aapl-iphone-5s-amazing-93-margin-on-nand-per-rbc/), so for iPhone gross margins to stay flat YoY, they need to sell a mix which includes more high tier (>16GB memory) phones than they sold in the prior year. You can also see Katy Huberty of Morgan Stanley's very detailed breakdown of iPhone estimated margins here (http://fortune.com/2014/09/23/morgan-stanley-chinas-favorite-iphone-is-apples-most-profitable/). This is the most detailed work I have seen published on this topic and she comes up with an aggregate iPhone gross margin of 46.7% for the current quarter.
For this article, I'm going to assume Apple has the right iPhone mix baked into their guidance and will use 44% for iPhone GM and 30% for non-iPhone GM in all scenarios. Remember, we are trying to figure out what is implied by Apple's guidance, so one way to look at this flat YoY iPhone GM is that any hit to margins from increased component costs is being equally offset by a shift in iPhone sales mix to higher margin models.
iPhone Units and ASP: The final piece is to determine reasonable iPhone units and ASP to fit our assumption of $40.5B in iPhone sales, which was derived from Apple's guidance.
The below figure shows quarterly iPhone ASP graphed across FYs. Since Q2FY12, each quarter has seen a decrease in YoY iPhone ASPs, except the most recent quarter ending September 2014 when iPhone 6 was introduced and accounted for one-third of unit sales. It took an iPhone 6 ASP of about $680 to cause total Q4 iPhone ASP to reverse the downward trend.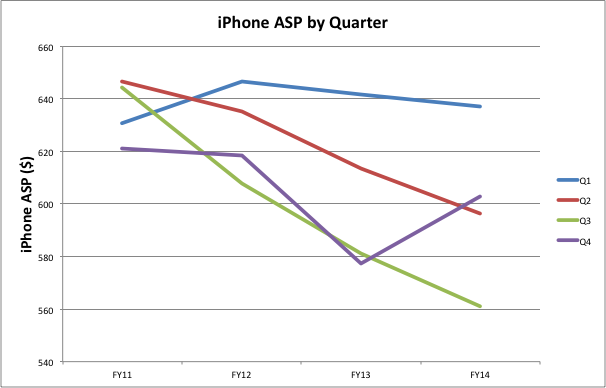 J. M. Manness does some great analysis (https://seekingalpha.com/article/2752595-analysis-iphone-sales-may-top-50-billion)
and comes up with Q1FY15 iPhone ASP range of $665 to $720. Chuck Jones also shared his work
(http://www.forbes.com/sites/chuckjones/2014/12/15/what-analysts-are-projecting-for-apples-next-two-quarters/3/) and provides a range of $670 to over $700. Chuck also states the average of 12 sell-side analysts he is tracking come in at $654 with an average of 63.9M units sold. Katy Huberty estimated an ASP of $668 here (http://fortune.com/2014/09/23/morgan-stanley-chinas-favorite-iphone-is-apples-most-profitable/) and is now forecasting 67M units. Her work is very detailed and I recommend reviewing it.
The below table shows possible unit and ASP combinations which result in iPhone revenues of $40.5B.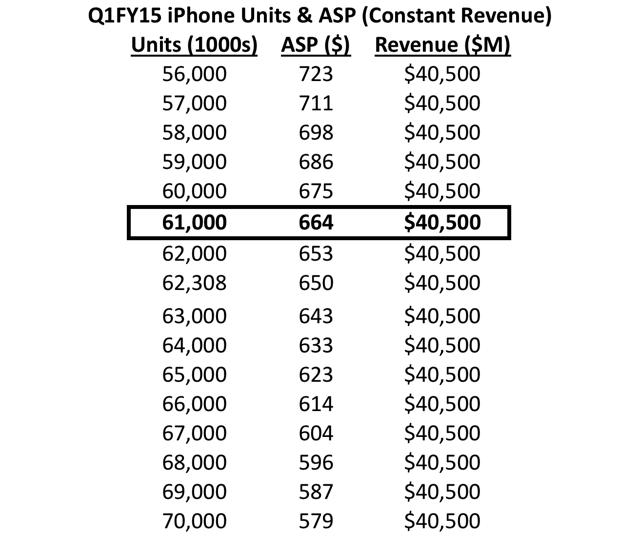 The problem now lies in finding a combination of acceptable units and ASPs which are in-line with the above discussion, but it doesn't exist. 67M units implies an ASP of $604 which is too low, while an ASP of $675 implies 60M units which is also low. The conclusion is that analysts are projecting higher iPhone revenue than the high end of Apple's guidance. So, what was Apple thinking?
When Apple reported Q4 earnings on October 20, 2014, they were 3-weeks into a 13-week quarter, or nearly 25% though Q1 when they provided their guidance. Due to holiday sales, they were probably not at the 25% mark for revenues, but they still had a decent amount of run-time to figure out where the quarter was going.
So, why such a discrepancy between what various analysts are predicting and what Apple provided for guidance? Here are two possibilities:
Apple is being conservative in their guidance. In the 7 prior quarters, Apple exceeded the top end of their guidance 4-times. Two times they were at the high end, and for the remaining quarter they came in just below the high end.
The analysts are overly optimistic. Their ASP and unit sales combinations exceed our implied $40.5B for iPhone revenues.
Considering that sell-side analysts are fairly conservative, and Apple still does have a track record of moderately exceeding guidance, it is reasonable to assume, yet again that Apple will exceed the high end of their guidance.
So getting back to what Apple's guidance implies, a compromise was selected at 61,000 iPhone units at an ASP of $664/iPhone. Selecting a low ASP would imply that Apple doesn't know the price, and reasonably know the sales mix of their own products, which I reject, so I would rather select what appears to be a realistic ASP and assume Apple was conservative on iPhone units.
Putting it all together: Now that we have a reasonable basis for Apple's October 20th guidance, lets put it all together, side-by-side, with some alternate scenarios for iPhone units and ASP.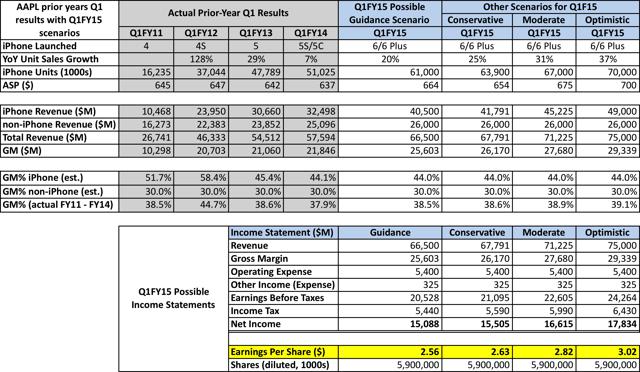 For the conservative case, Chuck Jones' sell-side analyst's numbers were used for iPhone units and ASP. For the other scenarios, iPhone units and ASP were incrementally increased to the high end of the ranges discussed in this article. If Katy Hubert's iPhone units, ASP and GM are inserted, the result is an EPS of $2.94/sh. I believe the sell-side analysts who are publishing ever increasing iPhone unit estimates are holding back on ASP and/or gross margins to keep their EPS safely near Apple's guidance. They could also be holding back on non-iPhone revenue and/or GM, but we don't really know because this level of detail is usually not provided publically.
Summary:
It is useful to use Apple's guidance as a lens for viewing alternate financial outcomes.
For the current quarter, an EPS $2.80 looks very reasonable, and it is easy to rationalize EPS at $3.00. Wall Street consensus sits at $2.54.
Still, the question remains: Why is there such a large discrepancy between Apple's guidance and the above projections? The quarter was 23% done when they provided guidance. Are iPhone supply constraints going to limit sales more than many are expecting, or is Apple being overly conservative on iPhone units?
This article explores one interpretation of Apples guidance. No one knows how the quarter will turn out. I believe the best we can do is to understand and develop a range of reasonable possibilities. There is no shortage of research and opinions to review and plug into this simple model, so I highly encourage investors to develop their own range of estimates.
Disclosure: The author is long AAPL.