What is a Self-Directed Rollover?
A self-directed rollover involves transfer of money from one retirement account to another. A rollover may involve moving your funds from your 401(k) or 403 (NYSE:B) accounts to a self-directed IRA account and even vice versa. There are two ways in which you can execute a rollover -
1. Classic Rollover and
2. Direct Rollover
The classic rollover happens in two steps:
Step 1 - The entire money from one of the account is withdrawn and transferred to the investor bank account by issuing a check.
Step 2 - The investor transfers the money received, to the new retirement account.
In case of classic rollover transfer to the new account should happen within 60 days of receiving money, or else the usual taxes and penalty on withdrawal will apply which could be as high as 45% of the money received. In case of classic rollover, a withholding tax of 20% is applied on the money received.
Direct Rollover - The modern way of rollover is a direct transfer, which is more efficient. Indirect transfer the money is transferred directly to the new account and no withholding tax would apply. Thus the money does not pass through the investor and is trustee to trustee transfer.
Rollover from a 401(k) to IRA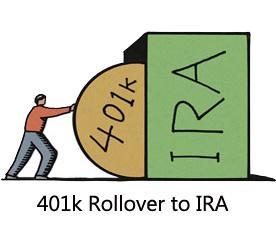 You may generally need to rollover from a 401(k) when you are quitting you current job and you want to move the money you invested in your previous employers' 401(k) plan to a retirement account of your new employer. The new retirement account as well could be a 401(k) or even a self-directed IRA.
Benefits of rolling over your money from a 401(k) to a self-directed IRA
By rolling over you avoid cashing out your 401(k) plan, which is very expensive. Cashing out of your retirement plan prematurely can cost you up to 45% of your investment, due to taxes and early withdrawal penalties. If you rollover your money from 401(k) into a self-directed IRA, you get greater control and wider choice of investment options.
Roll Over from IRA to 401(k)
In some cases, people want to transfer the money from their IRA to 401(k) plans. Some of the reasons why people may take such a move are -
They have too many retirement accounts and want to consolidate to avoid stress of managing so many accounts.
They do not have the time or resource to manage their self directed IRA.
If you are thinking of self directed IRA rollover, you should have participated in your current IRA account for at least 2 years, else the cost of rollover is hefty. Besides, you also need to see that your 401(k) or 403 accounts allows you to take such a rollover as according to the laws you can only rollover tax deductible contributions and earnings. So, in the case, you have also made certain non-deductible contributions to your IRA account, you will not be allowed to rollover the entire amount to your 401(k) account. Besides, you must also keep in mind that inherited IRAs are not allowed a rollover to 401(k) accounts.
Experts' suggest people to think hard about the investment options and fees in the 401(k) plan before making such a move. Also keep in mind that you can withdraw funds from IRA whenever you need or desire. Though early withdrawal attracts taxes and penalties, but you can still do so if needed. On the other hand, you need to meet certain very hard guidelines for withdrawing money from your 401(k) account.