While today was impressive on a percentage-gained basis, unfortunately volume was not quite so impressive.  It seemed at one point during the day that we may very well have a "follow-through day" on our hands, even though volume was probably going to end up below average.  That wasn't going to concern us, to tell you the truth, as history shows that what really matters is the volume being higher than the previous session.  Yet it wasn't meant to be.  At least for now, that is.  Volume died off and, despite a surge into the close, it came in lower than Wednesday's totals.  So we wait and keep our watch list up-to-date.  There are certainly stocks we would be buying on a FTD.  Our subscribers will know exactly what we're looking at.   
Yet as we wait, we also observe; to be honest, though, what we're seeing is also a tad bit disconcerting.       
The Nasdaq, for one, looks like it could possibly be forming a classic head and shoulders topping pattern.  Not exactly what you want to see.  This head and shoulders differs from the "July head and shoulders" in that the neckline is trending down (a harbinger of lower prices) and that distribution is much more pronounced as the pattern forms (see chart below).  We await further confirmation and, of course, remain ready for anything.  




Another potential head and shoulders pattern looks to be forming in one of the best performing industry groups since the March low.  When you see an industry group that has been in the top 20 for over 6 months suddenly begin to fall apart, and the hardest hit stocks in the group are the top stocks (ARO, GYMB, BKE, ROST), it is cause for concern.  As you can see in the chart below, it's been a tough couple of weeks for the Retail-Clothing/Shoe group: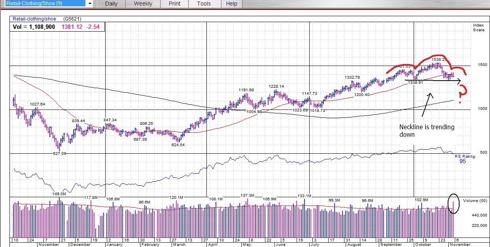 As for individual stocks forming potential head and shoulder patterns, we will save those for our subscribers.
We remain cautious here and, if one were to put a gun to our head, we'd guess that we're probably going to correct even farther from here.  This is not necessarily a bad thing, though, as a 10-20% correction could be rather healthy so long as you have leading stocks hanging in there and forming proper bases.  We have quite a few of these stocks to hang our hat on so far and this keeps us from becoming too negative, yet if they get blown out of the water at some point (cf, ARO) we would have no problem taking a different view.  There's also the possibility of a sharp shakeout to consider.