It's the first day of a three-day workweek for most folks, especially those traveling.
I was due back in Baltimore for Thanksgiving with my family, but plans changed when we bought a house. Our settlement date is actually this Wednesday, which gives us a few days off to move... which will happen in stages.
We've got dogs, so we need a fencing solution, and we're going to put up a temporary fence as soon as we get there, but that'll be a day's worth of work, which means the dogs might not be able to come until late Thursday or early Friday.
That could be a problem.
You see, our new home uses a wood burner for its primary heating source. This'll be great once we get settled, but we don't want it to go out before we get to move in.
Here's how it works: The wood furnace is outside and two water lines are buried running between it and the house. Water is pumped from the house to be heated at the burner. Once it returns, the water is split between an exchanger -- which heats air to be forced through the house -- and the water heater to heat stored water for things like showers and the dishwasher.
Twice a day (once in the morning and once in the evening) the burner needs to be filled.
And there's our problem. We might end up having to drive to our new home just to heat it, if the dog fencing takes more time than expected.
But it'll be totally worth it. The previous owners are selling us their remaining wood at $135 a cord, which is a pretty good price. On average, the home uses about 10 cords for heat through the winter, for a total of $1,350 a season.
That's better than $600 a month, as the Journal Sentinel reports the average heating bill cost as "mild this winter."
Typically in Wisconsin, the heating season starts Nov. 1, and lasts for six months. A $600/month average bill works out to $3,600 a season! That means our wood prices would have to rise to $360 a cord in order to equal average costs... That's more than 1.5 times the price we're paying!
It's worth having to drive up an extra day to feed the burner for heat this cheap.
For those who don't have wood burners, you're looking at propane prices slightly higher than this time last year. The Energy Information Administration's report last Wednesday shows propane gas prices up 28.2 cents from last year.
Heating crude oil prices are up 38.1 cents from last year.
So even though this could be a mild winter, you're still paying a bit more for your heat.
(By the way, investing doesn't have to be complicated. Sign up for Smart Investing Daily and let me and my fellow editor Jared Levy simplify the market with our easy-to-understand articles.)
This chart shows the spot prices for December crude oil and natural gas futures: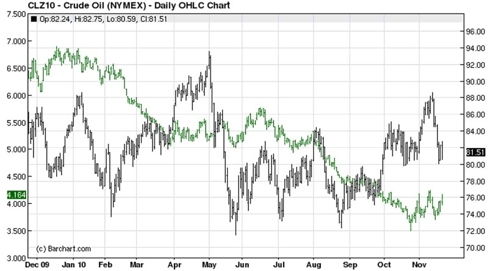 Natural gas prices are a bit different... harder to pin down. We haven't had any major disruptions in supply, and demand has dropped a bit from the recessionary pressures. Additionally, supplies are 9.3% higher than their five-year average.
That energy product prices are moving higher now means that winter is coming. It's a purely cyclical thing that will work itself out once the season is over, and that you might not expect too much from, if you're looking for a trade or a stock.
Crude oil, on the other hand, shows lots of movement over the past year. Big boosts and big falls. We're 20.8 million barrels above crude oil's five-year average, but inventories fell by 7.3 million barrels last week.
And refined products?
Their inventories are lower than their five-year averages.
've talked to you about Suburban Propane Partners LP (SPH:NYSE) here in Smart Investing Daily. For those in this company, I've recommended a hard stop at $54. For us, since we've been following this company since mid-August at $48.29, this stop would protect gains of 11.82%.
(A reminder, we're using closing prices for our hard-stop suggestion.)
As of Friday, SPH was dipping to close at $54.62.
Take a look at this chart: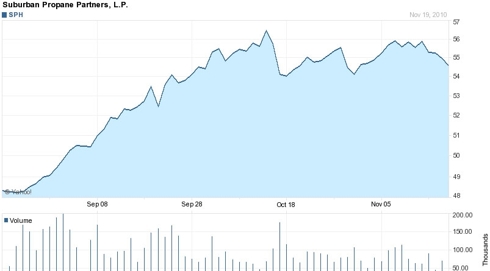 It's obvious that $54 represents a key support level, as we've seen a test of it twice in October. It may hold, however, since winter is coming on, and we're seeing fuel prices climb, so maintain $54 as a hard stop.
Article brought to you by Taipan Publishing Group. Additional valuable content can be syndicated via our News RSS feed. Republish without charge. Required: Author attribution, links back to original content or www.taipanpublishinggroup.com.
Disclosure:
no positions