Would you pay $20 for a beer? Apparently 15,000 Americans did, as they lined up around the block at specialty stores around the country this week.
On tap? The exclusive Westvleteren 12 made by Trappist monks in Belgium.
Folks shelled out $85 for a six-pack with two special drinking glasses included. Why? Because this beer has been named the best beer in the world time and time again.
There are two things at work here... the exclusivity - similar to some wines and whiskies - and the love of drinking.
Combine these two and you've got a very interesting market. You can play it by grabbing up fine wines from Bordeaux and storing them in your cellar for half a century, or you can bank on the idea that people like to drink.
And this side of the market is hopping, particularly in emerging markets. Consider this: In 2009, India's market for alcohol totaled $14 billion, and was expected to grow 10% a year for the next five years. That's more than expected growth from China, the U.S. and Europe combined.
Why? It's back to that idea of urbanization...
Over the next 12 years, 235 million households will earn more than $20,000 in the developing world. That's up from only 80 million in 2007. In other words, an extra $3.1 trillion worth of consumption will hit the markets in developing economies.
And you can bet some of that money will find its way into beer and alcohol. Consider these points...
China'sexpected to become the sixth-biggest wine market by 2014, and has been experiencing 20% growth a year in consumption since 2006.
Bigger-name brands from developed countries are also looking for cheaper production costs. For example, Japanese brewer Sapporo is looking to boost production in Vietnam from 40,000 kiloliters to 200,000 kiloliters between 2014 and 2019. And alcoholic drink sales in the country are expected to increase 25.3% this year... and 16.5% a year on average through 2016.
SAB Miller, Foster's, Heineken and even the ubiquitous Bud brewer InBev are setting up shop in India.
And there's some big consolidation happening in this industry. Take, for example, Molson Coors (TAP:NYSE) buying StarBev - the Central European brewer - for $3.5 billion this year, and Heineken buying Mexican brewer FEMSA for $7.6 billion in 2010.
My favorite way to play this growth is with a company that holds a lot of global, desirable brands.
Brands like Guinness, Captain Morgan, Ketel One and other well-known names.
And they all are under Diageo's (DEO:NYSE) umbrella. DEO ships these brands all around the world.
These are just some of Diageo's strategic brands. And earlier this month, Diageo brands won 44 awards at the 2012 Ultimate Spirits Challenge, and 30 products scored a 90 or better.
The company has 20 brands in Impact Databank's Top 100 spirits list... that's more than any other company.
Emerging markets are becoming huge contributors to DEO's bottom line. For the full fiscal 2012 (ending on June 30, 2012), emerging markets grew to become 40% of DEO's business, net sales in these markets jumped 15% and operating profit climbed 23%.
And this is how that translates: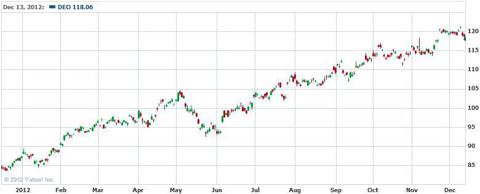 View larger chart
DEO's president said, "We have continued to see a rising number of emerging middle class consumers who aspire to our brands and our brand health in these markets is very, very strong."
So strong that DEO is buying up stakes in spirits companies in growth markets. On Nov. 9, the company announced it was acquiring a 27.4% stake in United Spirits Limited (NYSEARCA:USL), the leading spirits company in India.
And each of its big-name brands is seeing strong growth from emerging-market hot spots like Latin America and Asia.
I talked specifically about this company at our commodities conference in Toronto late last April. There, I said:
It's made sizable gains over the past year. In fact, share prices are now back above their peak from back before the financial crisis. Analysts are expecting this company to keep growing, and if it continues making gains from emerging markets it will be on track to hit the 10.9% annual earnings growth estimate for the next five years.
The share price is already in uncharted territory, but near-term targets could put this stock's price at better than $108 in the next six months.
And I was right... More than right. DEO hit $108 by the end of June 2012, and kept climbing. Shares are now trading above $118, and could have room for another $10.
Happy Investing,
Sara
Disclaimer
Article brought to you by Inside Investing Daily. Republish without charge. Required: Author attribution, links back to original content or www.insideinvestingdaily.com. Any investment contains risk. Please see our disclaimer.